Today, we are talking about the prejudices about yoga accessories. Maybe you are also one of those people who start with yoga, go to studios but don't reach for the yoga props. "No block today, I'm sure I'll get all the way down" "How does it look, me as the only one with an aid".
Having these thoughts is a very normal point on your yoga path. But what is behind all this? The deeper we dive into the yoga path, the more we can stay on our mat, calm our thoughts and become neutral about what others think about us. Accepting help and thus giving up increased self-demand and responsibility.
But yoga accessories are certainly not just for yoga beginners. We explain here today why we love equipment and why it has become a big part of our practice.
First of all, a few terms for yoga accessories: equipment, aids, props or support.
For your yoga start with yoga equipment, we have put together a special bundle for you, so that you can start directly with the right sustainable yoga accessories at home: The hejhej-essentials bundle consists of a yoga mat, yoga bolster, a block and the yoga strap. This settles the question of what you need when you start yoga. All our yoga equipment has been developed in the spirit of the Circular Economy – for us the most sustainable on the market. You can return all hejhej products to us free of charge and we can produce new yoga equipment from them – no waste is created on our planet by hejhej. Each hejhej-mat even reduces the amount of foam waste (i.e. rubbish) on our planet by 1.5 kg. In addition, almost all hejhej yoga accessories are made in Germany. The exception is the hejhej-eyepillow, as it is produced in a social project in Kenya.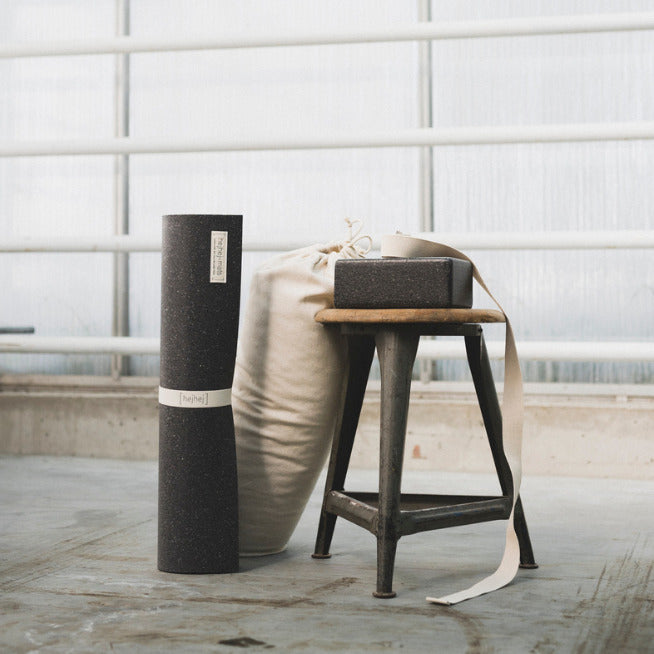 Why Yoga Accessories?
Personally, we almost always practice with yoga accessories. Since we have shed the prejudice that it is a sign of weakness or ignorance to use equipment, we are very grateful to have all the support. Just because you can't reach the floor with your hand in an asana, such as triangle or trikonasana, doesn't mean that your variation doesn't have the same health effects for you. It may simply be that anatomically you can't get into an exercise without a block or other aid. Every body is different. In addition, practising with assistive devices has even more positive effects:
You stand well aligned, your posture is correct and your joints are protected.
Just by going in the direction of the exercise (e.g. stretching), your body gets the impulses it needs at the moment. The health effects are therefore already given.
Your thoughts can calm down better and you can concentrate on your breathing. You stand calm and focused in your asana.
You can better use your legs as a foundation and keep your upper body light and flexible. This is a good tip for most asanas. For example, in the triangle, you can open up better with your upper body and chest and turn towards the ceiling when your hand is resting. Whether on the floor, on the block or on your leg.
Yin Yoga Accessories
The most common yoga with accessories is certainly Yin, Iyengar and Katonah Yoga. In Yin Yoga there are many asanas that are consciously held with equipment. More precisely, you are held by your cushion, your mat, your bolster. You should feel safe and secure and really be able to let yourself go in the exercises. Typical Yin Yoga tools are: hejhej-bolster, hejhej-pillow, hejhej-strap, hejhej-eyepillow and the hejhej-spray.
Yoga blocks as weights
But yoga accessories have long been suitable not only for calmer styles of yoga. In this video Yoga flow with blocks – 30 min yoga block workout you can use your yoga blocks as weights. The hejhej-block is deliberately a little larger and heavier, so that you can also use this application directly and perfectly for yourself. It is also very stable on the hejhej-mat and adheres wonderfully.
"With meditation pillows you only meditate".
Another prejudice of yoga accessories that we would like to dispel is that you can "only" meditate with the meditation pillow. Surely this round hejhej-pillow is perfect for your meditation. The seat is so stable and comfortable and you can focus completely on your thoughts – or not. But this yoga accessory is also suitable for active flows. Take a look at this video Yoga Flow with meditation pillow | 15 min gentle movement and stretching.
hejhej-bundles
With the hejhej-bundles we have put together the perfect yoga accessory sets for you. We have deliberately reduced the prices there for you. You can start your yoga routine directly with your hejhej equipment. Together with the free Youtube videos from us, nothing stands in the way of your practice.
We wish you lots of joy in discovering your asanas, in accepting help and really feeling into yourself.
You might also be interested in this:
---