The hejhej-block – the first closed-loop yoga block – sustainable & minimalistic
Made from recycled materials

Your hejhej-block is made from off-cuts that naturally occur in the foaming industry. We make use of the same material which also gives the hejhej-mats a product life.

100% recyclable

Handmade in Germany.

Ultra-thin, toy-compliant surface made of virgin material.

Save 24€ with the set of 2 yoga blocks.
Please note that every yoga block is carefully handcrafted. As a result, the surface is not always perfectly straight and light uneveness might occur.
A yoga block sustainable and with pure design
Thanks to the recycled materials, each hejhej-block is one of a kind.

Durable & hygienic: closed-pore surface does not absorb sweat.

The surface is extra grippy and ensures optimum stability on the floor and a pleasant sensation on the skin.

Prevents slipping or tipping over.

The hejhej-block is deliberately larger and heavier than many conventional yoga blocks.

Thus, the yoga block gives you stability even in challenging asanas.
Added value along the value chain
The production of the hejhej-block takes place entirely in Germany.

In workplaces for people with disabilities, the yoga block is

packaged 100% plastic-free and shipped to you climate neutral.

1€ per hejhej-block will be donated to the NGO EarthChild Project.

EarthChild Project provides children in the townships of Cape Town with access to yoga and environmental education.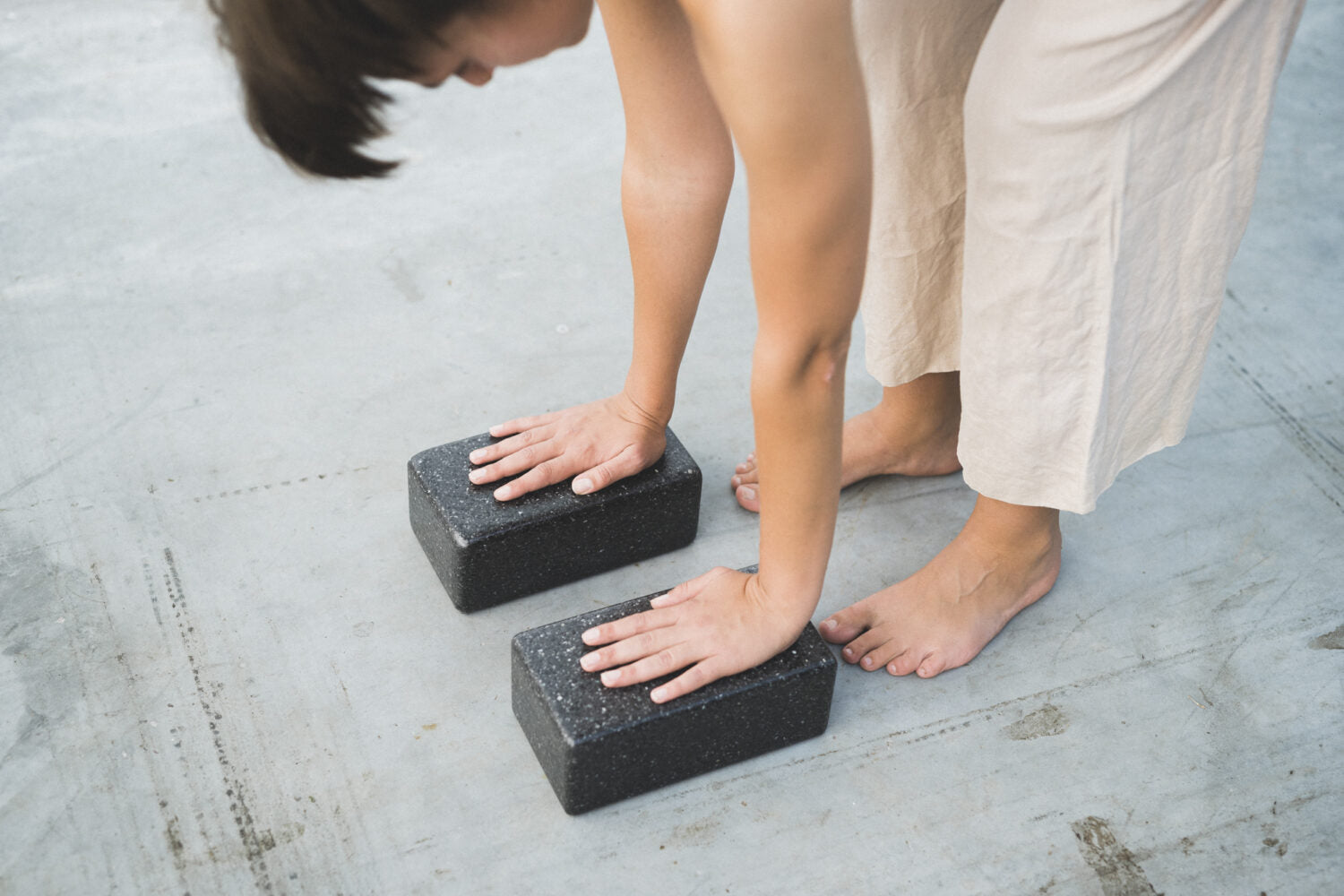 Recycling – We take responsibility at the end of your hejhej-block's life
As soon as your hejhej-block has reached the end of the product life cycle, you can send it back to us free of charge.

For recycling, this is broken down into its individual components and thus forms the raw material for new yoga blocks or hejhej-mats.

This way the hejhej-block does not create any additional waste on our planet.

For returning your old yoga block, you will receive a discount code for your next closed-loop purchase in our shop.
Yoga session with your hejhej-block
So that you can try out your hejhej-block directly, we have a free yoga class with the blocks for you on our Youtube channel.
Try the Yoga Block Flow with Brooklyn (video in English) – ground yourself and feel the extra weight. Perfect for a balancing practice. Afterwards, you feel focused and happy.
Have fun trying it out!
https://www.youtube.com/watch?v=MjzwBCycqxs
Read more details about the first closed-loop yoga block and the first yoga asanas in a journal article.