Many of you have asked us how you can best clean the hejhej yoga mat in the most environmentally friendly way possible. Most yoga mat sprays on the market are not without ingredients from faraway countries such as Asia or South America. Unfortunately, refills are also very rare, which would be particularly sustainable for a product that is consumed. Therefore, we have not had a really satisfactory answer to your questions so far. We have been missing the perfect combination of cleaning, a pleasant scent and ecological sustainability in conventional yoga mat sprays until now.
Until now. Because all last year we developed our own sustainable yoga spray. All these points combined and many more benefits for you and our environment found. We have researched, tested and talked to different experts. What we can say in advance: We are particularly proud of our oils, all of which are of local origin and most of which are extracted from leftovers.
Sustainable Yoga Spray Uses: Mat
You can clean your hejhej-mat naturally with the hejhej-spray. Due to the closed-pored surface of the hejhej-mat, no sweat or other liquids penetrate the material. Our sustainable yoga spray is a pure natural product, shake the bottle briefly and then spray two to three times on your hejhej-mat with a little distance. Then wipe over it with a cloth. This is a mechanical way to clean the surface of your hejhej-mat. We recommend that you let your hejhej-mat dry before rolling it up. The hejhej-spray consists to a large extent of distilled water, therefore the slip resistance of the surface of the hejhej-mat is completely preserved. That was an important criterion for us. We paid close attention to this in our tests and selected materials accordingly. Our hejhej-spray should also not have a negative effect on the slip resistance of other yoga mats, but we cannot give any guarantee for this.
The hejhej-spray is also particularly suitable for spraying on your hejhej-bolster and your hejhej-eyepillow. Let it work for a short time before you put the hejhej-eyepillow on your eyes. Due to the unique composition and scent, you can beautifully experience the positive effect on the mind. The materials absorb the scent and store it.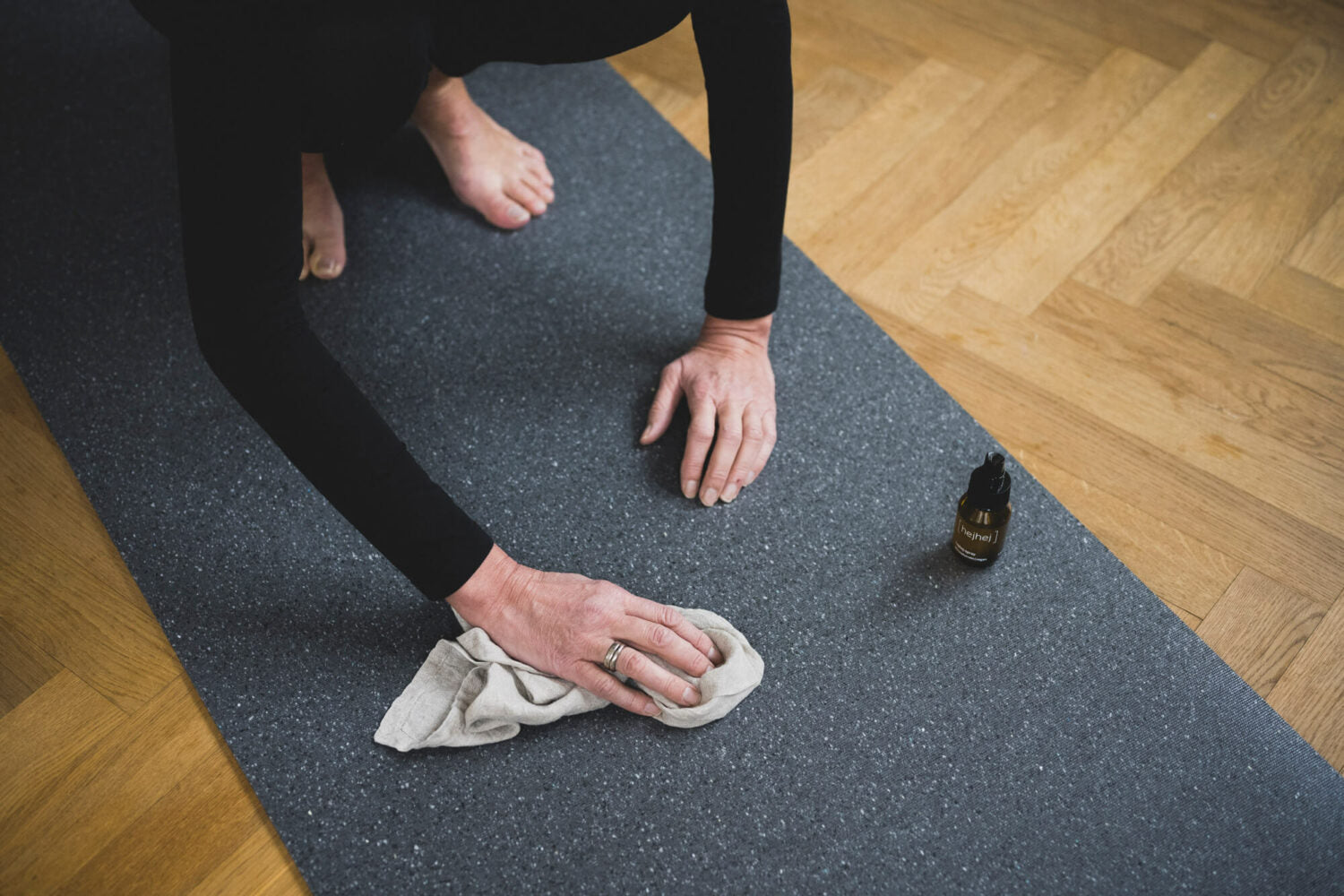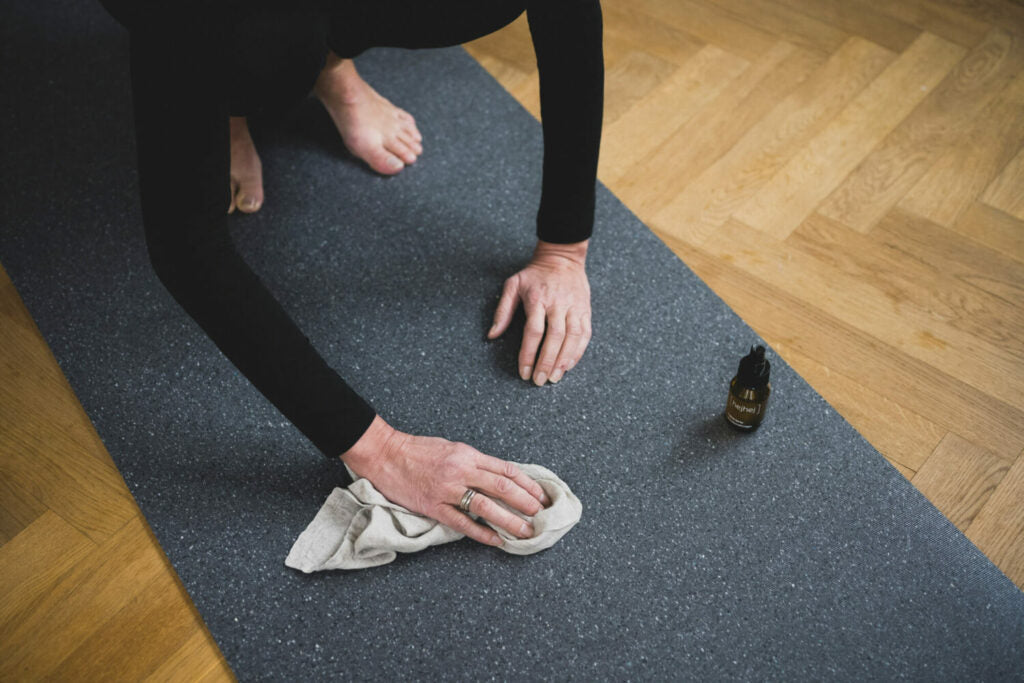 Sustainable Yoga Spray Uses: Mind
The scent of the hejhej-spray lets you calm down – focus on the moment. Spray the sustainable yoga spray around you and your yoga mat in the room before your yoga practice. Close your eyes and feel inside yourself what exactly the fragrance does for you. Tell us about your first hejhej-spray-moment. We are very curious!
Below we tell you about the natural and unique ingredients of hejhej-spray, the sustainable yoga spray. Transparency is one of the most important components for us.
Ecological ingredients
All essential oils in the hejhej-spray come from either Italy or Germany. There are such wonderful essential oils in Europe, yet why are most oils currently sourced from countries with long transport distances?
All other components, such as the glass bottle and the dispenser, are also produced either in Germany or Austria. The shipping route is one of the most CO2 intensive steps in production, so we have kept these routes as short as possible. In the following, we will tell you a little more about the valuable ingredients of the sustainable yoga spray:
Lemon & Bergamot Essential Oil
We source these two wonderful citrus essential oils from a farm in Sicily. The farm mainly produces certified organic fruit juices. Our essential oil is then extracted from the waste of the peel. We are super happy to have found a farm that processes their leftovers into a high-quality product. Lemon is known for its invigorating, uplifting and cheering effect. It promotes concentration, has a disinfecting, antibacterial, antifungal and antiviral effect. It is precisely these properties that make lemon essential oil an important ingredient in our hejhej-spray. Bergamot essential oil also promotes relaxation and helps you to gather new energy. The oil has a calming, refreshing, invigorating effect and lifts the mood. Perfect for a yoga class!
Myrtle Essential Oil
We get our myrtle from a small organic farm on Sardinia. Myrtle extracted in Europe is very special. This is evident from the particularly fine smell. The essential oil of myrtle is obtained by steam distillation of the leaves and flowering branch tips. Myrtle stands for beauty and purity. It opens your eyes to the beauty of things and love. Myrtle stands for pure and honest feelings, has a harmonising effect, gives inner wisdom and purifies people's aura. Perfect support for meditation. The fragrance of myrtle is characterised by its fresh, herbaceous, spicy, eucalyptus-like note and is reminiscent of pine needles.
Sage distillate
The sage component in hejhej-spray, the sustainable yoga spray, is essential to the overall experience. We source freshly distilled and organically certified sage distillate from Franconia, very close to us. The sage distillate is obtained by hand through steam distillation of the dried herb. Sage has a clarifying and cleansing effect, provides more confidence and its effects are described as healing, concentration-enhancing, balancing and strengthening. The fragrance is fresh, floral, earthy and herbal.
Bio-ethanol
Ethanol acts as a solvent. It also provides preservation and disinfection. We use pure bio ethanol from Germany. This is obtained by natural fermentation of grain (wheat, rye, corn), sugar or grapes. For chemical application, a denaturant is added to the ethanol. Here too, after long research, we decided on the most natural and sustainable option. Our denaturant is based on citric acid, which is a natural denaturant and is approved for natural cosmetics. So far, most conventional, rather harmful means have been used for this purpose. You've never heard of a "denaturant"? This is because it does not have to be declared. However, we want to provide you with a transparent presentation of our components, so for us, this information is also part of it.
The company from which we source the ethanol takes care (according to its own information) to source raw materials that do not compete with food production. They obtain the basic materials from industrial waste products. There are production processes in which ethanol is used as a coolant or for the extraction of plant ingredients. The ethanol that is still available at the end of the production chain can be used again as ethanol in new products. The company we cooperate with takes this ethanol back from producers and recycles it. So there is about 10% recycled ethanol in our ethanol.
All the wonderful ingredients are mixed together by hand and not in large machines as is usually the case. Our partner workplace for people with disabilities takes care of the mixing, filling, packaging and shipping for us. We worked out the processes for producing the sustainable yoga spray on site together with our team. This has been a lot of fun for us and the people there and we believe that working with the spray is another positive activity for our workplace team.
Amber glass
The amber glass bottle is made in Germany. It is visible and verifiable on the hut mark on the bottom of the bottle. After use, you can use the bottle as a mini flower vase or similar. At the end of the day, you can recycle it in a bottle bank. In Germany, the glass recycling system is one of the best. "The recycling of used glass is considered the original form of modern circular economy and accordingly the first governmental approaches to the systematic collection of used glass packaging can be found as early as the beginning of the 1970s. In Germany, such a nationwide collection system for used glass from private households or commercial and industrial enterprises was introduced in 1974." [Source]
Glass can be recycled an infinite number of times and processed into new glass products. Thus, almost all recycled glass fragments find a new use in freshly produced glass bottles. Recycling saves raw materials such as quartz sand, soda and lime. Our amber glass bottle contains around 50% glass fragments.
To save resources such as paper or foil, the hejhej logo is printed directly on the bottle. The hejhej bottle is thus particularly high-quality and durable. We also had a glass recycling centre confirm that the white printed lettering is no obstacle at all to recycling and that the amber glass can be reused without any problems.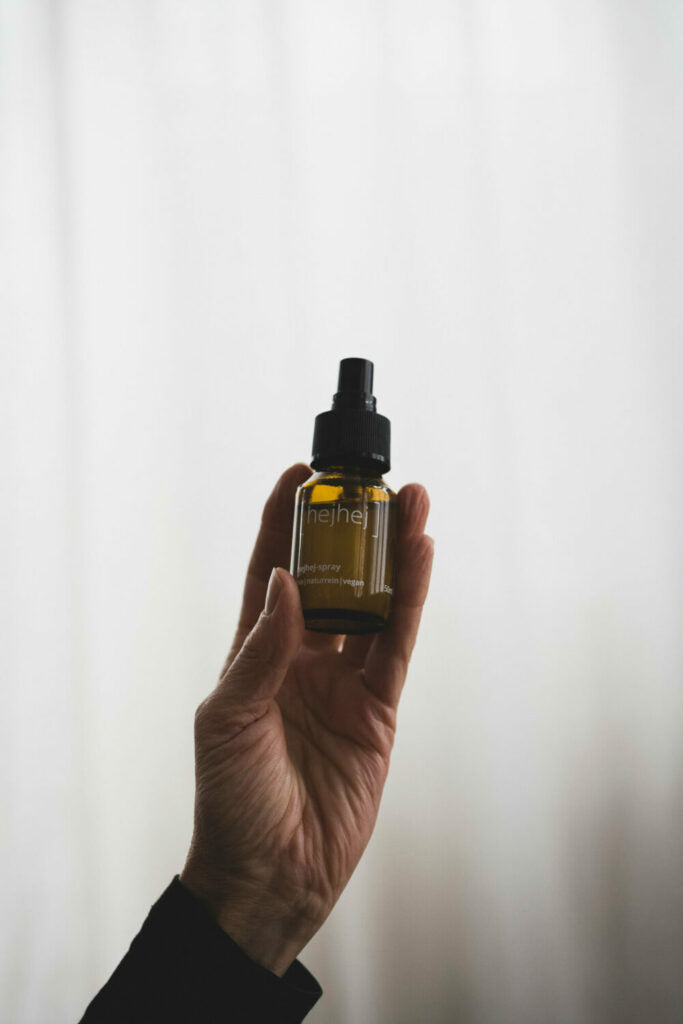 Dispenser
The dispenser is the least sustainable part of the hejhej-spray, but at the same time the most sustainable dispenser on the market right now. After about a year of product development and the search for a recyclable dispenser, we decided to launch the hejhej-spray with a conventional spray attachment for the time being. However, we are not giving up the search! In addition, we have paid attention to very high quality, so that you can use your dispenser for many spray fillings. The hejhej dispenser is also produced in a climate-neutral way and by a company that is certified for the common good.
So that you can use the dispenser several times, we offer you a matching refill bottle. This 50 ml hejhej-spray refill bottle is available with a screw cap, without a dispenser. The refill cap is much more resource-efficient than the dispenser. In purchasing, the difference is minimal. To increase the incentive to use the dispenser more than once, we still offer you the refill bottle at a lower price! This way you can easily buy your favourite hejhej fragrance at a lower price and replace the screw cap with your existing dispenser.
Ecological sustainability
Environmental sustainability in particular is an important part of hejhej. As already described above, the ingredients of hejhej-spray are produced with the guidelines of organic farming. Except for the distilled water, which is not available in organic quality. Organic farming is an important future-proofing step in agriculture for us and is very important to us. Do you know what organic farming has in common with the concept of the Circular Economy?
The hejhej-spray itself is not yet certified organic. Certifications cost a lot of money and we are therefore not yet able to cope with them as a small start-up.
You may already know that for every hejhej product sold, we donate to a social or environmental project. For every hejhej-spray sold, we donate 0.50€ to the Dr. Günther Pfann Foundation. Günther is committed to preserving nature in Franconia by, among other things, planting high trunk trees and sowing flowering meadows. We have already been to a tree planting event ourselves and were able to see what valuable local work the foundation does.
Recycling – the sustainable yoga spray
You're used to us thinking about the end of every hejhej product too. The contents of the sustainable yoga spray are naturally consumed by you. Due to the natural ingredients, the contents of the spray are completely biodegradable. No microplastic is produced! The longer you use the glass bottle and the dispenser, the more sustainable it is. That's why we've thought of a refill bottle where you can simply put the dispenser back on the new bottle.
As described above, the glass bottle can be recycled into a small flower vase, for example. Alternatively, fill it with water and continue to use the bottle as a spray to provide your houseplants with sufficient humidity. If you no longer have any use for them, you can put them in the conventional glass containers. The amber glass is thus processed into new glass bottles. When your dispenser has reached the end of its product life cycle after a long period of use, you can put the clear cap of the dispenser and the clear tube in the yellow bag for plastic recycling. The rest of the disperser goes into the household waste. You can dispose of the aluminium cap according to your local waste disposal system. In Nuremberg, it would be the yellow bag.
The hejhej-spray is the tiniest hejhej product to date, but of course, it is also completely thought out and sustainably developed down to the smallest detail. We have put a lot of work and heart and soul into this product and hope that you like it as much as we do. We are curious to hear from you how you use your hejhej-spray most often – for the mat or the mind?
With the NEW hejhej-nowness bundle of hejhej-eyepillow and hejhej-spray, you can buy the two latest hejhej products at a reduced price and bring a lot of relaxation into your home.
Let yourself be charmed by the natural scents of the sustainable Yoga Spray!
Photo Credits: Maria Bayer (except the lemon grove and the bergamot plant)
You might also like this:
---