Sometimes, there is this one yoga lesson, that we'll never forget. Maybe because the yoga teacher spoke harmoniously, the room smelled particularly lovely, the music really signed you out, or because the atmosphere made you feel the power of yoga. We really do love those studio classes that leave us feeling touched. But especially during the last months we additionally came to love the benefits of Online yoga. Our hejhej-team is working remotely, we are living in different parts of Germany. Through Online yoga we get to practice together once a week. It is always a highlight for us.
As of recently, we've started practicing a lot with movingroom.de, the new platform for yoga, fitness, and movement. Have you heard about it, yet? This blog post reveals what genuinely convinced us of it! Be sure to stick around until the end, because there's a little discount code hiding for you.
Benefits of Online Yoga
Being at home and joining an Online yoga class from there has benefits, that we personally really enjoy. Whether it's with a laptop, tablet, or even a smartphone, one is always just a few clicks away from starting a yoga session in one's bed or living room. This brings us to the first advantage:
Save time withOnline Yoga
An Online Yoga Class has almost no participant level. The good part about that is that you can even participate spontaneously because there will be 'space' for you. As a matter of fact, the recorded movingroom.de classes take place just for you personally, whenever you have time for it. Before work? During your lunch break? After work? You decide! Moreover, you will save time because you do not need to travel by foot, train, bus, or bicycle to get to class. We realized that through online yoga we get to practice more often, although the sessions are often shorter. But every minute on the mat is precious, isn't that right? Your home turns into your very own yoga space. Enjoy being flexible time-wise with Online Yoga and MovingRoom.
Dress as you please
Of course, you can dress whatever you feel like when going to a studio. But honestly, the sky's the limit, when you're at home. Why not join an online class in your undies, when feeling like it? You put on whatever you feel like in that moment. You just got up? Why no stay in your pyjamas! You are about to call it a day? Why not brush your teeth, put on something comfortable, get into bed and join a MovingRoom Meditation right there before falling asleep? You could also do that in a live class with your favorite yoga studio and simply turn off the camera. When practicing with MovingRoom you do not need to switch off your camera or microphone. All the classes are recorded, you press play whenever you feel like it and can be sure to enjoy full privacy while at it.
Make your home your own yoga studio. We offer sustainable yoga equipment that allows you to experience the best support in the comfort of your own home. Especially the hejhej-bolster, the hejhej-eyepillow and the hejhej-spray make your home even cosier than you can imagine!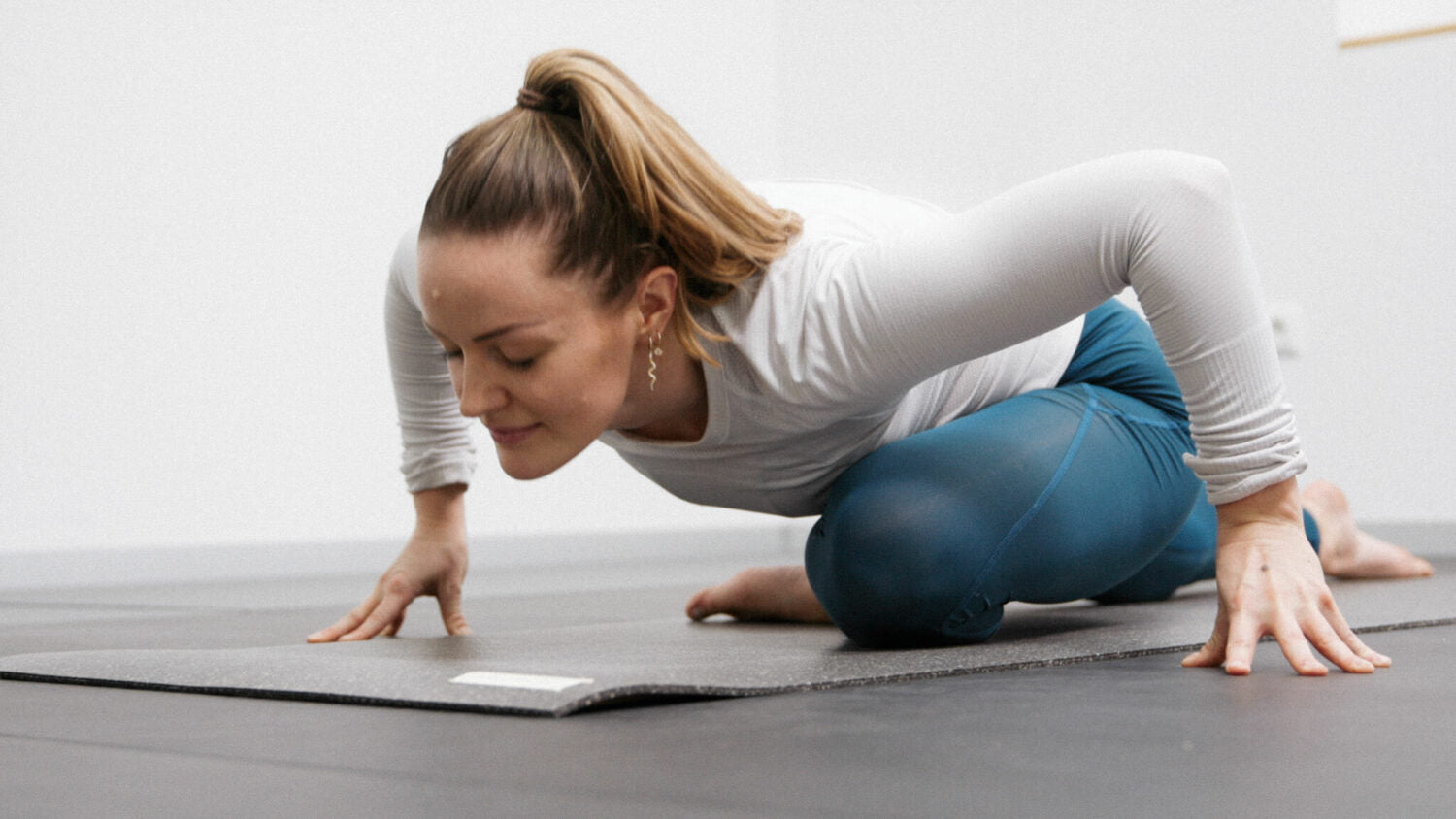 Photo Credits: Steve & movingroom.de, Yogateacher: Cordula
Save money
Quite often, Online yoga classes are cheaper than those in studios. So being low on funds does not mean you cannot explore new yoga classes. With MovingRoom you get to practice as much as you wish for a monthly contribution. Some Online Yoga courses are even covered by your health insurance or employer. Some companies also offer corporate sports. That might take place at your company with your colleagues or it can consist of financial aid from your employer. That's for you to find out!
New impulses through Online Yoga
Most studios are specialized in a particular field or style of yoga. That's what characterizes them, what speaks for the quality of their offer. But when feeling like new impulses Online yoga can be such a great source of inspiration. We love the location-independent range of classes and different teachers. At the same time, we can still flow with our favorite teachers at our usual studios. One thing does not rule out the other. We love the mix! MovingRoom offers a variety of classes from different teachers at different skill and strengths levels. You will definitely find a class that works for you.
Eventually, here is more information about the new Online platform.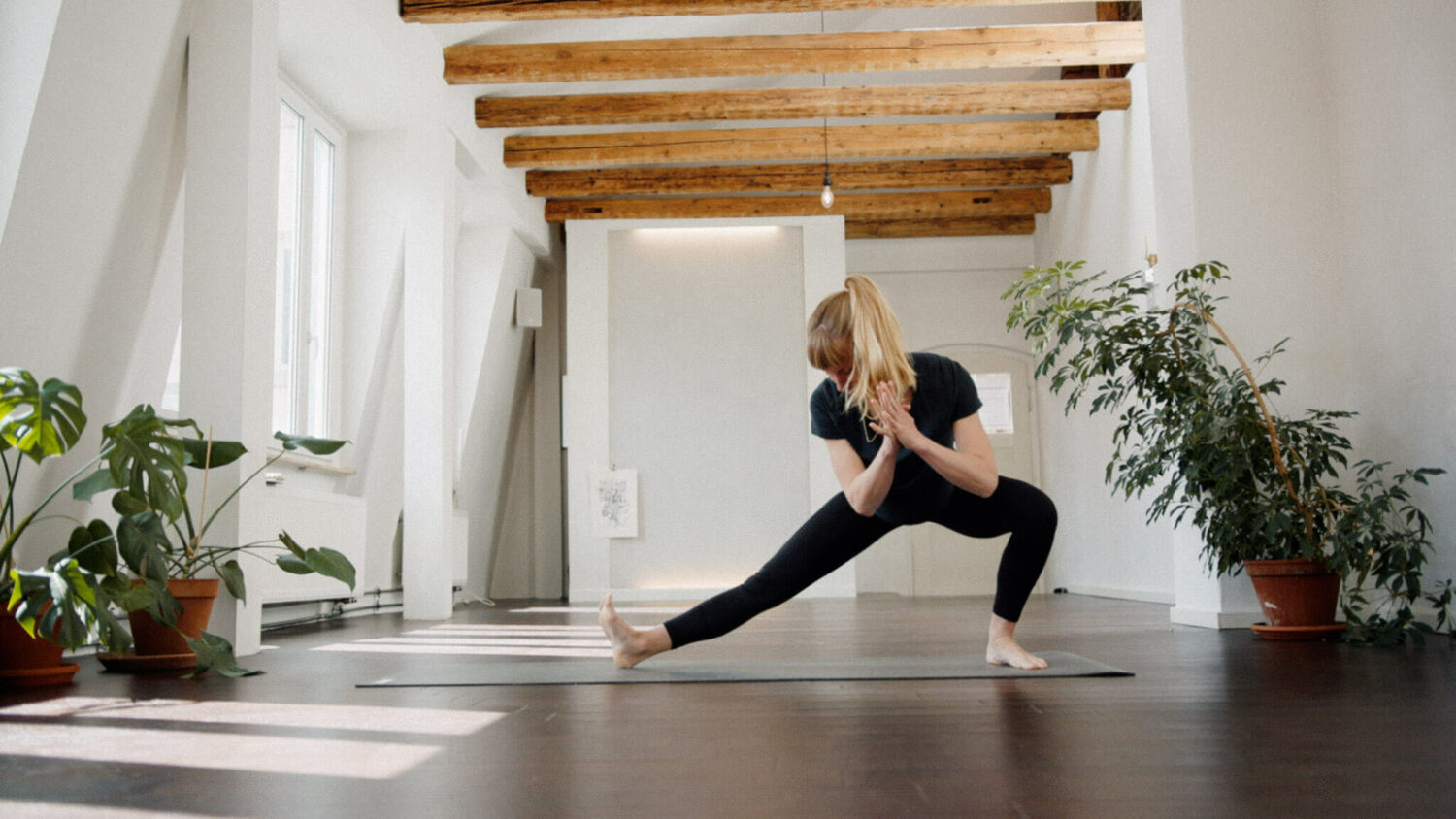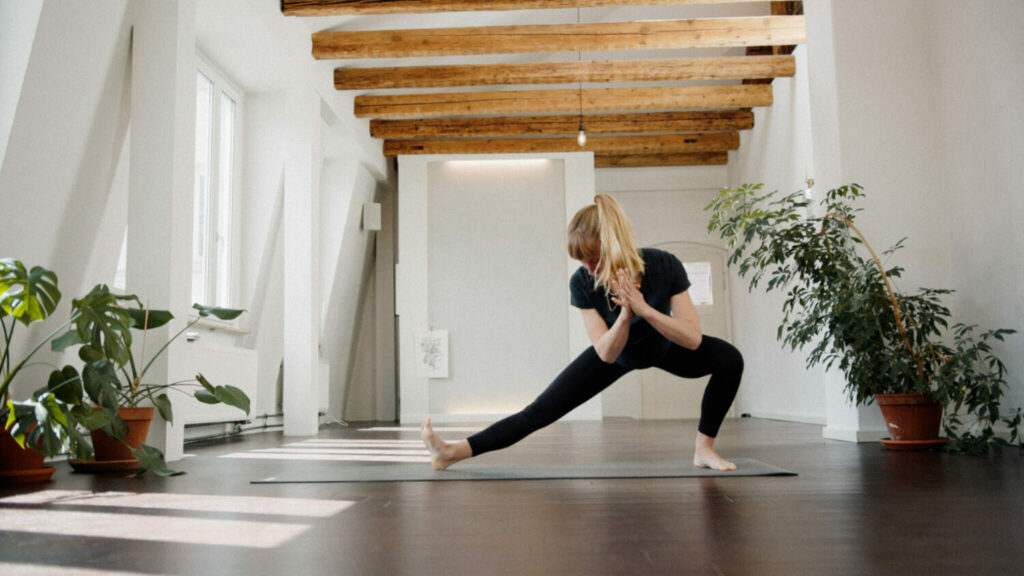 Photo Credits: Steve & movingroom.de, Yoga teacher: Sina
What is MovingRoom?
movingroom.de is an On-Demand platform for yoga, fitness, and meditation and offers a variety of classes in German. Find the right class for you by choosing the lengths and levels that you feel like. Your MovingRoom subscription enables you to join as many classes a month as you wish. Experienced coaches and movers accompany you on your way to more strength, mobility, skills, and body perception.
Movingroom.de and hejhej?
All classes on MovingRoom are filmed on hejhej-mats. While flowing and stretching on your closed-loop yoga mat at home you get to see your coaches doing just that. A few of our favorite teachers and friends from Nuremberg are part of the movingroom.de crew. We especially appreciate the high quality of the videos, you can simply tell how much effort was put into the creation. We highly recommend MovingRoom, because we really enjoy practicing with it and whatever mood we're in, there is a video that's serving us right in that moment. Whether it's the handstand challengeor a meditation, movingroom.de got us covered.
[Aktion beendet] Order a hejhej-mat, hejhej-bolster or hejhej-bag until 19.09.2021 and automatically get 3 months movingroom.de for free. This implies that you get to practice Online Yoga worth 75€ costless. You will receive your movingroom.de code in a separate mail after your order. Redeem that code on the movinroom.de website and start working out online right away. Do not be afraid of the subscription model. You can very easily terminate your subscription after your free three-month trial. If you then cannot imagine a life without movingroom.de feel free to continue flowing on the new platform. New videos will be added contiuously. [Aktion beendet]
As this promotion has ended, we have a discount code for you. Use the code 'hejhejxmovingroom' to save 10% on your first payment, whether a monthly or annual subscription. If you are not yet sure what you want to choose, you can also test MovingRoom.de free of charge for 14 days.
Are you missing yoga equipment? Feel free to browse our webshop. We produce sustainable and circular yoga products. 100% made in Germany. Explore our yoga mats, bags, pillows/bolsters, and straps. Order your closed-loop yoga equipment easily online and start practicing with MovingRoom classes soon.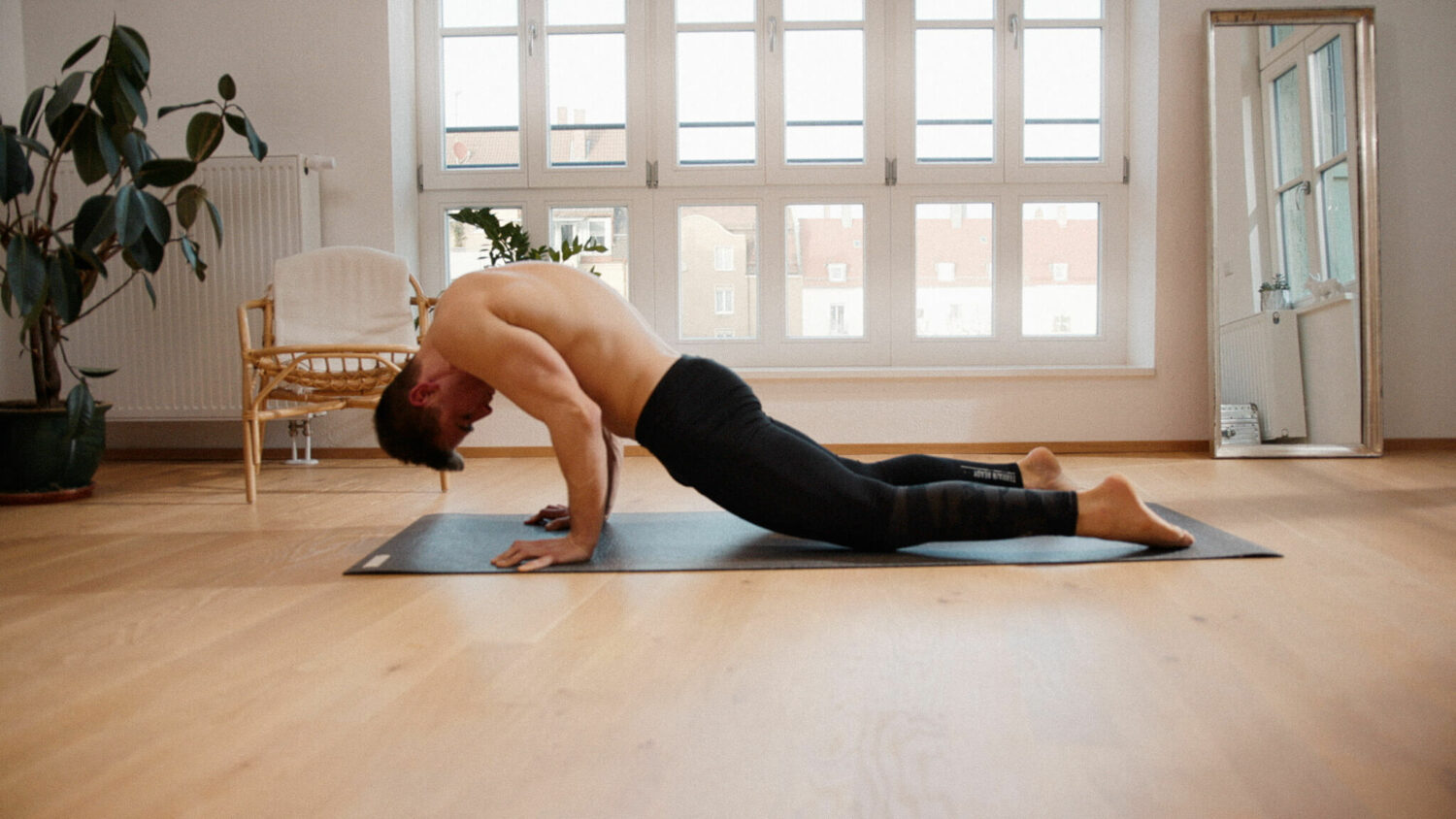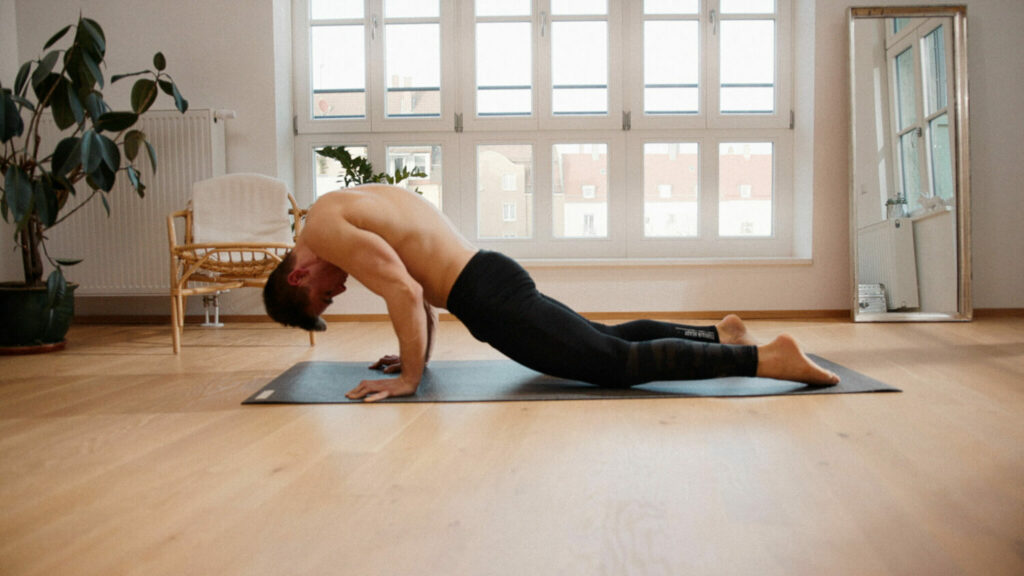 Photo Credits: Steve & movingroom.de, Yoga teacher: Henry
Photo Credits: Steve & movingroom.de
Yoga teacher on the cover: Julian
---