We are very happy to tell you a little bit more about Blind Yoga here. We met Johann Mühlbauer in Nuremberg and are very inspired by his zest for life, motivation and everyday life. Together we had the pleasure to start a great project and interviewing Hansi about his blind yoga practice for this text (free translation from the german version). At the same time, his first Youtube video appears on our channel.
What you can understand by Blind Yoga
For us, it is important to make the tradition of yoga accessible to all. Blind yoga is aimed at people with visual impairment as well as sighted people. The experience of doing a yoga session with your eyes closed or blindfolded is something very special and strengthens your physical experience. During the shooting of our Youtube videos, we were very inspired. The Yoga Bolster as an anchor on the mat? How do you orient yourself with your eyes closed during your yoga practice? Hansi tells you what benefits Blind Yoga can have for everyone.
hejhej: Hansi, tell us something about yourself.
Hansi: My name is Johann Mühlbauer, Hansi with pleasure, I am 43 years old and live in Nuremberg. Due to a tumour, I went blind when I was 2 ½ years old. I have been practising as a physiotherapist for 21 years, work as a lecturer at a school for physiotherapists and have been running the wilderness school Abenteuer-wildnis since 2014, where we offer training in wilderness and adventure education as well as activities for schools and kindergartens, team-building measures for companies, etc. I am also the lead singer of a rock band in Nuremberg (The Dehydrators). I live independently with my dog Mickey in a 2-room flat. I completed my yoga teacher training in 2019 and have been integrating yogic philosophy into all areas of my life ever since.
Wilderness education means dealing with the outer and inner nature. Only when I can cope with myself can I cope with the external environment. For me, yoga and wilderness education are very compatible. There I often incorporate yoga practices to get into the flow.
hejhej: Why should sighted people also try blind yoga?
Hansi: As far as I know, sighted people perceive about 90% of their perception via visual acuity, i.e. via the eye. That's why it's very exciting to block out this sense for once and concentrate completely on the remaining senses. How do I experience the asana? Can I stay on my mat more easily? Am I more with myself? You develop increased mindfulness and your perceptions are allowed to turn inwards. I'm a little bit worried that often-sighted people still have to look a lot to the right and left when doing yoga and check if they're doing it right. If you find that this is the case for you, try the Blind Yoga videos on YouTube.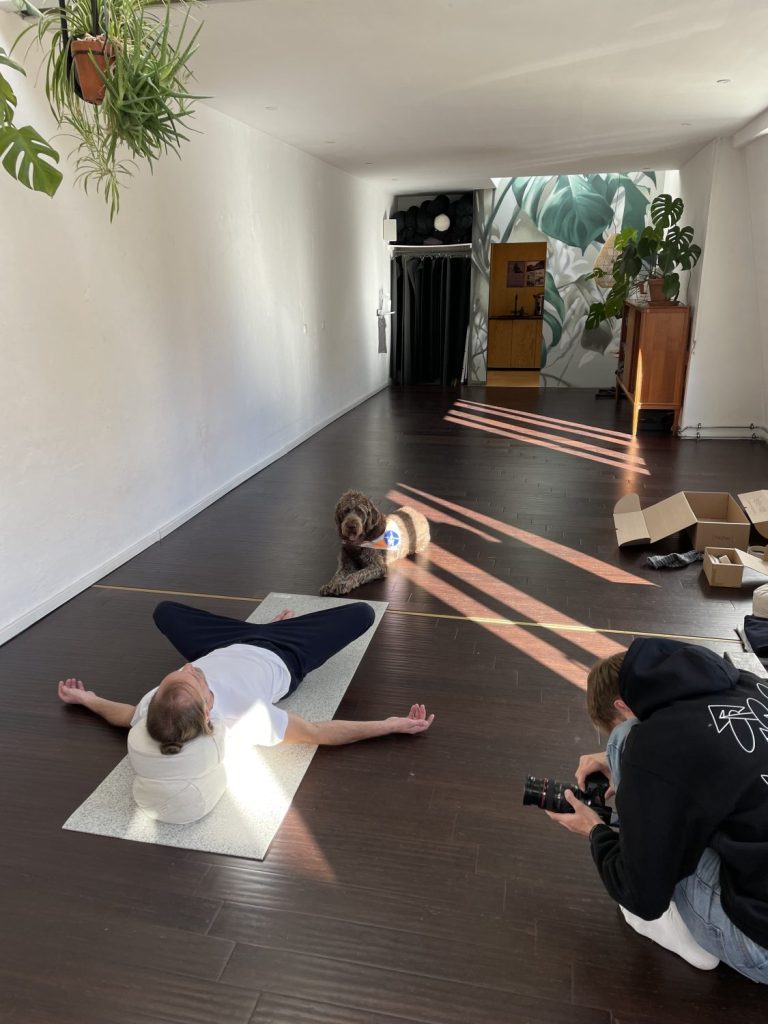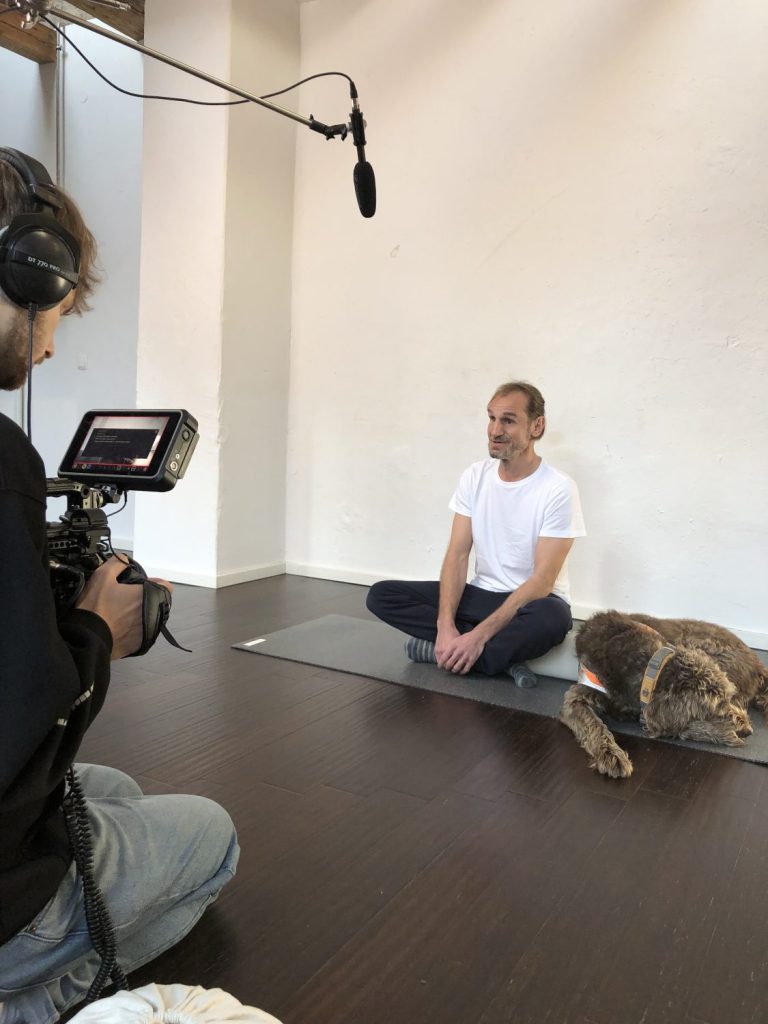 hejhej: How did you get the idea to do a yoga teacher training and what was it like for you?
Hansi: I used to have a skewed view of yoga: mainly women, strenuous asanas, esoteric,… The first time I got in touch with yoga was around 2012 and I immediately enjoyed it very much. Around 2014 I got into acroyoga. Around 2018 I had a lot of time to take care of myself due to Lyme disease, so I did a lot of yoga for myself. Then I joined a yoga studio in Nuremberg (MyShanti) and took personal yoga there for a long time. My interest in yoga has simply become more and more intense. I then found a suitable training for me through the Vyana yoga school. Vyana Yoga is a very mindful style of yoga, lots of pranayama. Yoga is more than just asanas, but at the same time everyone is allowed to do it as he or she wants. That is an important sentence for me. I get a problem when people try to force something on me. In the Vyana Yoga training, I felt very comfortable and accepted. I was the only blind person in the training. Since I am usually the only blind person, this is everyday life for me and I have got used to it. How I deal with it depends on the phase and the day. Sometimes it unsettles me more, sometimes less.
hejhej: What would you like to see offered for yoga for the blind?
Hansi: A lot depends on the teachers. Especially from the precise announcement. That is very important for blind people, that it is simply announced very clearly. The class size should be large enough so that you feel you are being observed and corrected. In my Youtube video for hejhej, I have also announced as precisely as possible, so that it really is to follow along blindly. The diversity of the offers is definitely a point so that there is a yoga offer for everyone.
In the last few years, I have practised a lot of online yoga because it is very comfortable for me and does me a lot of good. The time required for the routes by underground etc. is just so much less, so I get to do more yoga. Personally, however, I would advise anyone who has never seen a sun salutation, for example, to experience the practice live, perhaps even in a 1:1 setting, on their own body. That's how I got into yoga.
hejhej: What does yoga give you?
Hansi: So much. In practice, really enjoy overcoming. The joy of time I have taken for myself. The feeling of having made a journey for oneself, towards oneself. A way to get to know your body better, which of course can have two sides. I am often surprised by all the things that are part of yoga and how often it plays a role in my everyday life.
While walking, I often consciously stand and feel my body and ask myself: How am I standing? How are my shoulders? How am I doing right now? I didn't do that before my own yoga practice.
hejhej: Where do you get your motivation and positive drive from?
Hansi: I often don't see myself being active at all in everyday life. Talking to my girlfriend helps me a lot here. Also, when someone like Sophie from hejhej approaches me, it's easy for me to jump off and be there. Unfortunately, I lost some of my self-motivation during the Corona period. I am a person who finds it difficult to come to terms with what I have right now. That's why I like to try new things. Everything I do, I often do without preparing much, because most of the time when I am spontaneous, I am quite good (says my girlfriend). I know that my practice works blindly.
hejhej: How was the Youtube shoot for you?
Hansi: Afterwards I felt so good and awesome. I was very happy about Sophie's message. I was a bit nervous beforehand, but I felt very good and comfortable during it. Life is just like a wave, sometimes it throws you down, sometimes you surf for a really long time, sometimes you're very excited and sometimes you're at peace. In our project, I was especially happy about meeting new people and being able to try myself out in a different setting. It was just very nice with you.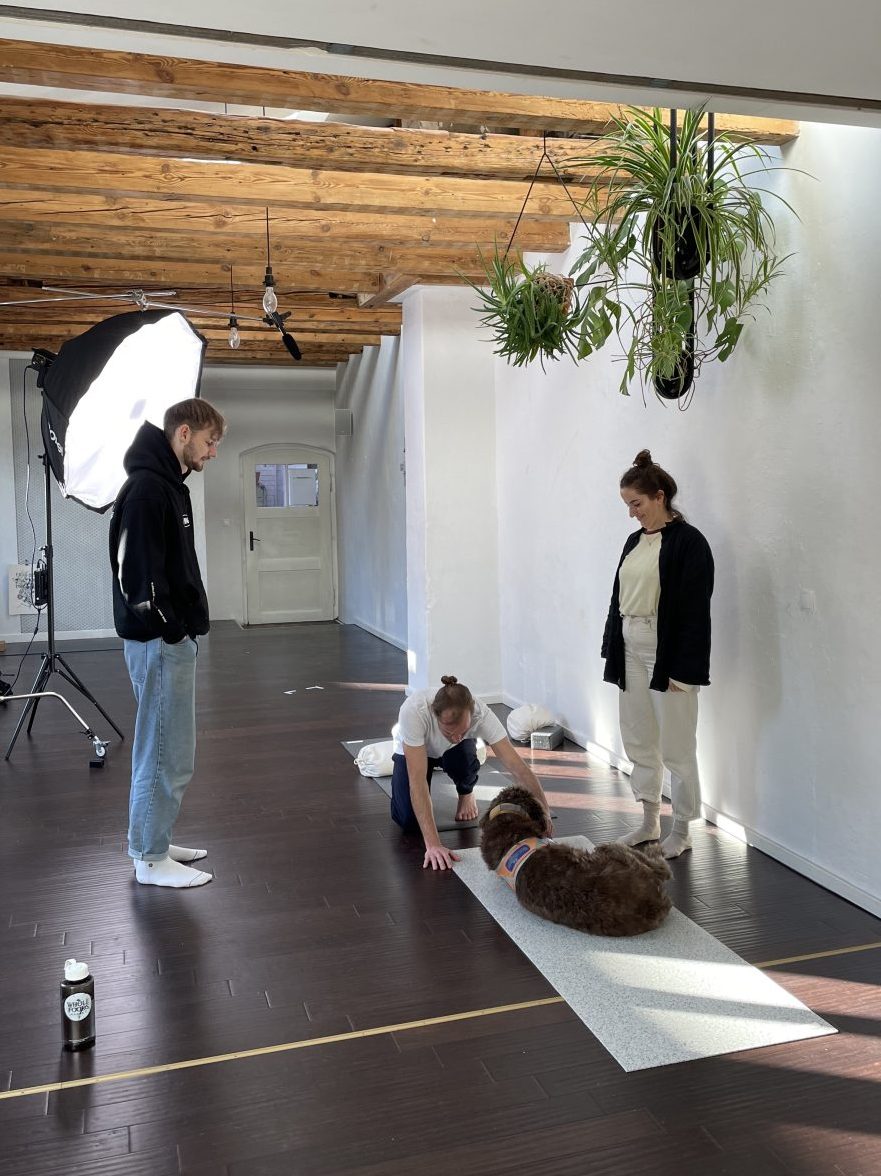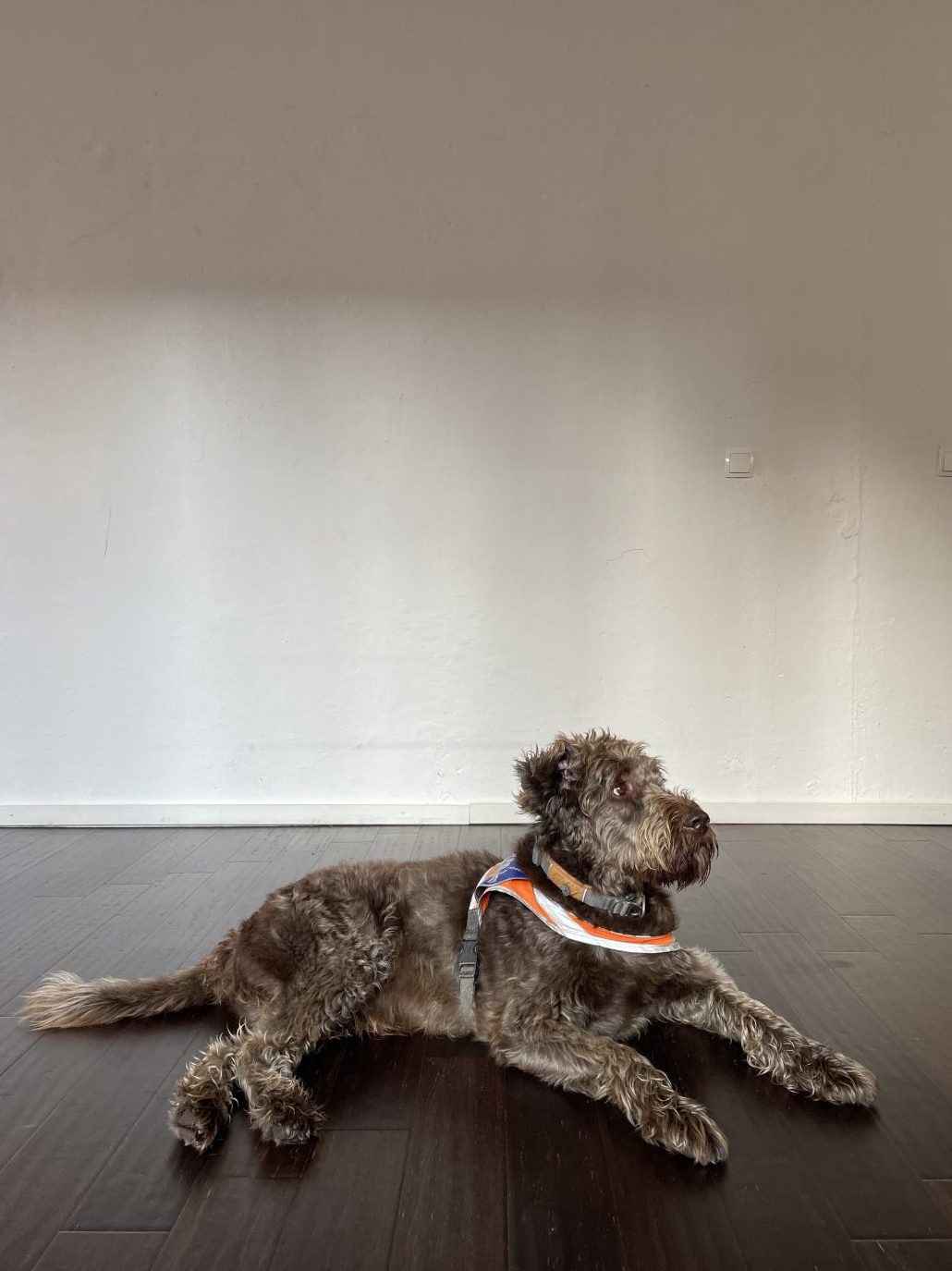 hejhej: What would you like to say in conclusion?
Hansi: If you are open, you can always learn from others. Especially in perception. I often recognise this in the conversation with my girlfriend. For example, she has become better acquainted with the barriers in everyday life, and until two years ago I still thought that the stars in the sky looked exactly like the star I haptically knew from the Christmas tree. People with and without disabilities can always learn something from each other. I would like to tell sighted people that a blind person is also not only blind but an individual human being and just additionally blind.
We are very inspired and so grateful for the experience we had with Hansi. Shooting the YouTube videos with Hansi was really special for us. We are very happy to finally be able to share them with you. Take a look at Youtube and write in the comments what Blind Yoga has done for you today. Thank you Hansi for your time and openness!
3 Questions for Hansi
This sentence inspired me very much:If you can breathe, you can do yoga.
Greatest Yoga Workshop: On New Year's Eve 108 Sun Salutations.
Favourite asana: The tree pose. Where do I stand in life? Why am I wobbling right now? What do I need to be stable but not rigid? The tree trunk is stable and rooted but the wind is allowed to play with it and may also wobble sometimes but not topple over. When I notice that I am not feeling well at all, I often practise the tree or hug trees. That is totally beautiful and gives me a lot.
Here you can find out more about the training to become a wilderness educator.
A book about Johann Mühlbauer: Was du nie siehst (in german)
Documentation about Johann's everyday life in the Medienwerkstatt Franken (german)
If you have further questions about Hansi, please send us an email.
You might also be interested in this:
---