Here we would like to share a guest article by Katja Sandschneider with you. We were very happy to share some important lines from Katja with you on the occasion of our new Youtube channel. Afterwards, you are welcome to go to Youtube and see her in action as a yoga teacher. We are very inspired by Katja. She has lived with incomplete paraplegia since birth. Since 2014 she has been teaching accessible yoga for people with physical disabilities in Berlin. In the meantime, the classes also take place online and are therefore also accessible to people outside Berlin – you can find them at: YOGA barrierefrei. Katja is a regular speaker at conferences on inclusion and has a teaching position at the Medical School Berlin, where she teaches accessible yoga to special needs teachers. The topic of yoga for people with disabilities is very close to our hearts. If you are also interested in this, we have another article on this topic by Lena Braun, she mainly deals with the medical view of the topic and has described a few asanas for you.
We hope you enjoy reading these inspiring lines from Katja!
Accessible Yoga
Is yoga possible with a paralysed leg and orthosis? How can asanas be modified for this? Can I participate at all? I asked myself these questions before my first visit to a yoga class and was surprised myself: Yes, you can do wonderful yoga with the orthosis and the asana variations are quite easy to find with a little creativity. Especially when the body is out of balance due to illness or disability, yoga can have a lot of positive effects. I have rarely felt as strengthened and relaxed as I did after my first yoga class. I very soon wanted a lot more of it and soon after started my daily yoga practice at home, which improved my back pain enormously – and still does. Because what started with a lot of curiosity and in search for more physical well-being ended in a passion and a new way of life for more inclusion and accessible yoga!
My Yoga Path
I have been very lucky with my teachers in training and various in-service trainings. Everyone has motivated and supported me and never made me feel that I will be a lesser yoga teacher just because I can't do certain asanas. On the contrary, my teacher in Berlin, Stefan Datt, emphasised when I told him about my own doubts that yoga was about so much more than being able to do the headstand. It is about showing people the connection to themselves again, to their body, their breath and the all-encompassing energy. Being able to demonstrate asanas actually takes on a rather unimportant role. I then quickly learned which cues and instructions for the asanas are important to guide participants into the postures with my words rather than demonstrating them.
I had the most fun and the greatest sense of achievement during my own training when we learned new asanas that I could not do by default. What is important about the asana? What do we want to achieve with this? What tools can I use? How can I modify them? I was convinced I could find a variation for myself and felt how this conviction drove me and eventually (almost) always made me find a possibility.
But of course, being frustrated and sad was also part of the process. Coming to terms with your own physical limits is never easy. Especially when we feel them much faster and more often than other people. What helped me was a change of mindset: to understand boundaries as part of the important communication between our body and mind and to listen carefully; to move away from a negative rejection attitude towards more understanding and a certain equanimity when I could not perform asanas the way I wanted. This still accompanies me today, also in my teaching: to always focus on what is possible and what participants can do, rather than on what is not possible. This attitude alone helps enormously!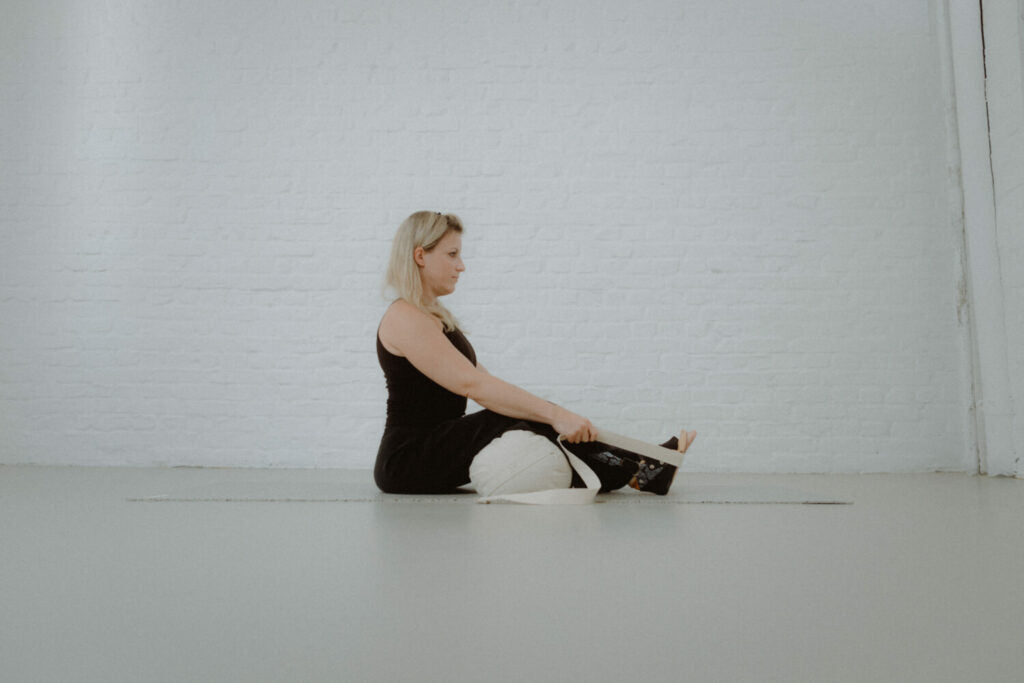 Everyone can do yoga
In the media, yoga – especially asanas – is advertised with photos of slim, healthy and young people, so that the majority of our fellow human beings believe that they cannot live up to this image and that yoga is not for them. So the first challenge is to break down the wall in many people's minds and the fallacy that you have to be healthy, flexible and fit to practise yoga. So for the first months or years of my independence with YOGA barrierefrei, I mainly communicated – by phone, by email, in interviews and in personal conversations, trying to convince people that you can also do yoga sitting in a wheelchair. Many were curious, but often lacked the courage to put something new into practice. In the meantime, there are many positive examples – especially in the social media – and above all photos and videos that show what accessible yoga can look like. And that gives courage and lowers inhibition thresholds! So I want to thank hejhej for the opportunity to spread my sessions through Youtube and hope that many people now have the access to accessible yoga.
The idea of yoga in a social context
Yoga means unity and harmony, with and within ourselves, with our fellow human beings and the universe. But why is it that so far a large proportion of our fellow human beings with disabilities are often excluded from the practice of yoga, whether consciously or unconsciously? With the yoga philosophy in mind, it is quite natural and necessary for me to give ALL people access to yoga. Because only then is it possible to carry the idea of yoga out into our society, which will hopefully be much more inclusive and tolerant in the future. Of course, this is a high goal, but even small steps along the way are important and necessary. I am therefore always pleased when I discover new "niche" offers that include people who have so far been rather excluded from the mainstream yoga scene, such as people with mental illnesses, people from other cultures in our country or children and young people in school projects.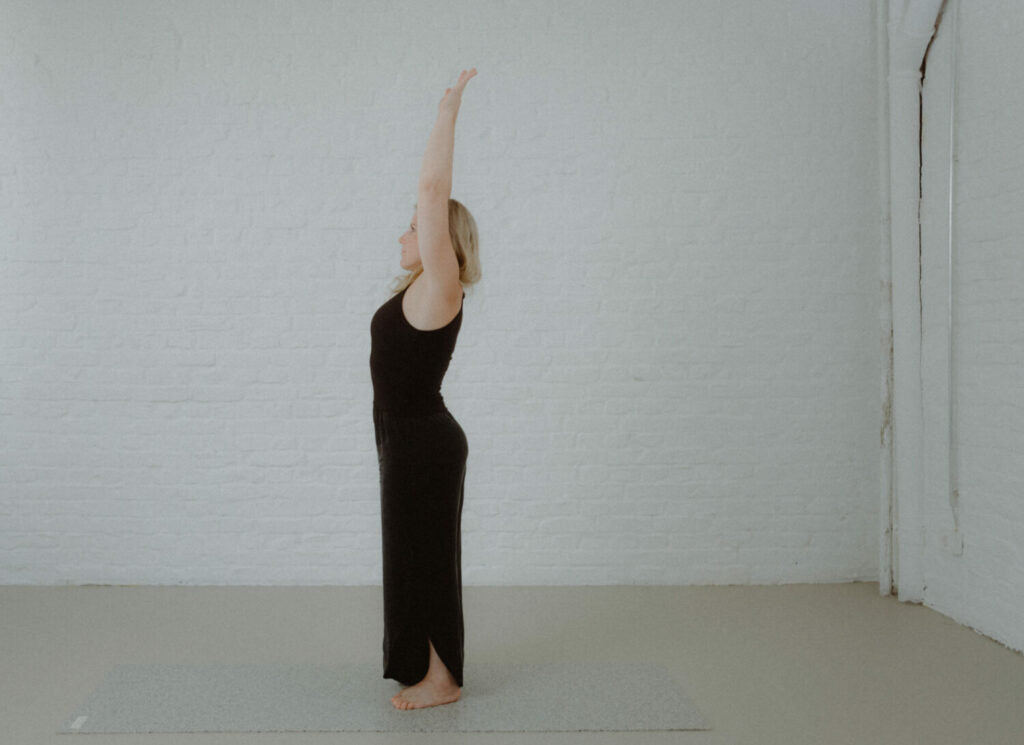 Online classes as an opportunity for more accessibility
It is undisputed that the pandemic has presented us with many problems and challenges. The yoga scene also had to reorganise itself and make do with online classes. What started as an emergency solution during the lockdown phases soon turned out to be an opportunity: people with disabilities from all over Germany who don't have any accessible yoga on offer in their place of residence were suddenly able to take part in my classes. What started as an emergency solution during the lockdown phases soon turned out to be an opportunity: people with disabilities from all over Germany who don't have any accessible yoga on offer in their place of residence were suddenly able to take part in my classes.
In the meantime, more than half of my course participants come from other parts of Germany, so that the Zoom classes have meanwhile developed into a regular offer. Getting to know each other before the first group session takes place either by telephone or, if desired, with a one-to-one session via Zoom. Yoga aids are also quickly found in the household: a belt or scarf instead of a strap, a sofa cushion or rolled blanket instead of a bolster, a book or Tupperware instead of a pad. Just as in the face-to-face classes at YOGA barrierefrei, the same applies online: use the available resources creatively.
Besides the great opportunity to make yoga accessible to even more people with disabilities, there are of course challenges in accessible yoga online. For example, I cannot give any assistance, so that the change from one asana to the next is sometimes more strenuous and time-consuming for some participants. At the same time, I don't have their body positions in view as well and holistically as I do in the studio. This, of course, carries the risk of injury above all else. Therefore, I emphasise – even more than usual – to direct the perception to one's own well-being and the signals of the body. The participants know their bodies best, feel when something is not working, then speak up and together we find another variation.
Sun Salutation on the Chair – Accessible Online Video
How yoga positively changes my students
Some of my students are in wheelchairs, others need a walker or forearm supports, they have amputations, are paralysed after a stroke or spinal cord infarction, are small in stature, have glass bones or autoimmune diseases such as multiple sclerosis or Parkinson's disease. But they have one thing in common: they practise yoga regularly and have been able to significantly improve their well-being – both physically and mentally. For example, after a few months, one participant was happy to finally be able to use his hands to reach his feet again and tie his own shoes. Another participant in an e-wheelchair reported after her first yoga class that she almost hit her head on the car roof when entering her car via the ramp, as she was suddenly several centimetres taller and more upright. But the effects are not limited to the body: many also feel more balanced and happier.
A major role is played by being able to help oneself with the yoga practice in case of pain or discomfort and thus feeling less at the mercy of one's own disability or illness. Especially in cases of sudden physical deterioration or after accidents, the feeling of being out of control and powerless dominates. Yoga can help you to feel this control again, at least to a certain extent, and to regain trust and connection to your own body.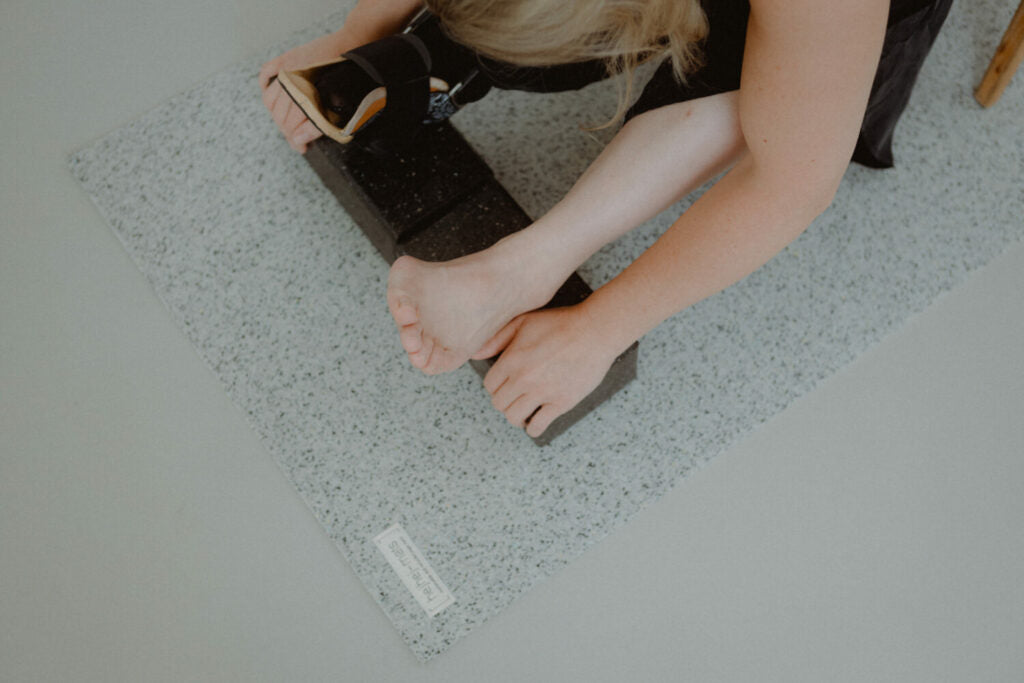 My personal goal
One of my key moments on the path to becoming a yoga teacher was the realisation or strong desire to turn my disability into something positive, not only for me but also for others. Therefore, I immediately realised that I wanted to teach people with physical disabilities. I want to inspire them and give them the courage to celebrate their body, feel it and be with it, even if it is not always what they want it to be. I want to show them what relaxation and well-being feel like when they give up the inner resistance to their own disability and relax into the body, into the breath, at least for a moment. I have been able to experience this feeling myself so many times in my yoga practice and it is just too beautiful not to share.
At the beginning of my yoga training, I came across the following saying that sums it all up: "If life puts obstacles in your path, build something beautiful out of them".
Thank you Katja for this valuable article on accessible yoga. We are very happy that we can work together on your vision. Be sure to watch the related YouTube video or join an online live yoga class at www.yoga-barrierefrei.de!
You might also be interested in this:
---