The development of our sustainable yoga mats took a long time. It was not just about finding the right materials and production processes. It was also about organising and deciding on different aspects of the product. For example: how do we pack the yoga mat? What material do we use for the label? And how do we put the label on the mat? It is very important to us to make all these decisions with sustainability in mind. This is how we are building our social start-up.
All aspects around our yoga mat should benefit our environment and society to some extent.
Because we want to be not only an environmentally friendly start-up but also a social one. As a new company, we think that the basis of every decision should be to also think about social responsibility.
So we decided to sew our logo made of biodegradable hemp onto our yoga mat. This should take place in cooperation with a social initiative. With WerkStadt Lebenshilfe here in Nuremberg, we have found a wonderful workplace for people with disabilities. At the heart of this organisation are the people. There are several different workplaces and people can work in their preferred area. The variety of orders is large: from the laundry to the own soap manufacture. There is the right workplace for all kinds of personal preferences and abilities. All people should participate equally in our society. Therefore, we wanted to hand over our orders to a social organisation. In order to support their goal of enabling people with disabilities to have an equal working life. We wanted to actively include people with disabilities in our society. That is why we cooperate with WerkStadt Lebenshilfe Nuremberg and are also regularly on site.
We are very aware of the criticism of workshops in general. We have been dealing with this complex issue for a long time. We have written down our opinion on this and also a lot of information about some of the players in this really complex topic in our statement and the workplaces guide.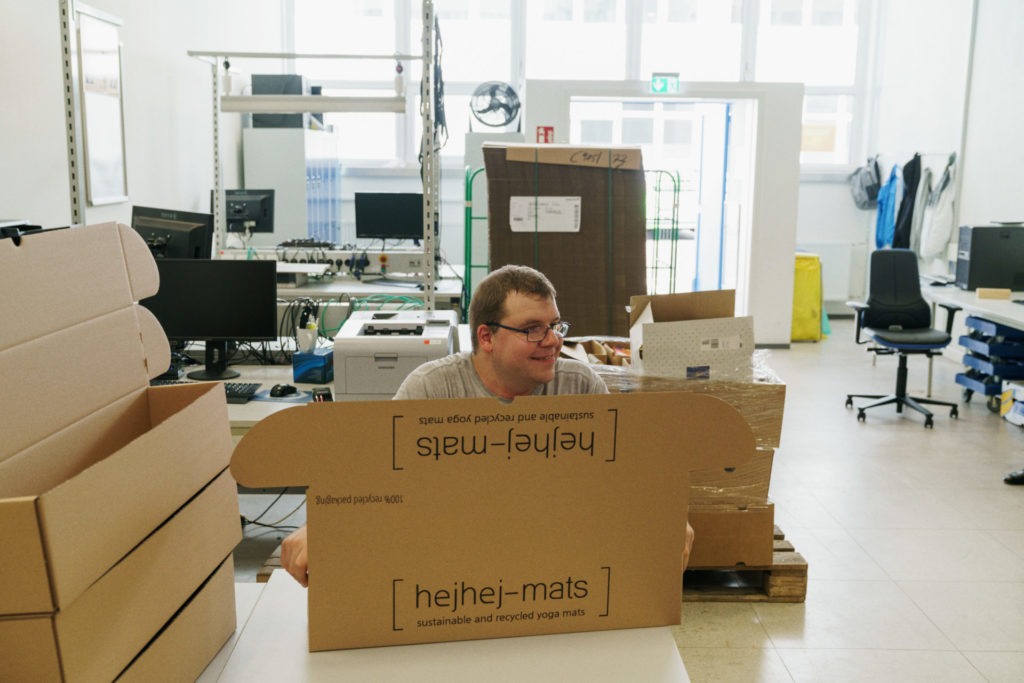 We believe that providing work is the best way to involve people in society.
Daily work structures people's lives and makes them meaningful. Their work allows people to experience recognition, success and the feeling of being truly needed. Our biodegradable labels have to be sewn manually onto our sustainable yoga mats. This is done in the workplace. Excellent work is being done there. From the beginning, people were very curious about our project. Everyone was excited to contribute to our sustainable yoga mats. Every seam is executed perfectly and with the utmost precision. It was not only this extremely high quality that totally convinced us:
Being a social start-up means getting an overview of the diversity of work opportunities in our society. This diversity should then be included in the company's agenda.
However, what really makes us happy when working with people with disabilities is the encounter with the people and the direct exchange. Every time we came to this wonderful place, we saw how content the people there were going about their business. We had so many joyful, valuable and funny conversations and meetings with the workers. So we could notice a big smile on our face every time we left. We plan and hope for so many more wonderful encounters with people. We want to continue working with people with disabilities. This is how we hope to include everyone in our society and in our sustainable hejhej future.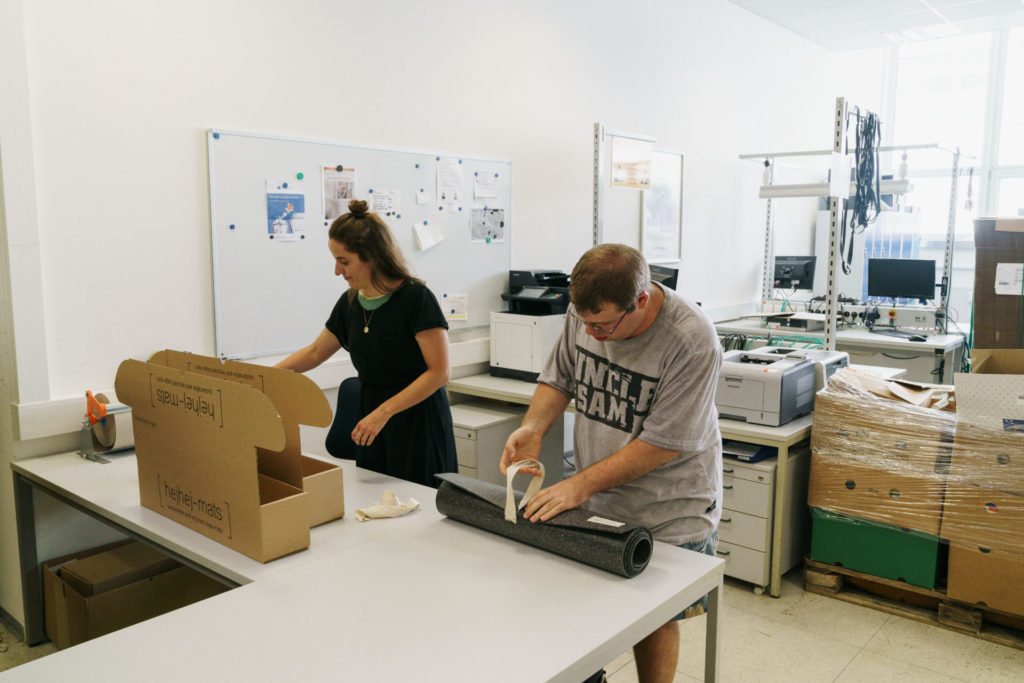 ---