Last week we took you on a very special week on Instagram: a theme week about the element of water. In Traditional Chinese Medicine (TCM for short), water is associated with winter. During the week we gave different impulses to connect more with the water within us and on our planet and to let the inner water flow. We have summarised this content for you in a complete journal article so that you can still refer to it now. These exercises are certainly not just for your winter but support you throughout the year to connect with the element of water. But now more about the water – let it flow.
Tuning in with Linda Pappa
How do you feel when you are surrounded by water? Have you ever connected with the element of water? Let's look together at what artist Linda Pappa writes about water in her book OUSÌA.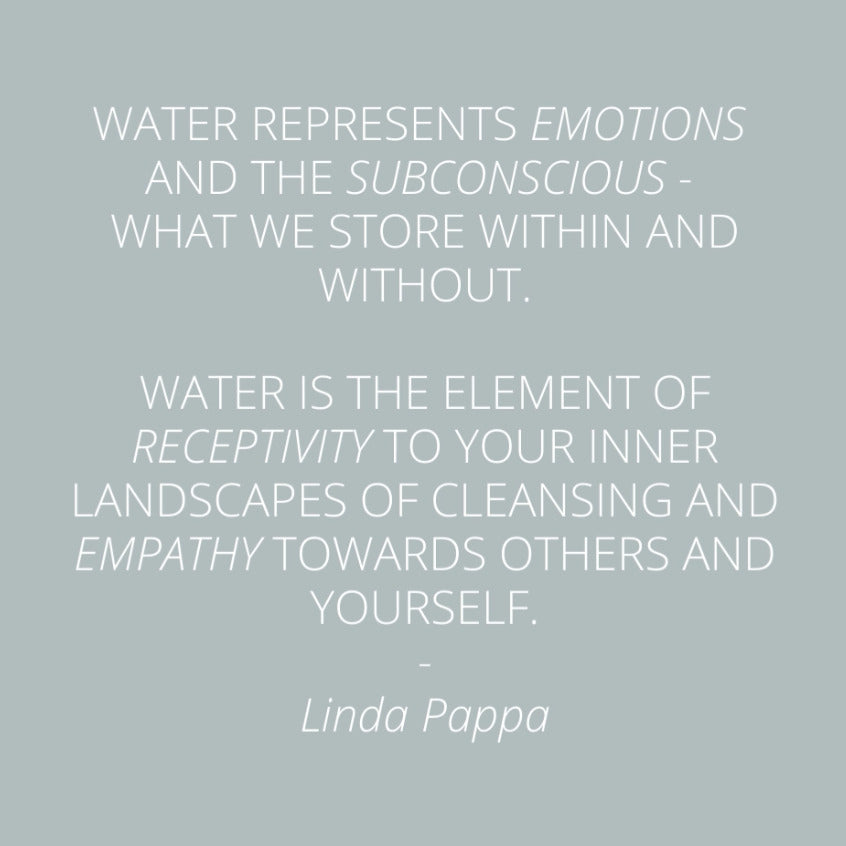 To go with it, we've created a water playlist for you on Spotify that you can leave running in the background for the next content → liquid tunes
Let's dip into cold water, breathe, and move the water within us.
Traditional Chinese Medicine (TCM) and the Element of Water
TCM is based on a system of vital energies in the body, the Qi, which circulates along the meridians. When this energy flow is disturbed and imbalanced, blockages can be released through precise treatment to restore the balance of yin and yang in the body. We are very happy that Yu shares her knowledge of Traditional Chinese Medicine with us. Yu Guo is a TCM nutritionist and acupressure practitioner. In this video, she shows you how to integrate traditional practices into modern daily life.
Extraordinary donation for Water Week [Aktion beendet]
According to Ayurveda, we feed on the element of water. For this special week we have decided to feed someone in need, we give and donate to Hanseatic Help e.V. for recovery aid in Turkey and Syria. From Wednesday to Sunday, we donated 1€ to Hanseatic Help e.V. for every hejhej product sold.
Katonah Water Salutations with Birgit at Sweetspot Yoga Studio
Let us move our inner water. Learn the Katona Water Salutations step by step with Birgit. Birgit is the co-founder of the hejhej partner studio Sweetspot in Graz. For us, this is a super valuable and beautiful cooperation that we are very proud of. Birgit teaches yoga, pranayama and mindfulness practices, integrating her years of exposure to different yoga styles, Ayurveda, TCM and bodywork.
Purification of your sexual organs – a meditation for your sexuality
We have another great video from Yu. She explains the principles of Yin and Yang in this video. The kidneys, the liver and the relationship to your sexuality from a TCM perspective. You will also find a meditation on how to "cleanse" the water element and your sexual organs.
Ocean Breathing with James
Let us breathe! Our breathing is one of the things we can use to instantly balance and change our state of mind. Ocean Breathing, also known as Ujjayi Breathing, is a restriction in the throat when you exhale. This way you create an oceanic sound.
James is a Breathworker from London. He runs weekly live sessions on his Instagram. In his online studio, you will find an on-demand library with more sessions. The hejhej-team has long been enchanted by its wonderful breathing sessions.
Simply by taking conscious control of our breath we can create an emotional, physical, and mental shift.

Breath with James
Ice bathing with Silvana
"Immersion in cold water is a great experience for me", says Silvana. Silvana is the founder of soil yoga meets clay, a hejhej partner studio in Austria. She shares her personal ice bathing experience with you today. "It immediately brings me to the here and now, and connects me with the present moment, with my body and myself. Through the cold water, I feel one with the nature that surrounds me, I feel alive and free. The silence of winter and the calm and simultaneous power of water have a fascinating effect on me. It is an experience of winter with all my senses. If I had to describe the experience of ice bathing in one word, it would probably be bliss.
In the beginning, I practised ice bathing after warming activities such as a running workout, an activating yoga session, a long walk, and after the sauna. But now I am drawn to cold water even without a heated body. While I go into the cold water, I practice deep, steady, and calm breathing, with each breath I dive a little deeper into the water. After bathing, I like to meditate intensely and consciously perceive all the positive effects and let them linger.
Cold water has a positive effect on the cardiovascular system. Blood vessels contract and blood circulation is stimulated. After great exertion the body can regenerate faster, therefore ice bathing is also used in competitive sports. In addition, happiness hormones such as adrenaline are released, which provide an energy boost, stress relief, and a great sense of well-being.
I also find it important to mention that when ice bathing, as with yoga, a very mindful approach to yourself is important. In case of health problems and pre-existing conditions, medical advice should always be sought beforehand if in doubt. In addition, it is recommended to approach slowly, as well as not to go swimming alone."
Check out our Instagram post from Silvana:
Thank you to all involved in this valuable water week. Save this journal article directly and send it to a friend who is also allowed to let her inner water flow.
You might also be interested in this:
---