Rediscovering old traditions. Presenting knowledge in a modern way. We are very enthusiastic about putting a modern spin on old traditions and wisdom, making them tangible and aesthetic for today. The Berlin start-up kruut by Annika and Thorben is certainly one of the biggest pioneers in this field. The fascinating knowledge of wild herbs is the focus here. Knowledge transfer via Instagram and the own blog, recently a book and of course the direct application of wild herbs for drinking is a very coherent project for us. We are delighted to have something very special for you on the occasion of our 5th birthday together with kruut.
Free wild herbs to drink with every order (no longer valid) [Aktion beendet]
At hejhej we see health as something holistic. Health is a top priority for us, both for our planet and, of course, for us as human beings, we see it as an important area that we communicate about again and again. For us, holistic health is also consciously enjoying something that gives your body a sense of well-being. That's why the Oxymels from kruut are just the thing for us! For every hejhej order, no matter which product, you get three bottles of Oxymel for FREE. While stocks last. [Promotion ended]
What is an Oxymel?
From today, 17 August and hejhej's 5th birthday, you'll get three free bottles of Oxymel with every order. kruut are the pioneers of Oxymel production. The knowledge comes from the ancient Greeks, who already greatly appreciated the precious elixir. With all the highly processed products nowadays, the production of oxymels has unfortunately been totally forgotten.
Oxymel [Oxy = sour; Mel = honey] is a traditional tincture of raw honey, naturally apple cider vinegar and a selection of native wild herbs. Due to the high extraction power of the basic ingredients, the valuable herbal ingredients are preserved in the Oxymel. Kruut brings the traditional elixir back into our everyday lives and repackages a millennia-old recipe. [Source]
Mixed with water, it's a really easy way to incorporate the valuable wild herbs into your daily routine. The recipes from kruut are deliciously combined! Depending on the variety, wild herbs have different effects on your body and mind.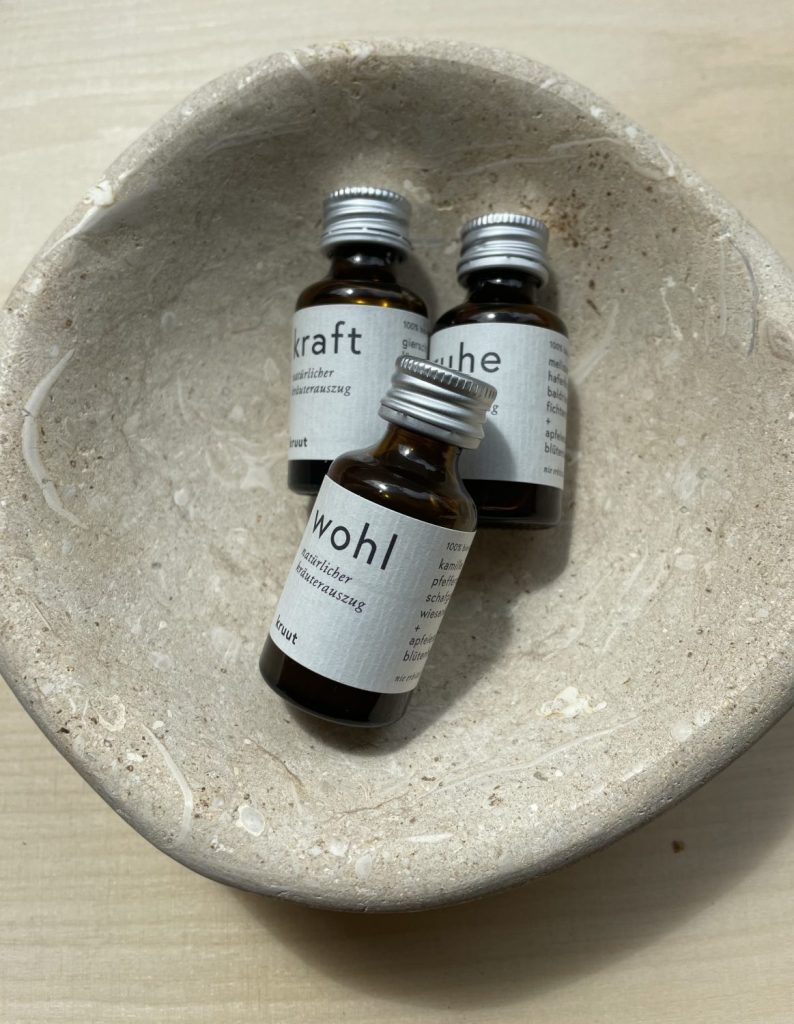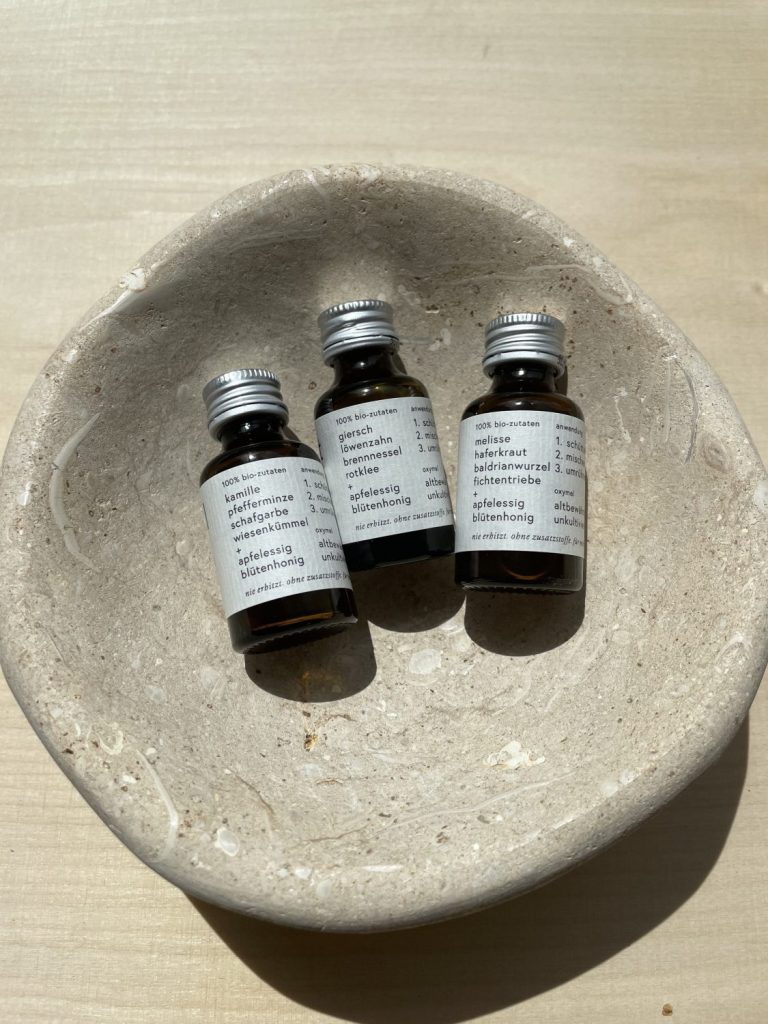 For your meditation, we recommend the varieties: ruhe (calm), wohl (wellbeing) & kraft (strength)
A big part of meditation for us is consciously enjoying the moment and focusing our mindfulness on the moment in the here and now. To pursue a matter in silence. Do something "meditative". There are some tools that can help you with a routine, especially in the beginning. At the end of this article, we describe a mindful morning routine for you – short and crisp, so that you can really incorporate it into your (work) routine.
Wild herbs can support your meditation
Because the ingredients of wild herbs have a calming and/or focusing effect on you, they are wonderful little helpers for your meditation. They give your body exactly what you need right now. To give you a taste of the power of wild herbs, we have put together a few examples.
The goutweed (picture right) supports your strength and gives you energy. With its high vitamin C and mineral content, it gives you steadfastness in life. Melissa is your herb for relaxation. It has an antispasmodic effect, gives peace and calms. Therefore for us also an ideal companion for your meditation. Yarrow (picture left) is a herb that supports your digestion. In addition to yoga asanas for good digestion, you can also make use of the antispasmodic and anti-inflammatory effects of yarrow. Also ideal as a herbal remedy before or during your period.
Wild herbs, therefore, have enormous health-promoting potential that grows right on your doorstep. As identification can sometimes be a hurdle at the beginning, we are so enthusiastic about kruut, which offers not only identification but also wild herbs directly for consumption.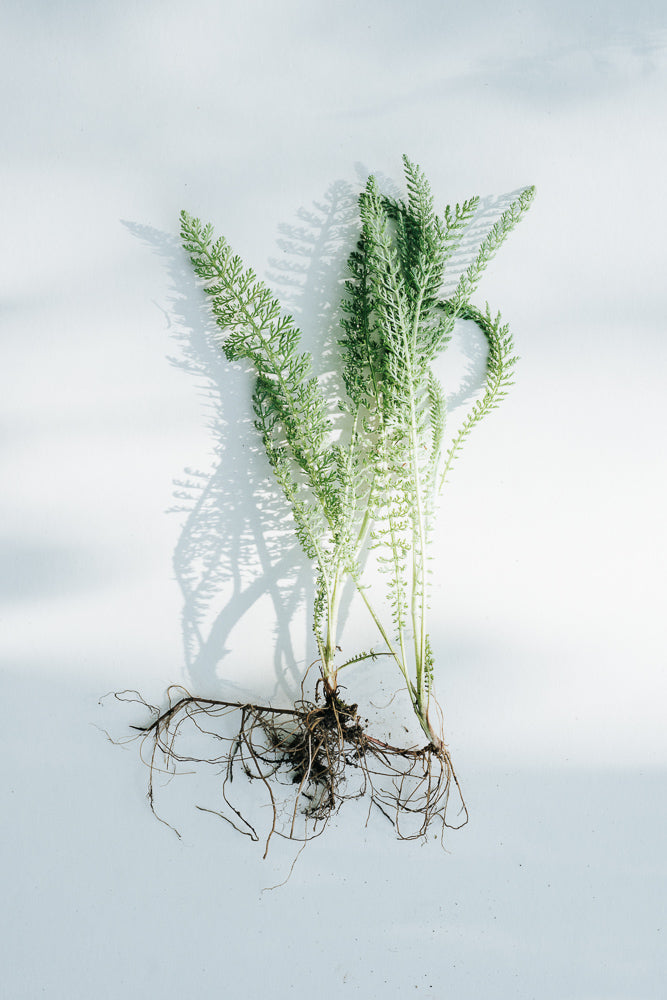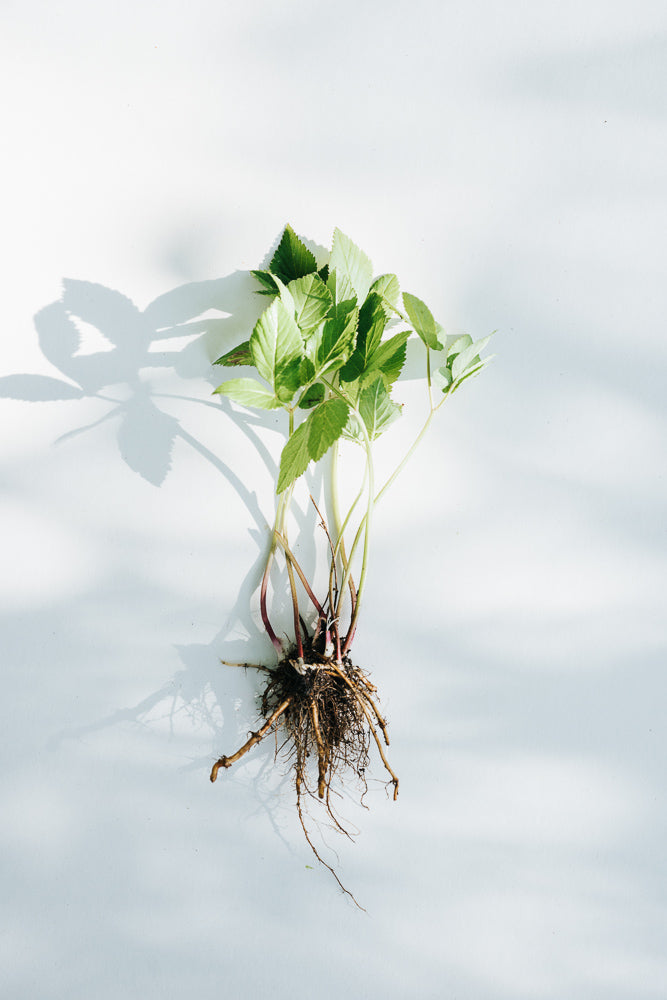 hejhej morning ritual
To start your morning with a mindful moment, we have put together a little morning ritual that you can easily integrate into your everyday life.
Duration: approx. 5-10 minutes
After waking up, optimally without your mobile phone in your bedroom, get up promptly and run straight to the air and light. Either you have a garden or balcony or alternatively, you can just open your window to soak up the fresh morning air and sunlight. These two natural stimulants help your circulation to wake up. If you are lucky enough to be greeted by warm rays of sunshine, put your face in the sun and enjoy the warmth on your skin. But a cloudy sky and pleasant daylight also let your skin breathe! Just a few minutes of direct daylight or sunlight immediately after getting up can have a huge impact on your body and mind. It contributes to improved sleep quality and will have a positive effect on your mood in the long run. We ourselves try to take a short time for this every day and are already very enthusiastic about this morning routine. (Listen to this podcast episode to learn more about light and health).
Start with a few mindful breaths into your belly. Breathe as slowly as possible, as deeply as possible and at the same time as relaxed as possible. The inhalation comes very slowly, the abdomen relaxes forward during the inhalation and is allowed to arch outwards very loosely. When you exhale, it pulls slightly inwards, your lungs can become empty. Enjoy the empty space for a short moment before breathing in again gently and easily.
Stay here consciously with your breathing for a few minutes and enjoy your first-morning mindful moment in the here and now.
Now that your skin and lungs have been allowed to breathe, take a few minutes to consciously prepare your morning drink. Take your nicest glass, and choose an Oxymel variety according to your current needs. Really feel into your body here for a moment, what it actually wants and longs for today and right now. Mix approx. 1 tbsp. Oxymel with a glass of water for the preparation. Watch consciously as the Oxymel slowly mixes with your water – a dance of liquids.
Now you can enjoy your drink in peace and quiet. What do you taste? How does it smell? Is there a before and an after taste? Also, really take a few minutes here to consciously focus on this one thing. The moment belongs only to you.
We are sure that afterwards you will start your day more mindful and focused and will be able to look at yourself and feel your needs in a more sustainable way.
We wish you a wonderful start to your day!
kruut x hejhej
You might also be interested in this:
---