We have developed the whole production procedure of our hejhej-mats. It took us quite a while and for us, it was so important that even the tiniest aspect of it is as sustainable as possible. When we told some friends about one of our last production days, they were really curious to get all the details. They suggested we should document the whole journey of a hejhej-mat. We took their advice and want to share with you the ethical production of a yoga mat.
The story of a hejhej-mat – an ethical production of yoga mats
It all starts with off-cuts from the foaming production. We are cooperating here with a company that produces different foaming products. All the off-cuts that are naturally occurring in the production get collected, recycled and processed into a new foam, which is the main material of our yoga mats.
Both of us are part of every single ethical production of our yoga mats
These recycled foam cuttings are the heart of our hejhej-mats. However, they are not a yoga mat yet and some further processes need to be done. The main ethical production of our yoga mats takes place in a machinery factory about 1,5 hours away from Nürnberg. We have been there for several days of testing and are now part of every single production. Both of us are there to work on the machines for the whole day. In this way, we can check the quality of our hejhej-mats all the time. About 5 people are working on the machine and the foam cuttings need to be inserted in the machine manually.
The medical confirm surface as well as a thin textile get added in the machinery and make the mat durable and long-lasting, which is so important when developing a new and sustainable product. Every mat needs to get out of the machinery manually again. A yoga mat needs to be slip resistant and since both of us are practicing yoga ourselves and due to several testing with yoga teachers, we knew that slip resistance makes a high-quality yoga mat. That is why we are also refining the surface with a gentle structure.
Cooperation with a workplace for people with a handicap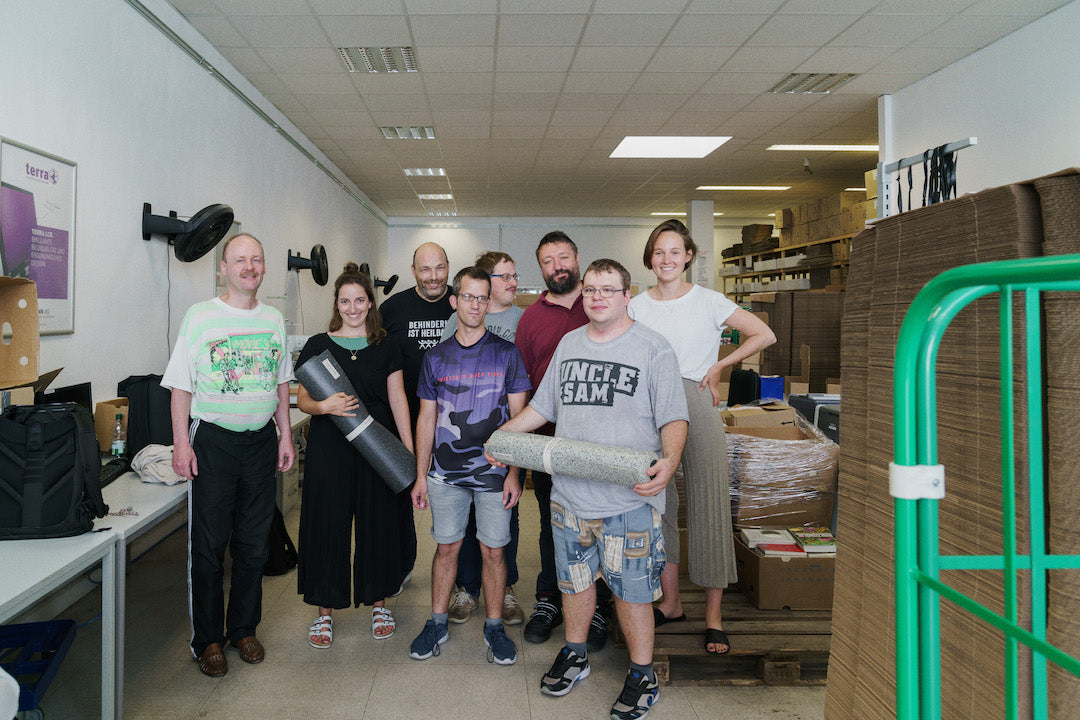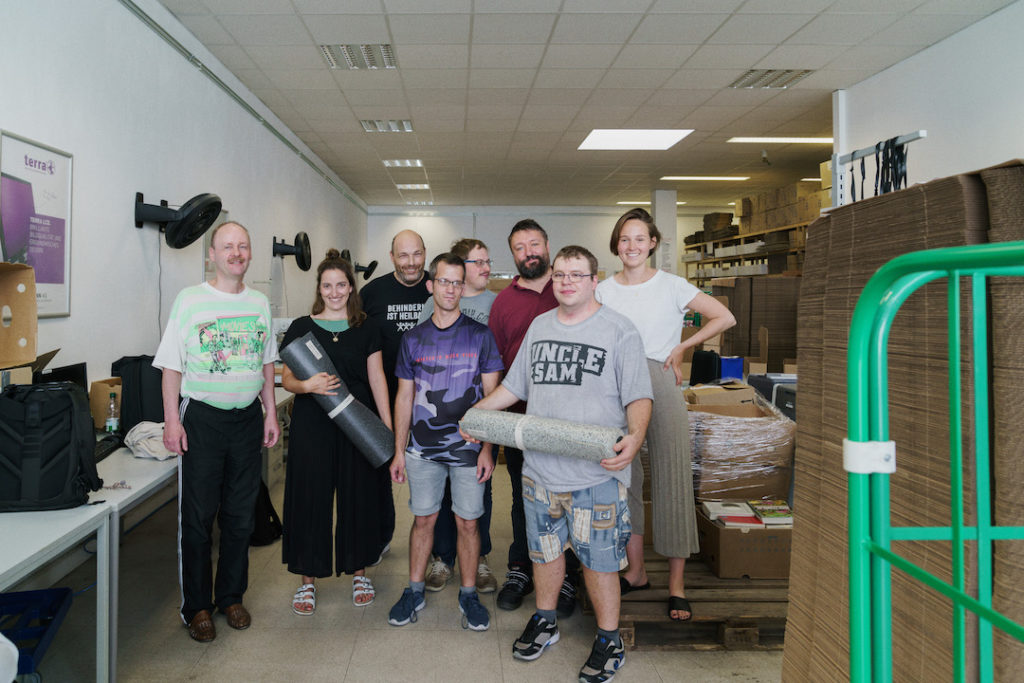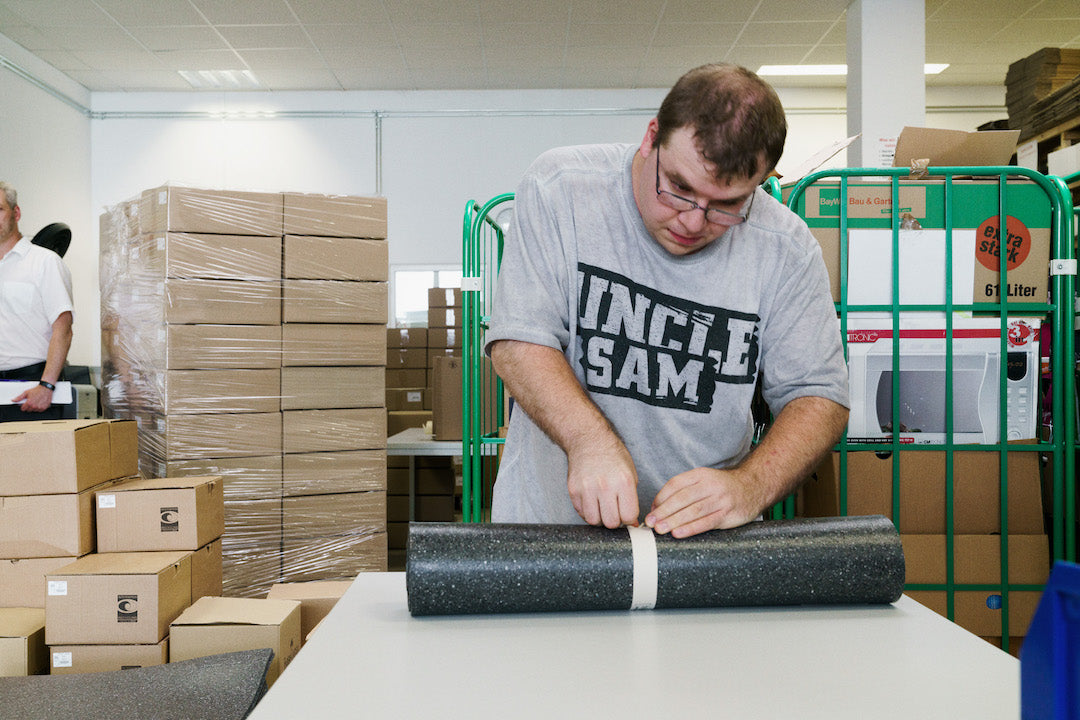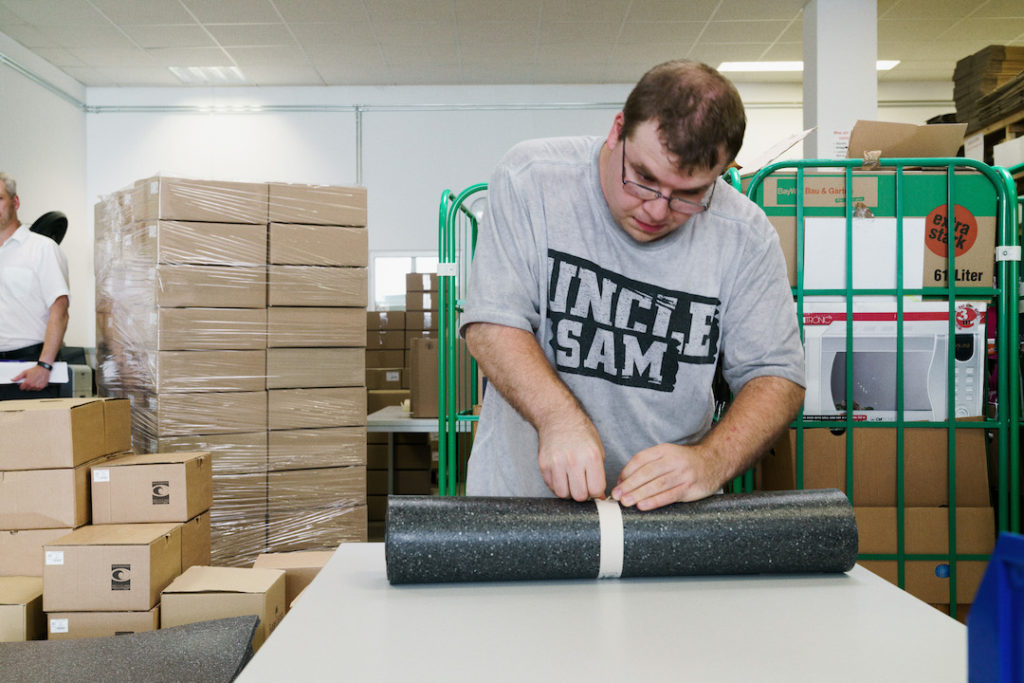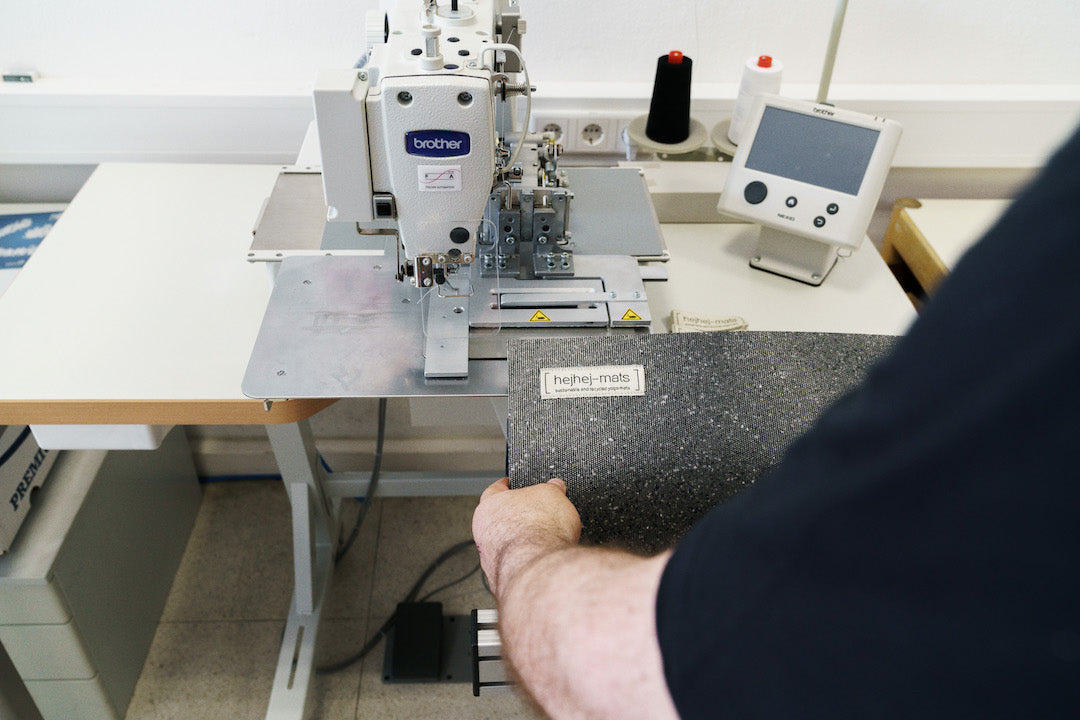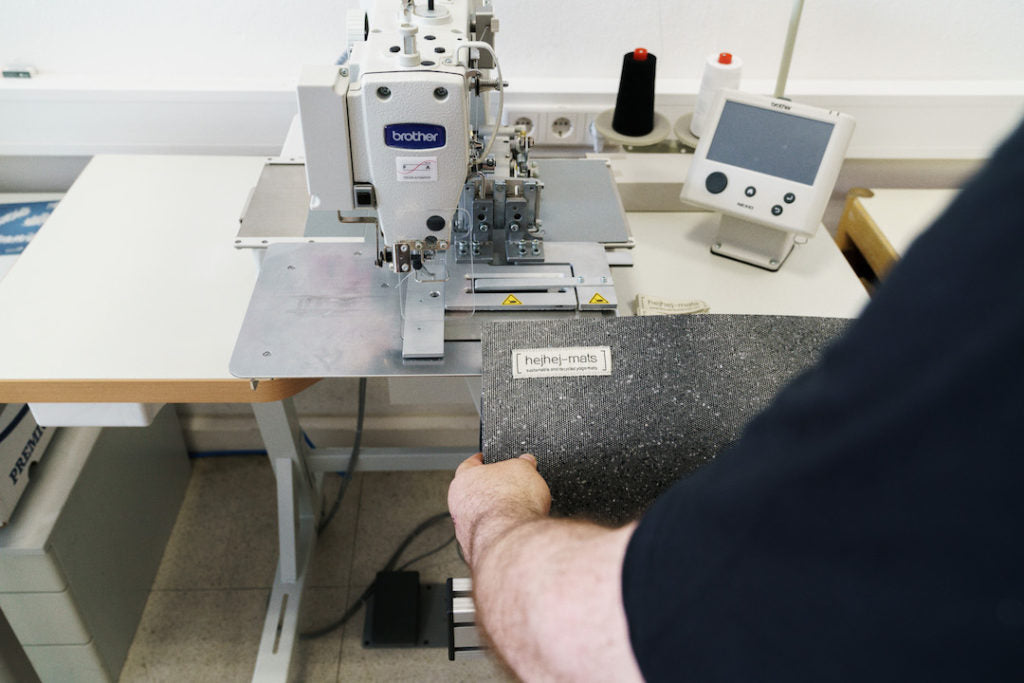 When the mats arrived at the integrative workplace, we directly come to this place in order to do the quality checking. After checking the hejhejs, the people working at the integrative workplace start to sew the logos on top of the mat. Each mat gets sewed on top individually and afterwards, gets rolled up. In order to hold the mat together a nice and sustainable hejhej strap gets put around the mat. The logo is out of biodegradable hemp and the strap out of biodegradable ecological cotton.
Next step would be to fold the carton, which is out of 100% recycled paper and to put the hejhej together with a small product information card (again out of recycled paper) into the carton. We do not use any additional packaging and no plastic is involved. The last step would be to put two tiny pieces of tape in order to make the carton keep together. We really tried to create every aspect of our hejhej-mat as sustainable as possible. Which is why even this tiny tiny last step of the tape is out of recycled material.
So when buying a hejhej-mat you can really be sure that your hejhej comes from a ethical production and is 100% sustainable in every tiny aspect of it.
The storing and the shipping of the mats are taking place at the workplace for people with a handicap. We ship our hejhej-mats every working day, which guarantees you a really fast delivery. If you are wondering about the delivery, we are using climate-neutral shipping with DHL.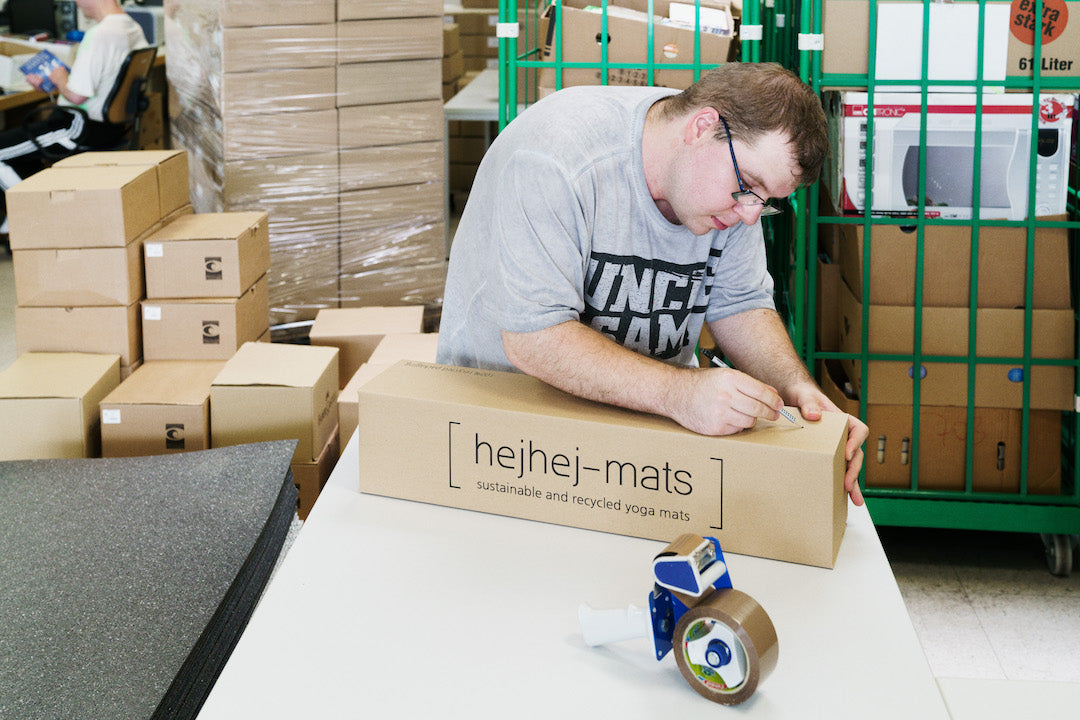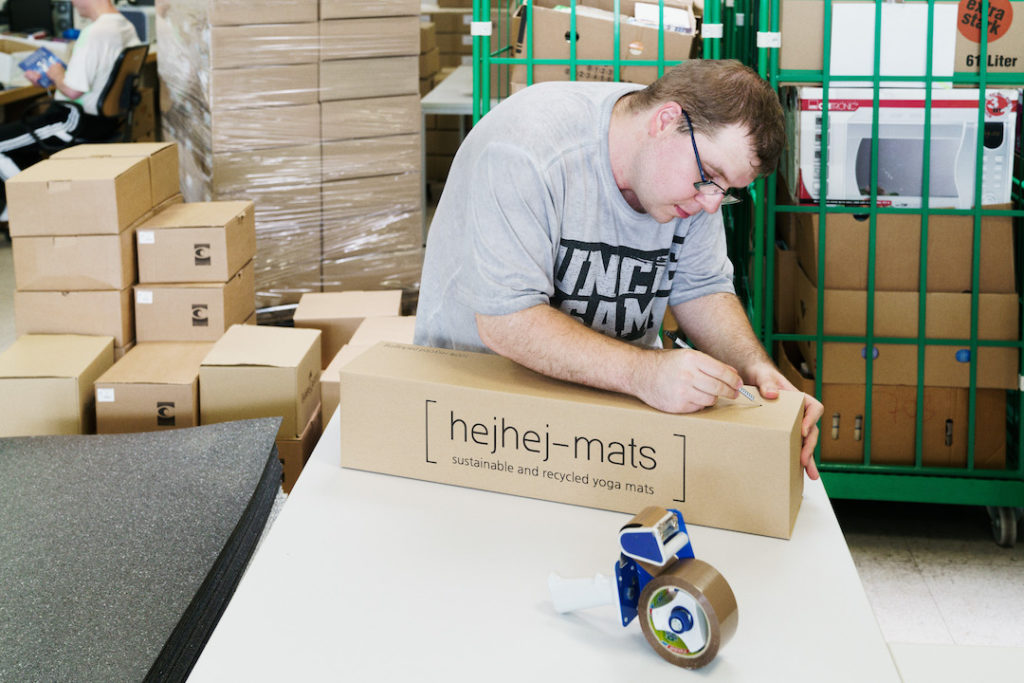 What we want to show you with this article? We want to communicate really transparent about how our hejhej-mats are produced. We consciously decided to produce in Germany. Our goal was to act as socially and ethically as possible and to keep the transportation ways as short as possible. All the production steps are taking place maximum 1,5 hours away from our base in Nürnberg.
---