Today we introduce you to all the great and inspiring people we have already worked with. Whether photoshooting, shooting videos or writing journal articles together. We are very proud and super happy about all the valuable collaborations and yoga with limitations to explore. We're looking forward to adding more and more to this list and picking up some great topics for you.
Blind Yoga with Hansi Mühlbauer
Morning routine with Hansi – Wake up your body together (in german). You feel safe with Hansi and if you can see, try closing your eyes or tying something in front of your eyes.
Evening routine with Hansi – Wind down your evening (in german). You put your body and mind at rest. Gain distance from all that you have experienced today and arrive in the here and now. Yoga without limitations.
Photo shoot with Regina
This photo shoot for our launch of the hejhej-pillow was something very special for us. Feel free to read the Journal article dedicated to Regina and all the people with a chemo look. Regina definitely inspired us a lot and we are grateful that she gave us her trust.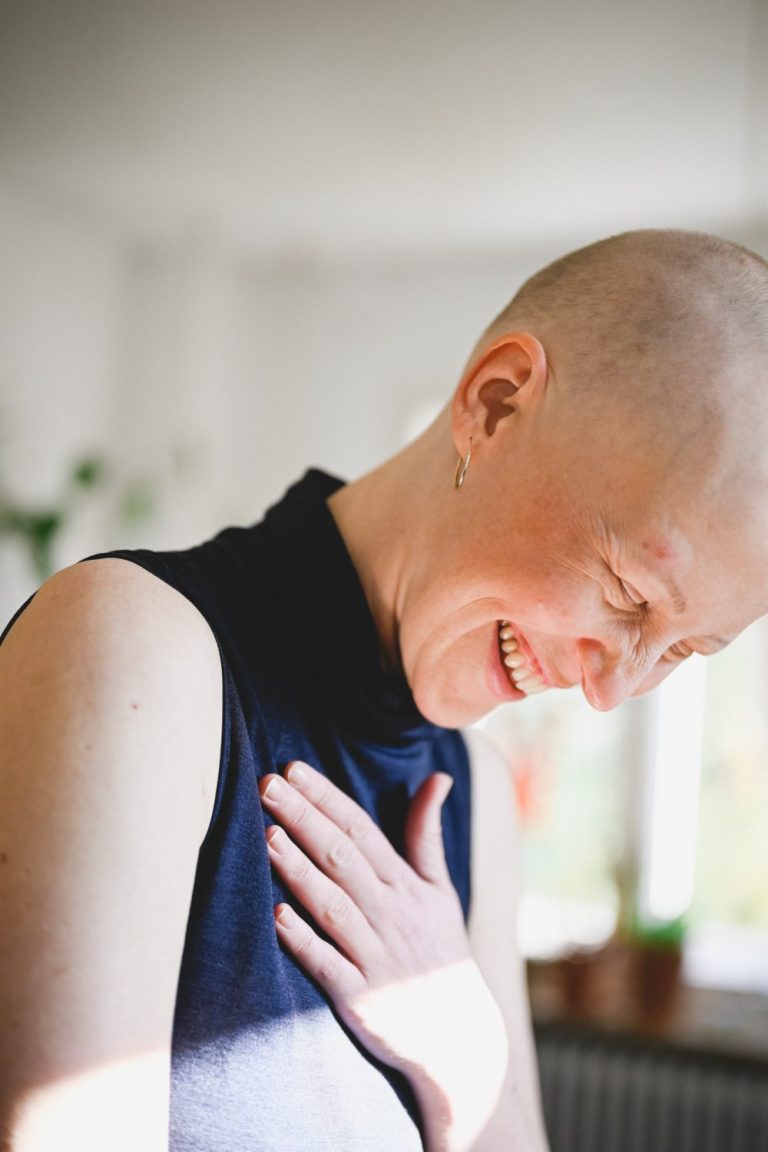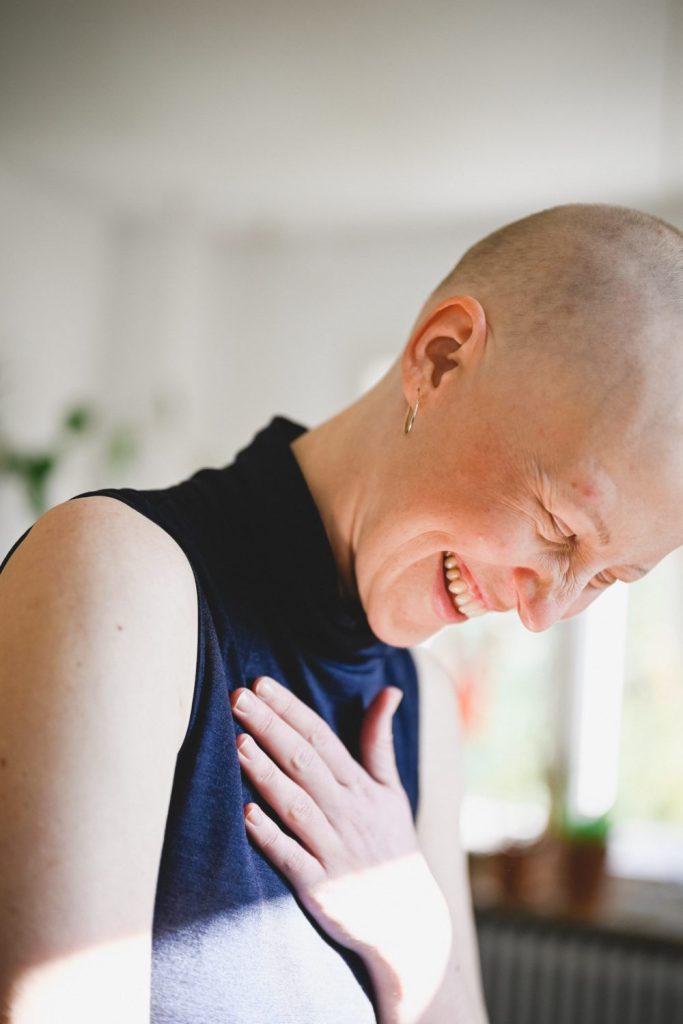 In general, it is very important to us to make our photo shoot model choice diverse. We are looking for open-minded and emphatic people who want to show themselves in front of the camera. In the cover picture, you can see Nico at our Yoga Block Shooting in the greenhouse. He works in our partner workplace and is involved in the hejhej-spray production, for example.
Yoga for people with disabilities – a guest article with Lena Braun
Together with Lena Braun from Munich we wrote a journal article about yoga for people with disabilities. We love Lena's work and are therefore very happy to be able to support her: Yoga for People with Disabilities Journal Article. Lena is an important part of enabling yoga with limitations in Germany.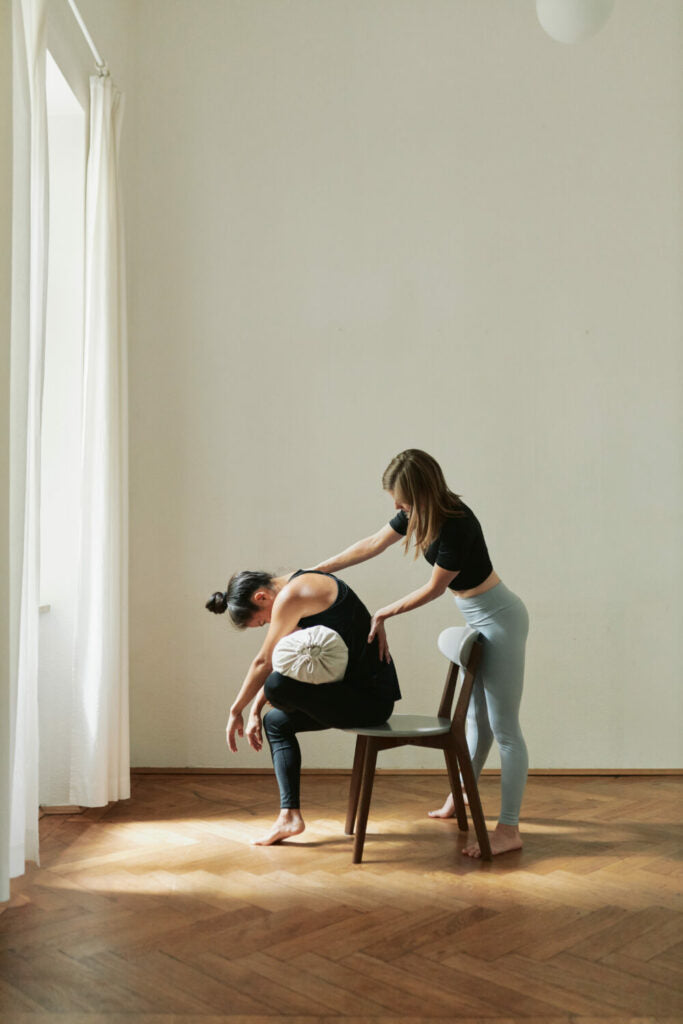 Trauma-sensitive yoga
We've already started quite a few things together with Loredana on Instagram. We are super grateful for their valuable content every time. You can find a lot of stuff with her in the reels on Instagram. Also here in the Journal, Loredana has written an article for us on her heartfelt topic: Trauma Sensitive Yoga about trauma, yoga and the nervous system. Be sure to click in if you want to read more about the power of yoga with trauma. Also, especially if you are a yoga teacher, it is so valuable.
Yoga for deaf people
Annalisa also touched us very much with her story. Have you ever wondered why our YouTube videos have subtitles? We were certainly inspired by Annalisa's journal article: Yoga for the hearing impaired – inclusion in the yoga world. You can definitely learn a lot here, because Annalisa directly presents many possibilities for action for you. Again, super interesting if you are a yoga teacher and want to include participants with limitations.
Accessible Yoga with Katja on our Youtube Channel
Variations of the sitting sun salutation – Practice the traditional asanas on the chair together with Katja (in german). Whether as a little break for you at your desk, as a shared yoga routine with someone who usually finds yoga videos too fast and active (we practice it regularly with our grannies) or you send it directly to someone who is in a wheelchair. Katja definitely gave us insights into a new world and we are very grateful that she felt like shooting yoga videos together in Berlin. Read more about Katja's story and how she discovered yoga in our journal article: Accessible yoga for people with physical disabilities.
You can find more videos with Katja on our Youtube channel:
Accessible Yoga – Yoga on the chair, kneeling or standing | 30 min (german)
Sitting yoga as a break in everyday life | 15 min | with chair or wheelchair (german)
On our YouTube channel you can also find a collected playlist of yoga videos for people with disabilities.
Our goal is to make yoga accessible to all. We are always working on that goal. If you think of suitable cooperations, please feel free to send us an email or a message via Instagram. We are really happy to hear from you.
Yoga for All is certainly an ambitious goal. We try to include as many people as possible. Will you help us? Take a look at our video about yoga for all…
---