Independence. Be free. For us, being able to work from anywhere is definitely one of the most beautiful ideas to shape our working day. We from the hejhej-team use this freedom and are always on the road, preferably with our own van in nature. Learn more about our workation on the camping site.
Besides the independence, we then appreciate the togetherness of the team all the more. We are always actively on site for important projects, such as the recent one in Berlin, or for production in the Bavarian Forest. Besides brainstorming for future projects and working routinely, there are also a lot of topics besides hejhej that we can delve into deeply and chat about. We all enjoy the time together in one place very much.
Workation – What is it anyway?
Definitely a new trend word that has really got a boost from the home office presence in the Corona era. But for us, in fact, nothing new. Since we have never owned an office, not even our founders Anna and Sophie, we are constantly in the remote office. The definition of workation we found on the internet is: Workation is the merging of holiday (vacation) and work. People travel to a place for this and work during the holiday [Source]. Of course, there is a justified criticism here first: Who wants to work on holiday? Being constantly reachable? We can very much understand if this is also nothing for some people. But the question: Who is allowed to work on "holiday"? is one we would much rather ask ourselves. It's also important to understand that it's our working time and not a holiday, which means that we still have holidays and enjoy them completely offline (with the exception of the first years of our founders).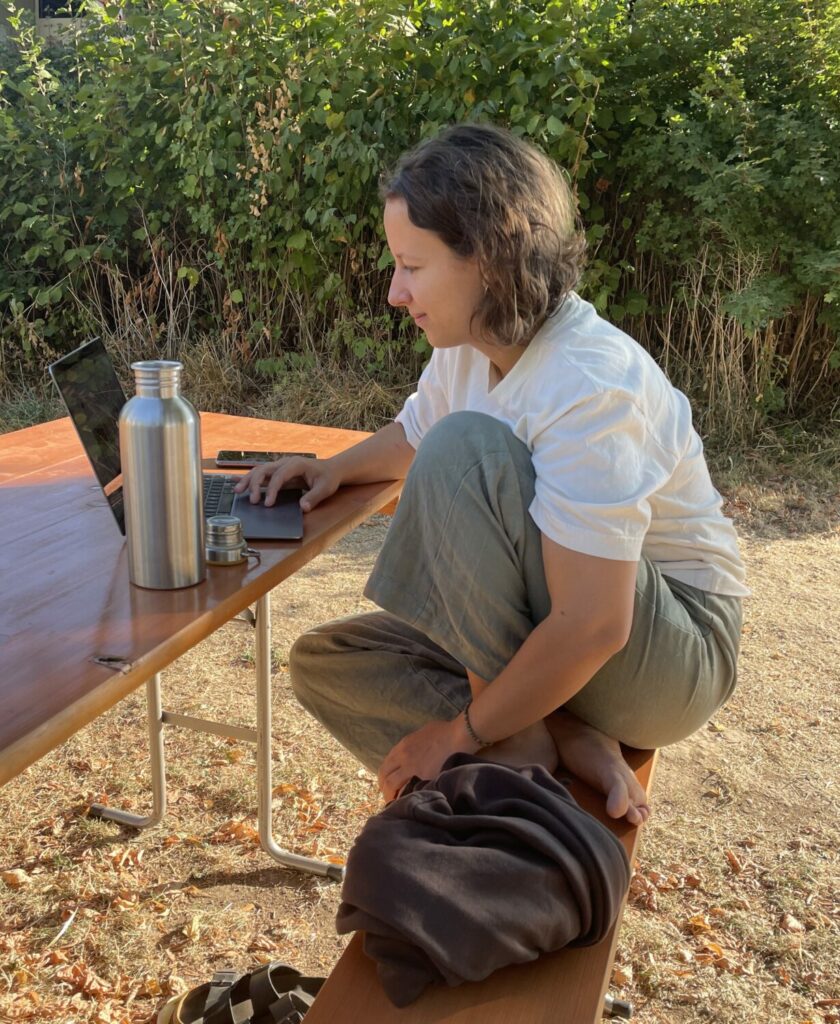 Workation and camping
In August we met for three days for a workation. It doesn't necessarily have to be far away from you – there are also great places in Germany to spend a few days together in nature. We were very happy about the invitation to the Odenwald River Camp. Not many campsites are prepared for remote working, so it was important for us to have a good Wi-Fi connection and sockets for the laptops. Tamara and Ali were super lovely and made us feel very welcome and provided everything we needed for a comfortable camping time. As we at hejhej also organise our everyday life as sustainably as possible and are aware of the environment, it is super important to us, especially at a camping site, that it uses our resources sparingly.
#smallthingsmatter
Sometimes it's the little things that make such a workation so special. The Odenwald River Camp definitely had some of these "little things" that convinced us. Be it regional, partly vegan food, proper waste separation, recycled toilet paper, sanitary facilities to feel good, at the same time signs with the current drought/delivery difficulties to draw attention to it. The wonderful and natural teepees on the site definitely make the Odenwald River Camp a camping eye-catcher!
What is important to us
We especially enjoy the cosy get-together and the opportunity to be creative together. Cooking together, going on excursions and of course practising yoga together on our hejhej-mats are important things for us. Especially in a natural environment, such as on a camping site, this is very good and easy to do. Conversations can be deepened very well over a campfire and watching shooting stars! So that you can feel the camping vibe right away, we have created a playlist on Spotify for you: hejhej-camp. Have you thought about a business trip as a workation on the camping site?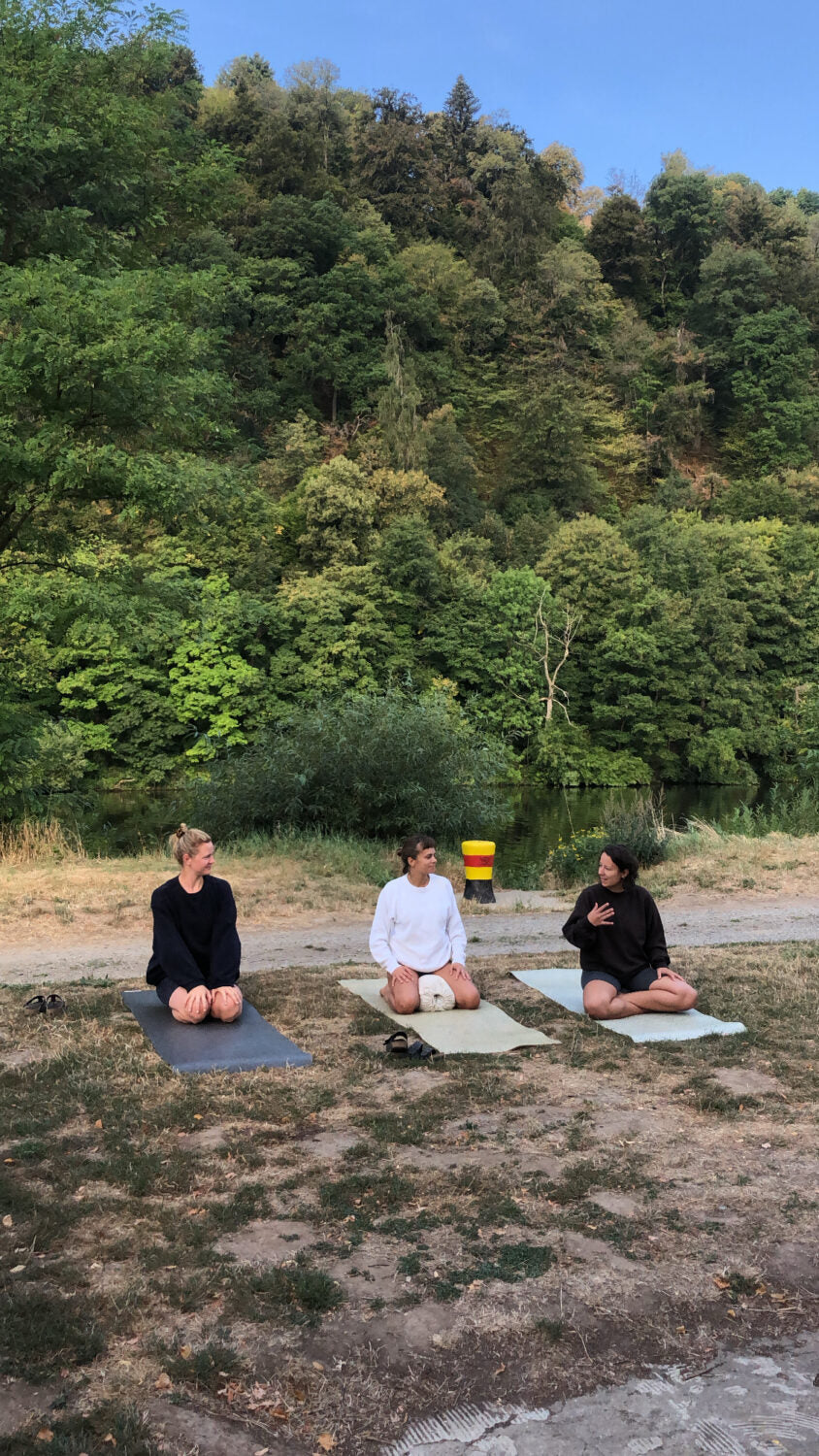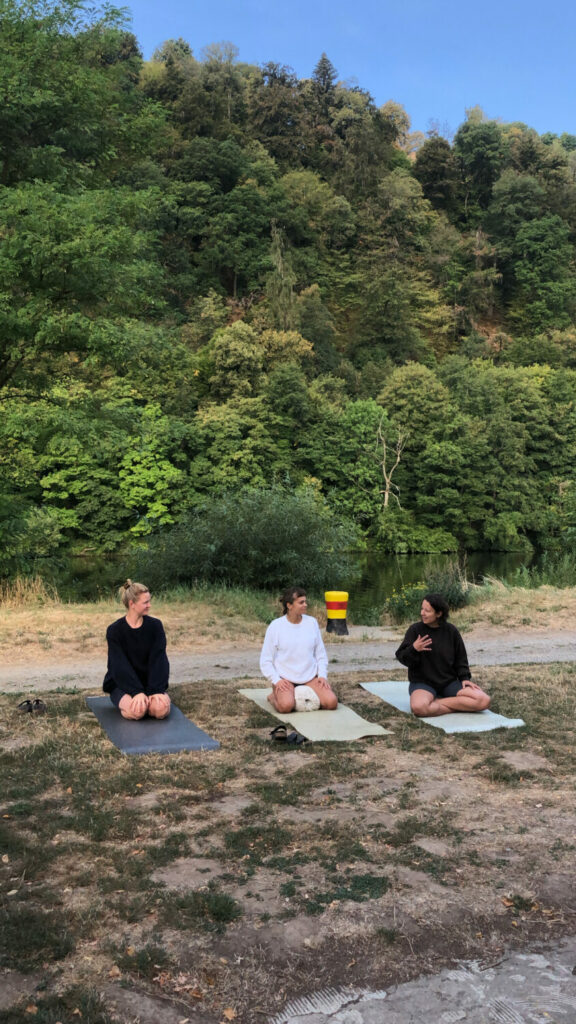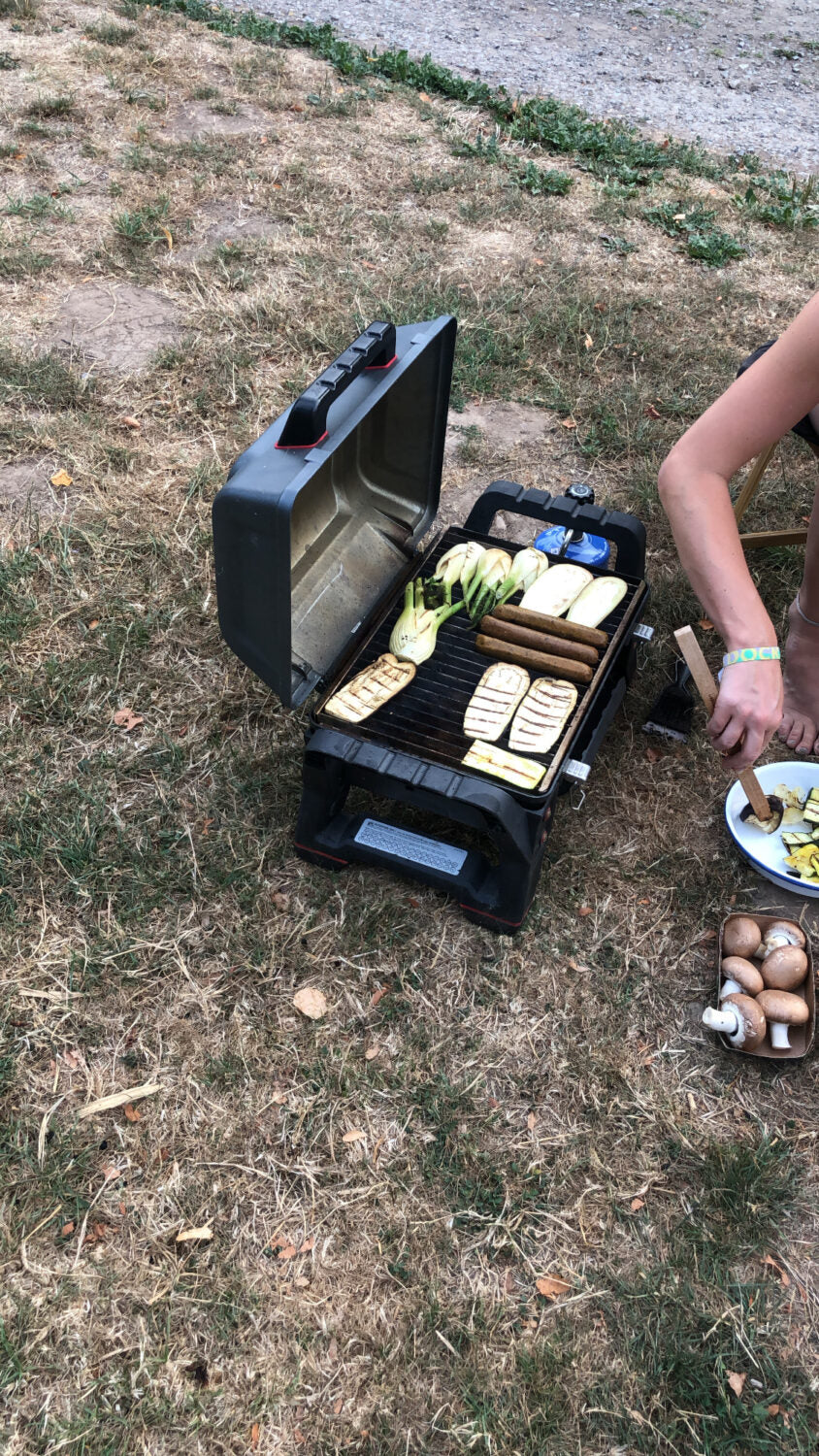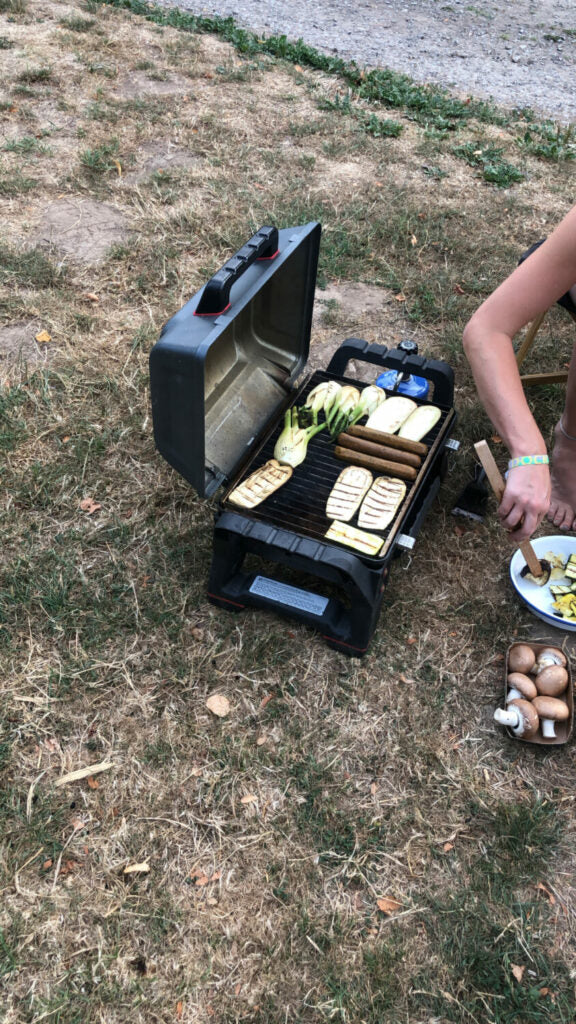 Of course, we always have our yoga equipment with us. For us, the hejhej products have become essential, especially for travelling. The hejhej-bolster, for example, has many more uses than "just" a meditation cushion. We personally also like to use the eye pillow to be able to sleep a little longer in the van on holiday. We also wrote an article about the hejhej-eyepillow with seven other possible applications. Of course, a yoga mat can also be used for more than just yoga. The hejhej-mat in particular, with its thickness of 0.5 cm, is also great for any workout or when you just want to lie a little more comfortably on the floor. The closed-pored surface also makes it very easy to clean again.
You might also be interested in this:
---