Savasana is certainly a Sanskrit word that most often gets stuck during a yoga session. The lying asana at the end of a yoga practice. Here you can relax completely. Do you also love it when it's completely dark and your eyelids are closed by gentle pressure? We have something for you. With our newly launched hejhej-eyepillow, the sustainable eye pillow, you can enjoy Savasana even better. Learn more about the sustainable production of the closed-loop hejhej eye pillow in the next lines.
Savasana – the dead pose
This melodic Sankrit word Savasana means the dead position. Its origin is ancient India. Indians do not encounter death as frightening as people in Western Europe. In India, death is something beautiful. After that, you are born again and have the chance of a completely new life. This peaceful lying position at the end of a yoga practice thus represents the encounter with death in India. The relaxed smile on your face, the limbs stretched far from you. What a beautiful thought.
Gentle pressure on your eyelids and temples, where tension is stored, can make relaxation much more soothing for you. The temples are also a known acupressure/energy point for headaches and stress.
Relaxation through gentle pressure
Relaxation through pressure is used in many different techniques and practices. Shiatsu massages, acupressure points and massages in general. With each exhalation, you can transfer your weight even better to the yoga mat. Especially during savasana or even a lying meditation, the small muscles in the face are unintentionally tense. An eye pillow can guide you even deeper into relaxation. Relaxation techniques are also something for small breaks in everyday life or when falling asleep in bed. Can't you relax better knowing that the product on your eyes has been produced as sustainably as possible? That you're also doing good?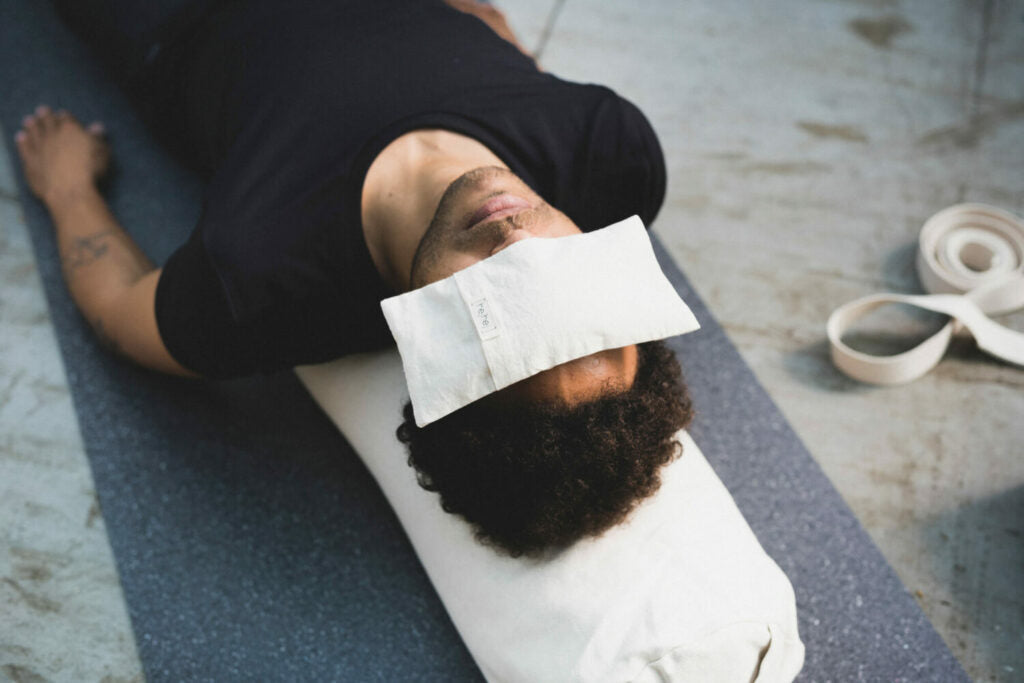 As with our complementary hejhej products, we have made every decision in the production of the eye pillow as sustainable as possible. The hejhej-eyepillow is made from leftover cuttings from a sewing shop in Kenya. For the sewing of the eye pillow, we decided to cooperate with Nyuzi Blackwhite, a social project in Kenya. For our other hejhej products, we focus on local production in Germany. However, this project in Kenya totally convinced us, as we can support the people and the local economy together. We are very happy that with our hejhej-eyepillow we were able to create a social project with great social added value. Nyuzi Blackwhite collect cuttings from a sewing factory in Kenya, cut them individually and sew the wonderful eye cushions from them. This is really loving handwork, as the cut scraps cannot be placed on top of each other due to their individual size. So almost every piece of cotton has to be cut individually. The cotton comes from Tanzania or Malawi, depending on availability. The fabric is made in Kenya itself. The fabric is pure cotton and left in the natural beautiful cotton colour, i.e. not harmfully dyed. You already know that from our hejhej-bolster. The cotton yarn comes from Germany. The care label and the hejhej logo, both made of hemp, are also lovingly sewn directly on. You can easily remove the outer cushion cover and wash it by hand if necessary.
In addition to this, you can also heat your hejhej eye pillow or make it cold. The heat is for relaxation and the cold helps you, for example, to relieve headaches. The warm grape seed pillow is also great for children to place on their tummies. We have written 7 uses of the eye pillow in a separate article. Come and have a look!
Nyuzi Blackwhite
We are very happy that Sarah, the initiator of the Nyuzi Blackwhite project, approached us. Nyuzi translates as threads. Sarah went to Kenya in 2016 as a volunteer teacher in her vocational training in a small village about 35 km from Nairobi. She herself is a trained seamstress. One big point was very important to Sarah at that time. After training the seamstresses in Kenya, the job prospects are super bad. In villages in Africa, second-hand clothes from western countries are sold for a ridiculous price. The result is that local seamstresses and tailors hardly have any orders because the price for high-quality clothing would be much higher. Because of this, many young educated people move to big cities to work in huge factories. Another possibility that would be lucrative is to become self-employed after the training. But many lack the courage, support and know-how to do so. Sarah noticed how this point had already severely limited her motivation at vocational school. Without an appealing goal, learning a craft is difficult.
Sarah, therefore, launched her Nyuzi Blackwhite project in 2017. She is thus a role model for women and men who come out of education and want to start up. She also employs four tailors, one quality control and one independent tailor who joined her fresh from a vocational school. A major goal is also to make work family-friendly, e.g. with home office hours.
The seamstresses of Nyuzi Blackwhite transform old cement bags (polypropylene bags, a kind of plastic fabric) into ultra-light, multifunctional and durable bags. Sarah wants to give waste a new use and thus counteract our consumerism. The unique items and the sustainable eye pillow are produced under fair conditions and enable young people to help themselves. On top of the production price of each product, another 100% of the costs are added, which are donated to the neighbouring children's home. You can find out more about the price in the transparency section.
Getting to know – the Karai Children's Vocational Center
We were able to meet Sarah and the Nyuzi team in Kenya a few weeks ago in a video call. Their motivation and positive sense of life carried us right along. She showed us the workshop with a virtual tour. What caught our eye immediately was that all prices are transparently displayed in the workshop. So all the workers know how much which production step costs and how much the products are sold for. Around the corner from the sewing workshop is the children's home, the primary school and the vocational school. The whole place together is the Karai Children's Vocational Centre. Currently, about 120 children from 3 to 23 years of age are accompanied here from primary school to finish their education. What we particularly like here is that everything takes place in a very spacious area. The support is very long and the children or young people are really supported until they have completed their vocational training. Therefore, the advantage is that a child does not have to jump from programme to programme and the social environment can remain in place during development.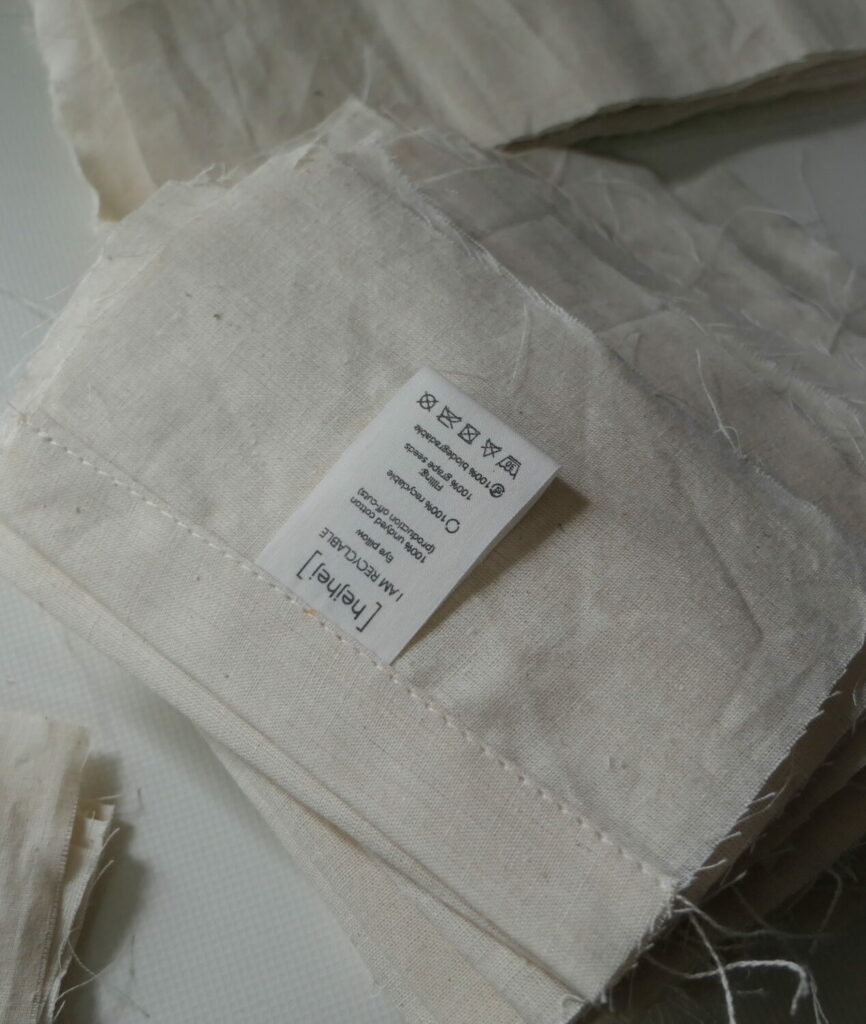 How Nyuzi Blackwhite is connected to an oil mill in Franconia
Now you know exactly where the little cushion cover came from. But of course, the sustainable eye pillow is also filled so that the pressure gently relaxes your eyelids. To keep the CO2 emissions of the transport from Kenya to Nuremberg as low as possible, we decided to have the eye pillows filled in Germany. As we are very satisfied with our long-standing partnership with Lebenshilfe Nuremberg, we are very pleased that they are once again filling our pillows. Just like with our hejhej-bolster. The hejhej-eyepillow are lovingly filled with grape seeds by hand by people with disabilities in the Lebenshilfe workshop. Grape seeds arise as residual products during the grape harvest, i.e. the traditional winemaking process. We found a small mill in Franconia that presses grape seed oil from grape seeds and also has good-smelling grape seeds left for us as pillow filling. Grape seeds have so far only very rarely been processed further and are mostly brought into the fields. We didn't want to use a food directly, like rapeseed or linseed, for the pillow filling. Grape seeds are such a super by-product of wine production. We can upcycle these scraps and turn them into a high-quality new product.
In addition to the location of the filling, we have also placed special emphasis on the weight of the eye pillow at the end. The cores of the filling must therefore have a certain density so that minimum weight is achieved with the small volume. This is the only way to achieve the goal that your eye pillow exerts a noticeable gentle pressure on your eyelids. This oil mill is not so far away from Nuremberg, so we were able to see for ourselves on-site. Thomas is fully committed to his work and the passion is quickly apparent. He knows everything about grape seeds and is excited about our project. Edible oil has been produced here since 2007. After extensive renovation work, their listed property, formerly a farm, has become a modern production facility for oil kernel products. The special thing about oil from grape seeds is that Thomas and his family first had to develop this process themselves. That means converting machines yourself and being creative. Passion must not be neglected here. We are very happy to have found Thomas and his family, who have revived this old craft with so much passion.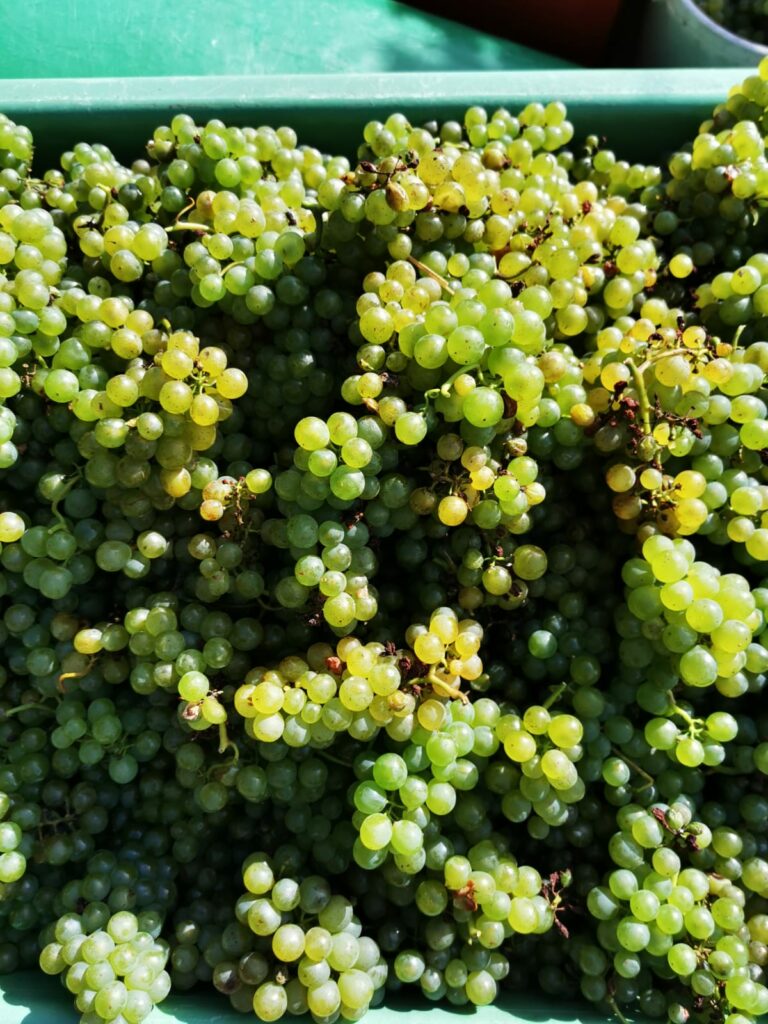 Transparency – sustainable eye pillow
Sustainability is the most important foundation stone at hejhej. And for us, transparent communication is just as much a part of it. We have therefore shown you the price of the eye pillow quite transparently and every single step. We want you to better understand the value of the product at this level and understand our decision.
Return system
The hejhej-eyepillow, the sustainable eye pillow, is again completely closed-loop designed. Once your eye pillow has reached the end of its life cycle, you can simply send the undyed cotton fabric back to us free of charge and we will recycle it. From this, we produce, among other things, the fabric of the hejhej-bolster. You'll get a discount code for your next purchase in the hejhej online shop. The filling is biodegradable, just like your hejhej-bolster. The grape seeds are thus returned to nature with the biological cycle of the Circular Economy.
You make sure that no waste is created on our planet.
We wish you lots of deep relaxation with your hejhej-eyepillow, the sustainable eye pillow.
You might also be interested in this:
---