Writing the impact report for the year 2022 is particularly difficult for us. The current time holds many challenges and yet many joyful things have happened again at hejhej. In the following, we will once again give you a transparent review of the year, including the sums that have come about through our product-related donations.
A brief insight into hejhej philosphopy
The founders Sophie and Anna started hejhej 5 years ago with a crowdfunding campaign. This campaign enabled us to finance the first round of production of the hejhej-mats. We did a second crowdfunding for our yoga bag because it was very important to us to develop products as close as possible to our community – that is, to you.
hejhej has grown to this point without an external investor. Only with your help in crowdfunding and through your own efforts. We believe in self-promoted and organic growth, even if it is slower. Without the influence of external investors, we can make every decision as sustainable as we see fit – without compromise. We are grateful to have a community like you. That's why we openly share our happy moments like new product launches and our sustainability successes, but we also talk about our challenges. Here you can find the previous impact reports 2021 and 2020.
Recap of the months 2022
January – Sufficiency Strategy
We used January to introduce you to a topic that is an important pillar of our company: the sufficiency strategy. The sufficiency strategy is such an important part of our business and we see it as a duty to build it into our everyday business. For us, it is essential to promote sustainability in everyday life. Feel free to read our in-depth blog article on the sufficiency strategy! What you can take straight away: Ask yourself before every purchase – Do I really need this?
February – Hotel Bezau
An important support this year were our many hejhej partners who joined us or those partnerships that have existed for several years. At the beginning of the year, we directly had a big co-branding cooperation. Hotel Bezau in Austria now has wonderful hejhej-mats with a customised Bezau x hejhej logo. A special concept that we have not been offering for very long. The logos are woven into the hejhej-label in a very high-quality and durable way.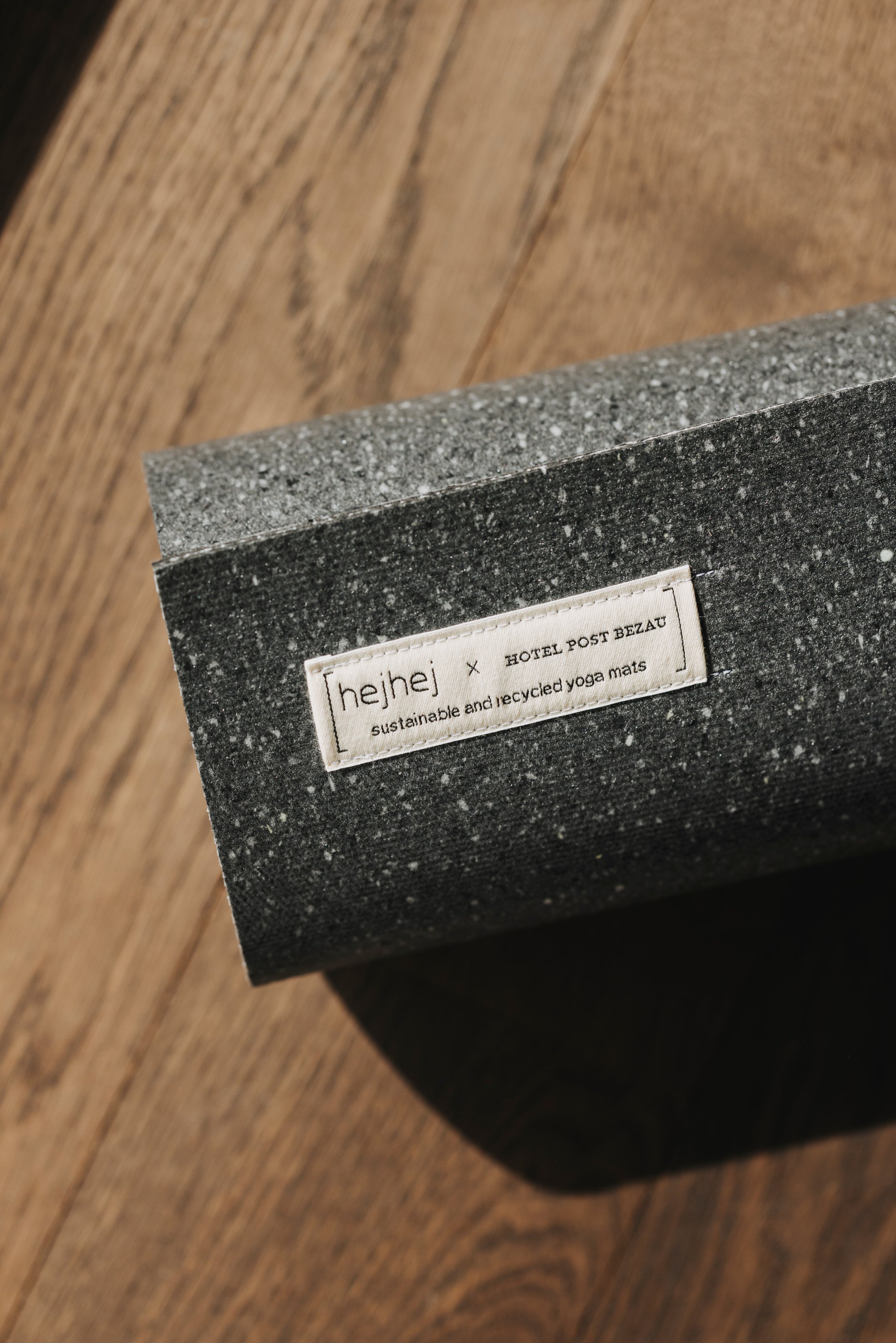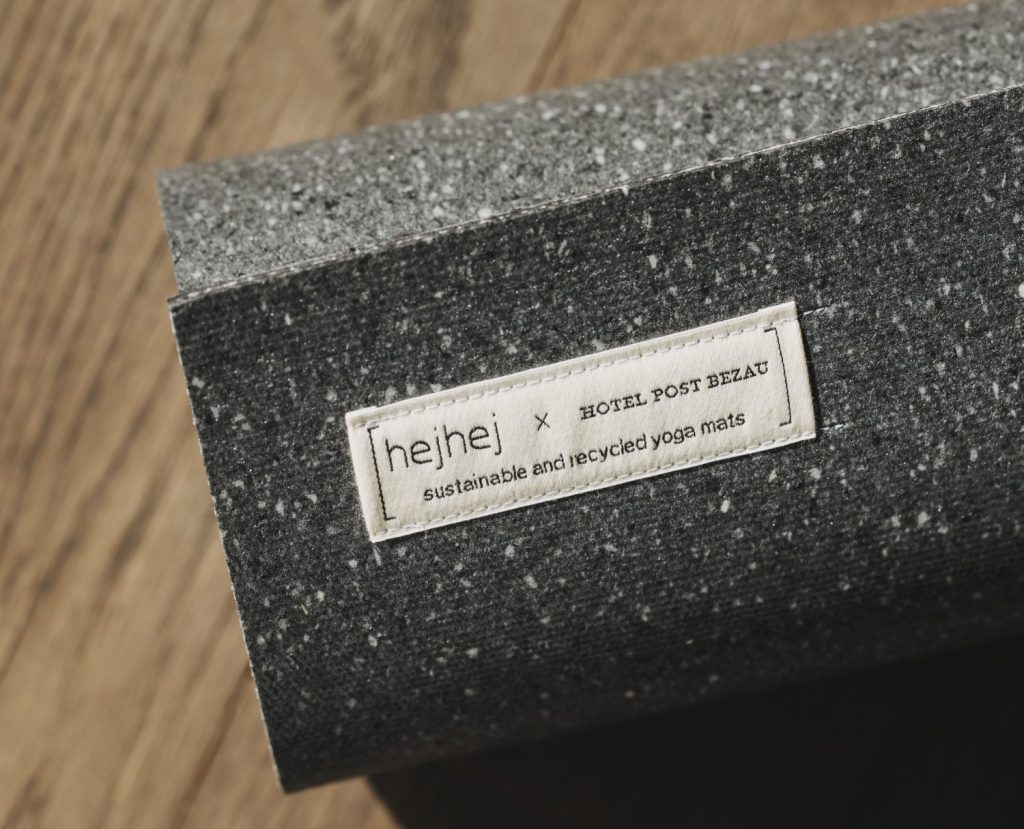 March – Extraordinary donation to Ukraine
Writing a retrospective of the year is not always easy. A terrible event last year has not passed any of us by: The war of aggression on Ukraine. We too have joined the worldwide solidarity and tried to do our best. We created space in our social networks for all the initial crisis reports, stopped our communication and paused our marketing completely. In the period from 5th to 13th of March, we donated 15% of our sales to the Ukrainian fundraising project of betterplace.org. Together with you, we were able to donate 900 euros.
Straßenkreuzer Press Mention
This month we also had a valuable press mention of the Straßenkreuzer in Nuremberg. Together with our wonderful photographer Maria Bayer, co-founder Sophie Zepnik gave an interview for the Straßenkreuzer. For this purpose, we were on-site at Lebenshilfe to involve our hejhej group there as well. Find the full article and all our press mentions on our website under Press.
Moar Gut Co-Branding
In the same month, we got another big co-branding assignment. The Moar Gut family hotel now has many hejhej-mats on which you can enjoy your family holiday. There is an activity for everyone here!
April – Biggest Giveaway on Instagram
In April, we had our biggest competition ever on Instagram. Together with our partner studio sweetspot from Graz we raffled a yoga retreat place. We also wrote a detailed journal article about sustainable yoga retreats with hejhej-equipment because we received so many questions about it. In 2023, we also have something very special planned. A yoga retreat on the Lofoten Islands with our partner hotel Trevarefabrikken – here you can find more information and book directly.
June – Your three homes
For this year's World Yoga Day we have again created a short film with our friend and talented videographer bysteve. We always use holidays, especially appropriate ones, to put messages that are relevant to us out into the Instagram world. In 2021 we made a video about diversity in yoga. 2022 was about our planet:
July – Recycling Call
This year we launched our first official recycling appeal. Some hejhej-mats have already been in use since 2018. If one or two more yoga mats reach the end of their life cycle, we want to make sure that everyone is aware of our recycling system. It was nice to reconnect with many former clients. The take-back system is one of the biggest obstacles in the Circular Economy, as it is often still counterintuitive for consumers.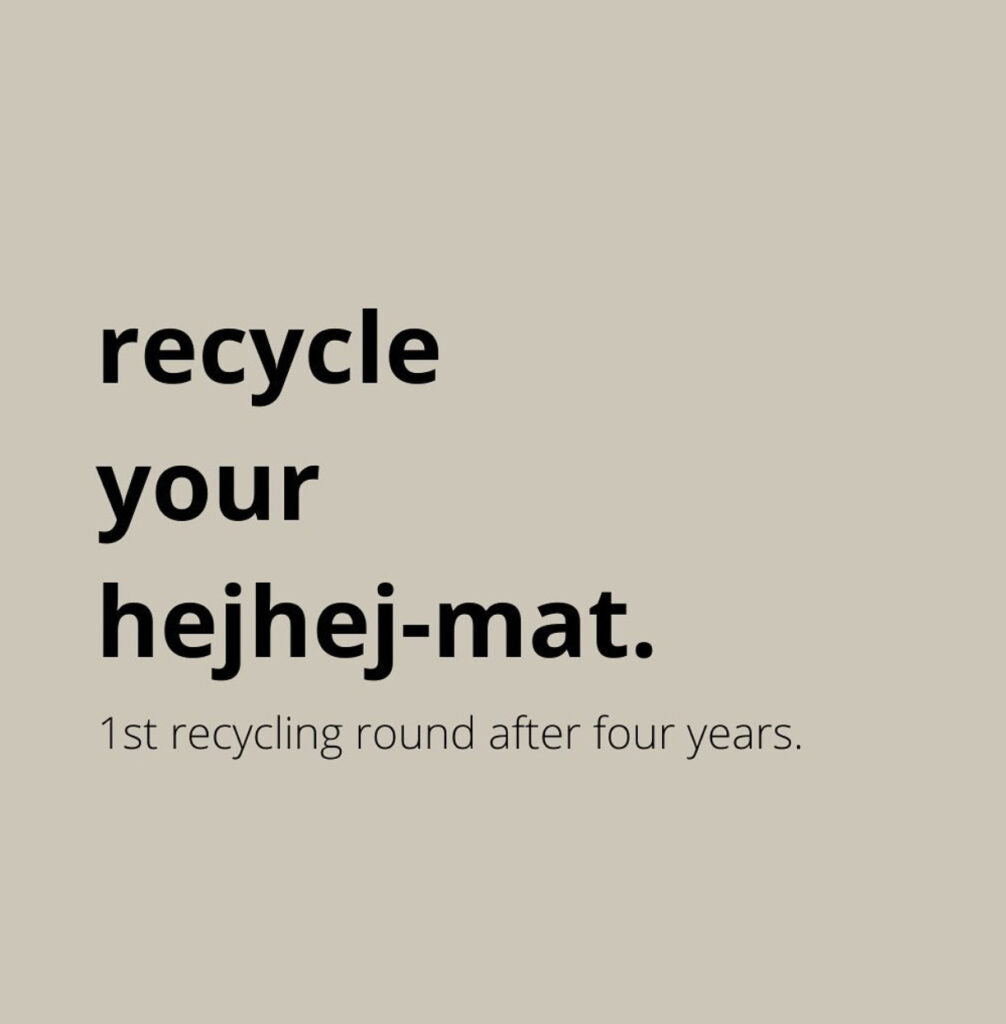 How it feels to get copied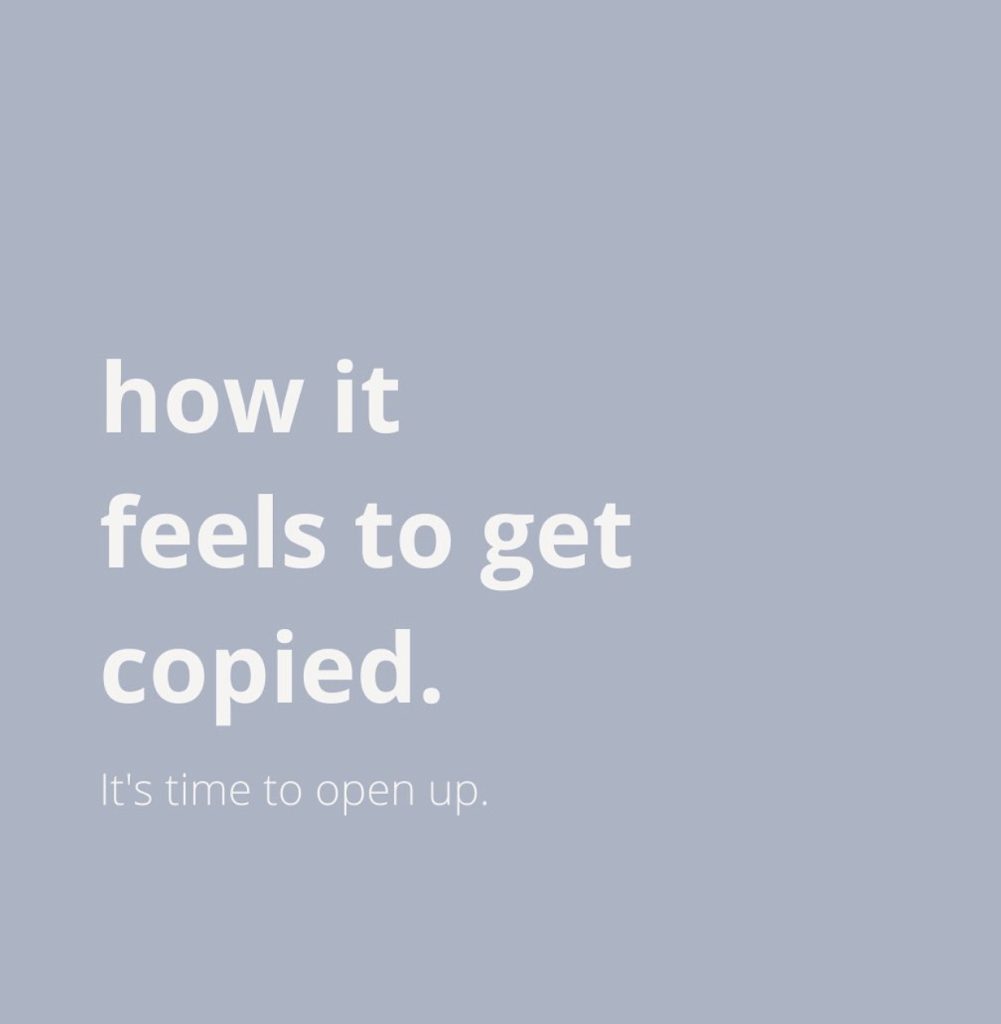 One post this year has been particularly hard for us, but it turned out to be very important to share this message with you. We discovered a few months earlier that the design of our hejhej-mats had been copied from a big well-known brand. After our exchange with our lawyer, we decided not to take action against this company. In the post, we still wanted to share with you how insanely frustrating it can be as a small start-up to be completely powerless against big global players. We are very grateful for the overwhelming feedback from you on this post and at the same time appalled at how many small brands this has happened to.
August – 5 years hejhej
This year we celebrated our fifth anniversary with you. On Instagram, we shared a great reel with you featuring some older behind the scenes hejhej founders and team photos. It was a very special day for us, where we mainly reflected on the founding story of hejhej and talked a lot about it. You can find the reel on Instagram here: https://www.instagram.com/p/ChU0L-rF1Md/
We then went on a little trip with our team to celebrate the birthday a bit. We were on a joint workation at a camping site in the Odenwald.
September – Youtube yoga sessions curated and produced by hejhej
In September we started a new project: our own Youtube channel with high-quality yoga sessions curated and produced by hejhej. This was one of the most exciting projects in 2022 for us.
In fact, we have been thinking about our own Youtube channel for many many years. We never really dared to tackle such a big topic because it simply ties up a lot of capacity and we are still a very small team of five women. Starting your own YouTube channel means producing content on a regular basis. Our claim is also to produce only high-quality videos – which is of course very expensive at the same time. For these reasons, we have decided against it year after year – at the beginning of 2022, the topic came up again and this time we thought: This year is the year! Since the thought had been dormant in us for so long, we wanted to give it space and make it a reality. We have developed a complete concept, talked to various partners of ours, gathered feedback from you and found an incredibly great videographer for this project in our good friend Steve. The first shoot took place in summer 2022 in Berlin at the Original Feelings Yoga Studio. The studio has been a super important and great partner of ours for several years and it makes us especially happy that our first Youtube videos were shot there. We even shot our second YouTube shoot in the Holy Wow Studio in Nuremberg in autumn 2022 – the Holy Wow was one of our very first partner studios. We are so proud that we have already published almost 20 unique yoga sessions for you, filmed with two different partner studios and met 8 wonderful yoga teachers. With our Youtube videos, we would like to introduce our incredibly great partner studios and partner yoga teachers, give them a platform and enable many people to join free yoga sessions from home. We love the diversity of yoga and that's exactly what we want to show you bit by bit with our own yoga videos on Youtube. Two topics close to our hearts were already part of our first shoots – we shot barrier-free yoga videos with Katja Sandschneider and videos on blind yoga with Hansi. Both yoga teachers are incredibly inspiring personalities and enrich the yoga world so much. We have therefore written extensive blog articles about both teachers, where you can get to know them better and also join their yoga classes directly. We are super proud to have started this great completely new project Yoga Sessions – curated and produced by hejhej 2022 and are incredibly looking forward to many more new shoots, encounters and videos.
October – Price adjustment
After much thought and calculation, we decided for the first time in October or rather were forced to adjust the prices of most hejhej products. As we still wanted to give you the opportunity to have enough time to use the old prices, we communicated this four weeks in advance. In the course of this, we have published a transparent mat price calculation for you for the very first time. Besides the eye pillow, this is our second price calculation that we show publicly. Transparency is an important pillar of our communication and, especially when it comes to pricing products, is not at all common for companies. We have written a detailed Journal article about the price adjustment.
November – hejhej-husk and hejhej-pillow Launch
At the beginning of the month, we shared a new product of a different kind with you. We now have a refill for bolsters and meditation pillows. Since then, our hejhej-husk husks have been available to buy separately. For us, longevity is an essential part of sustainability. We want you to be able to use hejhej products for as long as possible. The husk filling becomes more compact over time. To ensure that your bolster and/or cushion always retain the perfect fit, we now offer you the hejhej-husk filling separately. Through your feedback we have also found that it is very individual how much a bolster or meditation pillow should be filled. That's why you can simply order a small 1 kg pack of hejhej-husk and fill your personal Companion as full as you like.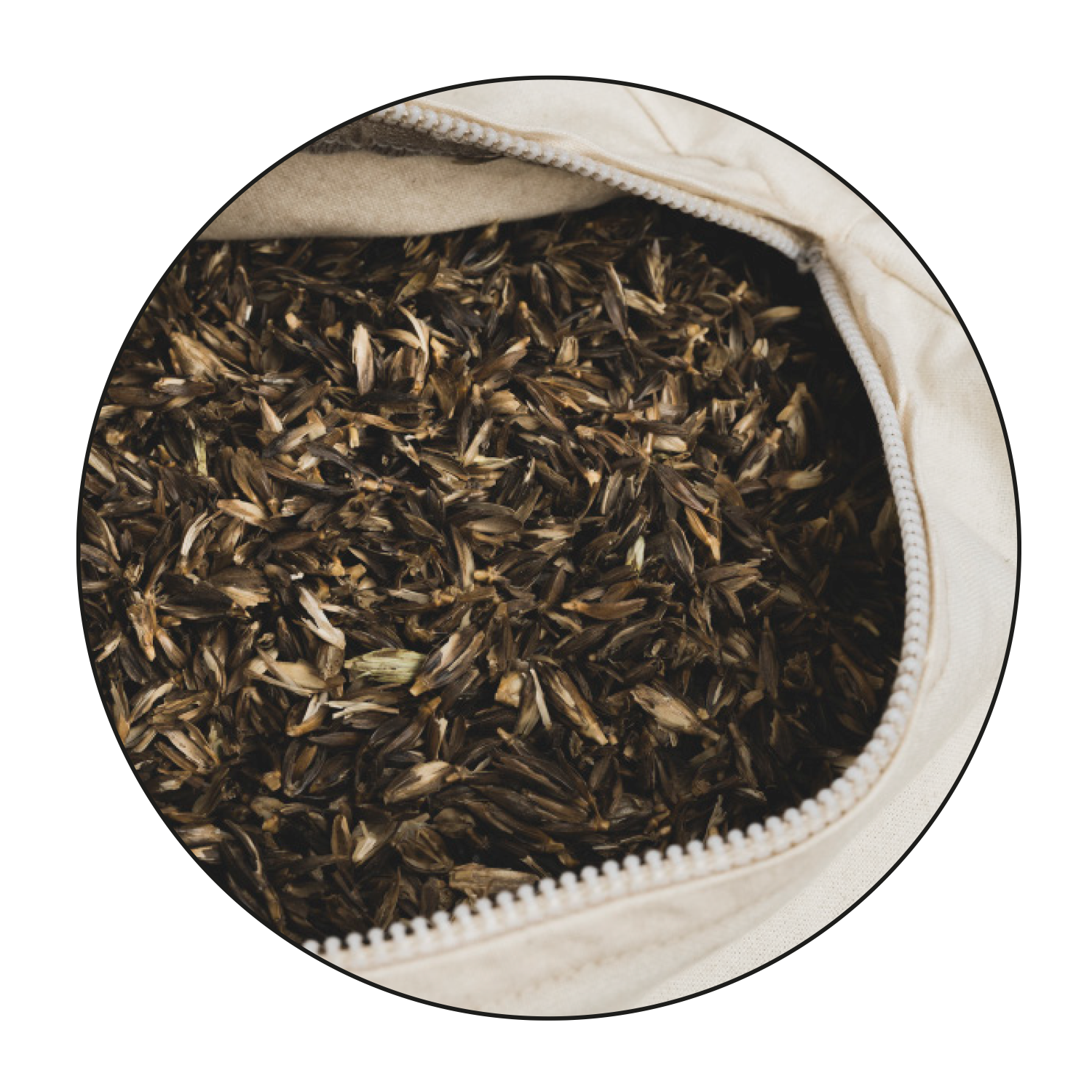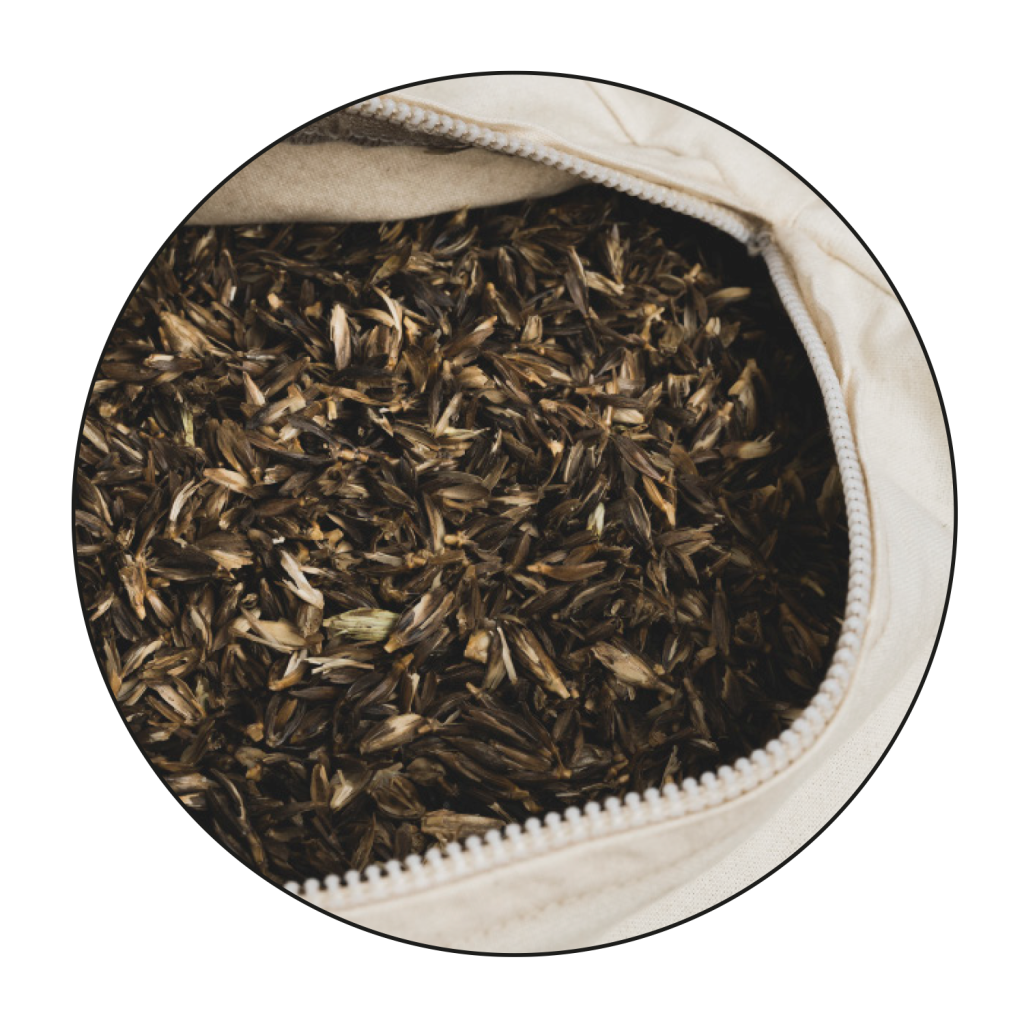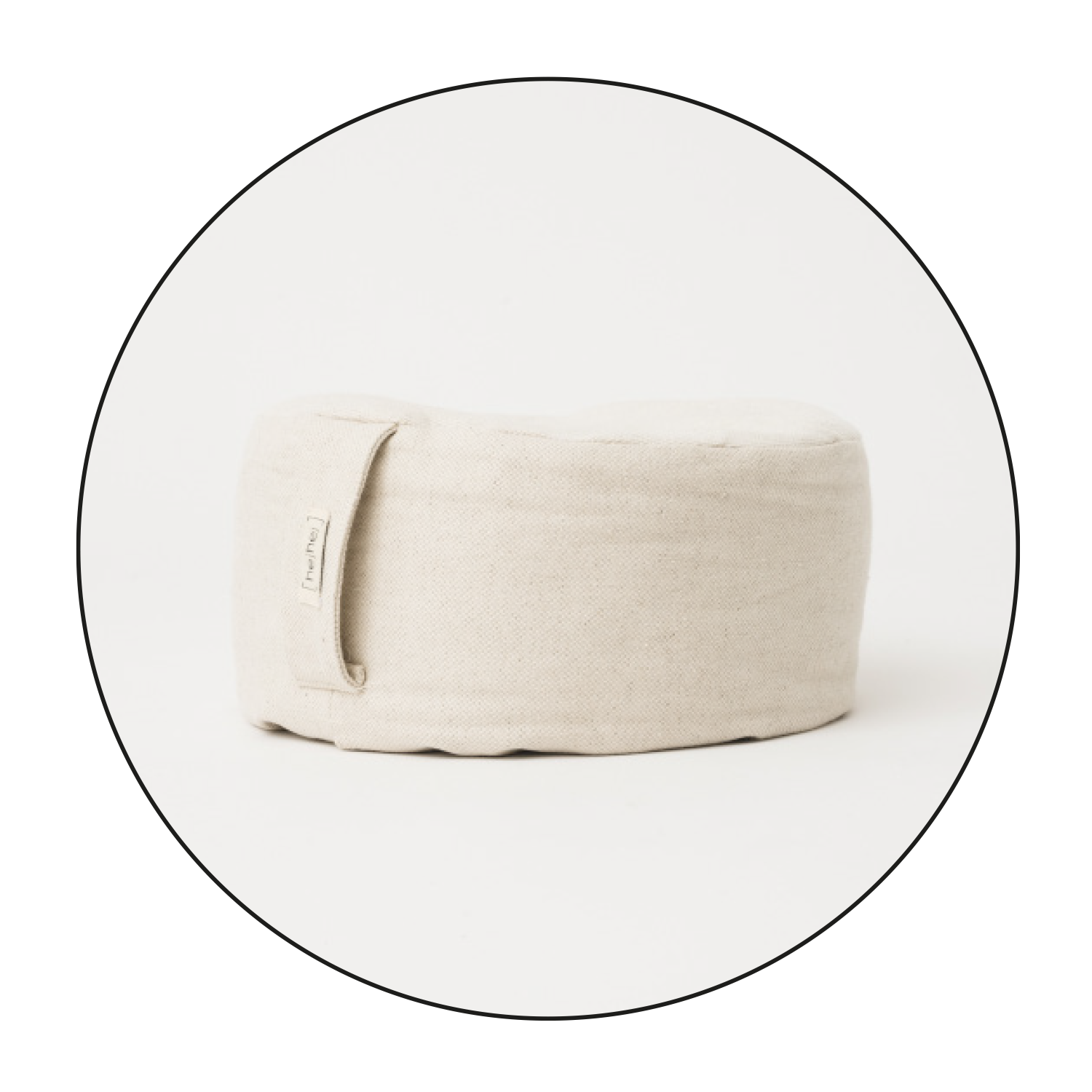 We have launched an incredible and cosy new closed-loop product this month: our meditation pillow: the hejhej-pillow. The round meditation pillow is designed similarly to the hejhej-bolster. We are very happy to build a long-term relationship with our partners for these products. A second product has enabled us to strengthen these partnerships. The fabrics are made from organic cotton, recycled cotton and hemp. The pillow is filled with organic and regional husks (hejhej-husk). The whole meditation pillow is completely produced in Germany. It is also 100% recyclable and, like all hejhej products, you can send it back to us free of charge. The organic husk filling composts on the compost or in the organic waste bin. The fabric is recycled into new fabric for bolsters and meditation pillows. In this article you will learn everything else about the round meditation pillow, directly with 6 exciting meditation pillow exercises.
December – Financial pressure
We had hoped for the usual high Christmas sales – but this year we had about 50% less sales than last year. There were some glimmers of hope, such as some great partnerships with a hotel, a store and a company. Unfortunately, the three sales mentioned were cancelled or postponed as late as December. These sales would have been the key to financing our big production round.
2022 was one of the most difficult years in our 5-year history. Turnover has dropped enormously. At the same time, we have to produce our 8 hejhej products, we have to secure stocks and finance product development. This is always a challenge because it is not possible to produce only a small quantity due to the high machine costs. We also have agreements with our suppliers so that we basically always have to order the raw material months in advance without knowing how much we have actually sold by then. We are a team of five women, which we finance organically and we have sustainability commitments that we want to fulfil. All this is really very difficult for us at the moment with decreased sales.
The financial pressure is so great and we know that so many people are struggling with the same problems at the moment. Especially many small and sustainable businesses are in the same situation and it breaks our hearts. We know that everything is getting more expensive and that it is such a difficult time. But it simply cannot be the solution that all these great companies have to close down and we go backwards in terms of sustainability.
Feedpost dedicated to Regina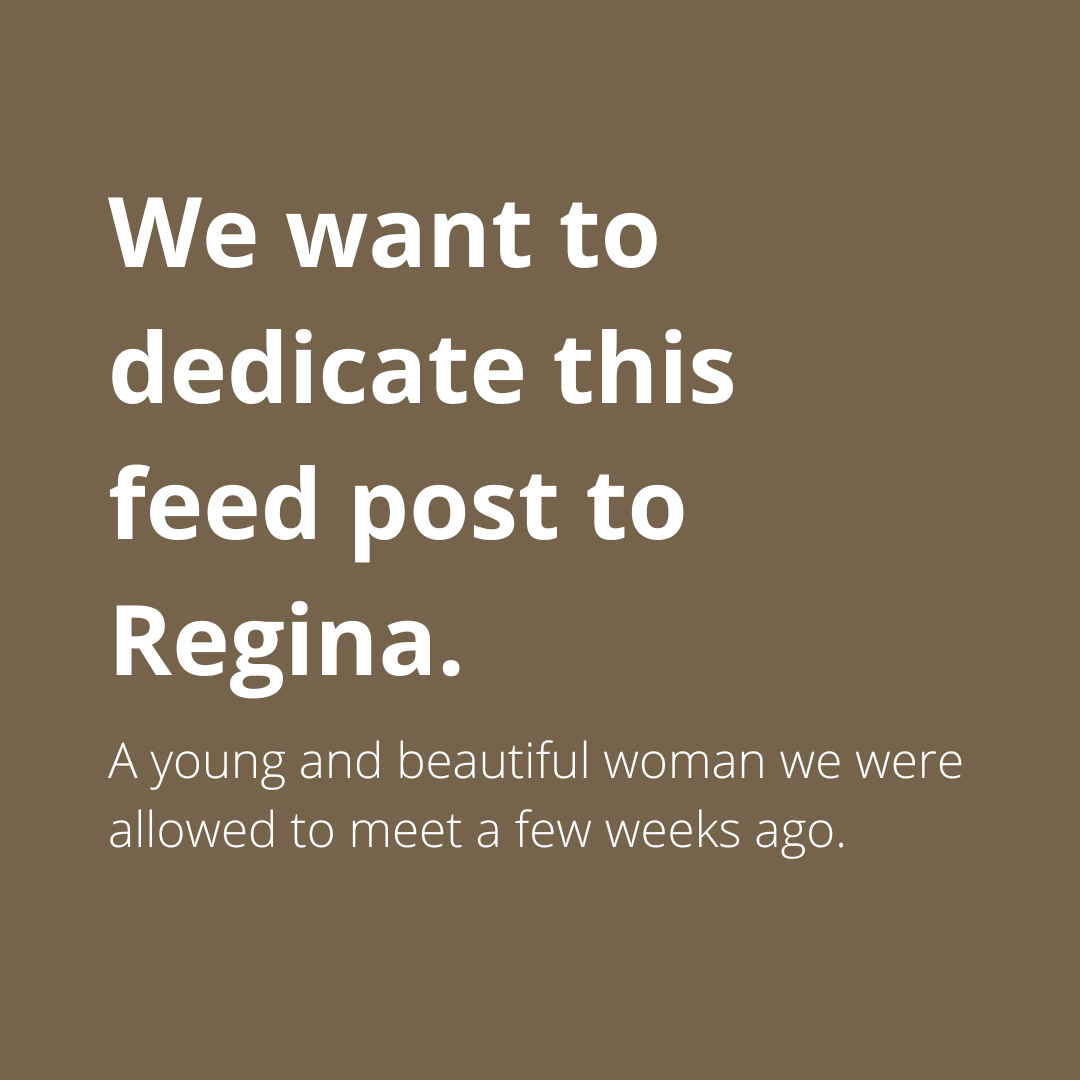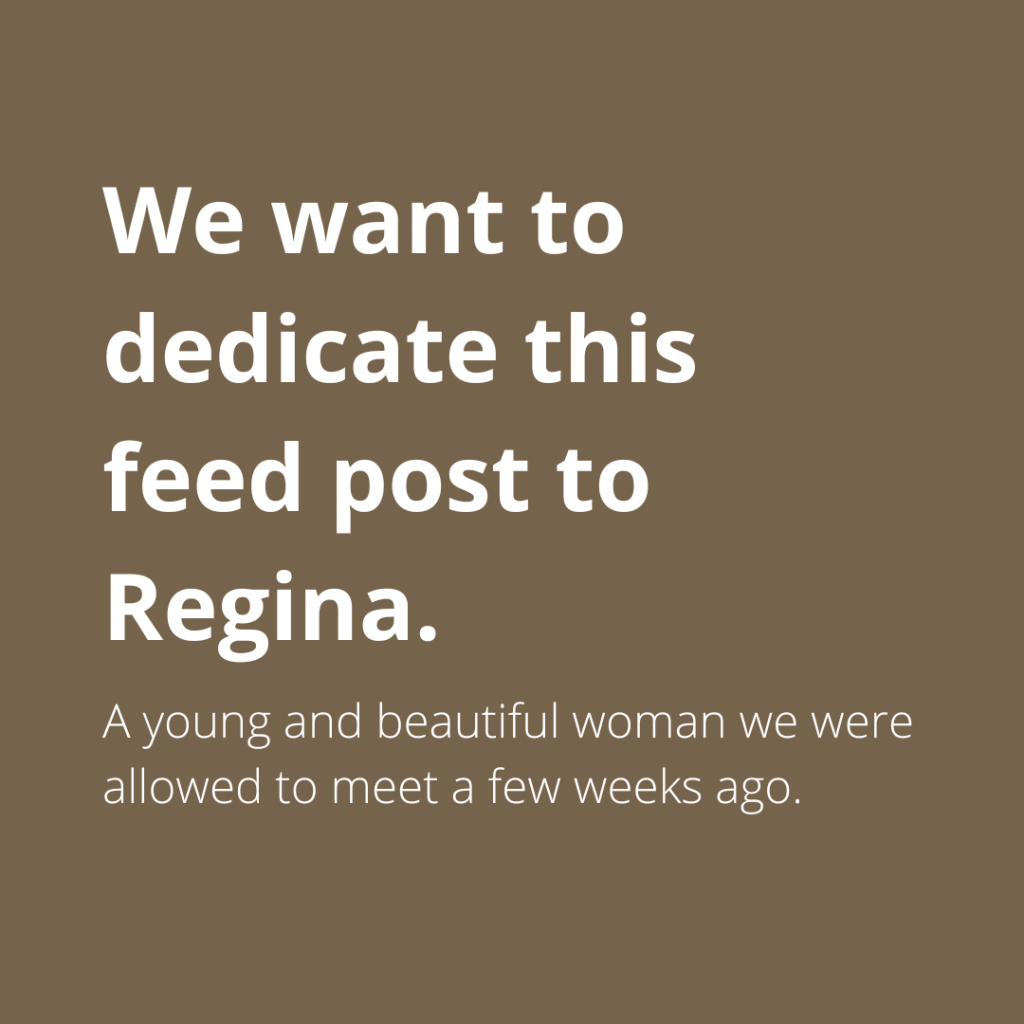 To close out the year, we shared with you a project that is important to us. In our shoot for the hejhej-pillow meditation pillow, we worked with a very special model. We were particularly touched by Regina's personal feedback after our shoot: "What makes me happy the most is the fact that you don't look away when someone comes up with cancer (and the chemo look that comes with it) but you even look on purpose. And it just feels really good to be seen. This is the greatest gift." Read our Journal article directly to learn more about the project and Regina.
Measurable impact in 2022 through the sale of hejhej products
As in the previous five years, despite the financial difficulties, we will again donate to the NGO Earth Child Project (ECP) in Cape Town for every hejhej-mat and hejhej-block sold. You can learn more about the organisation in our impact report from last year.

For every hejhej-bag, hejhej-strap, hejhej-bolster & hejhej-spray sold, we donate to the ecological Dr. Günther Pfann Foundation. In 2022, the hejhej-pillow meditation pillow was added. Learn more about this regional foundation in our impact report from last year. With the money donated this year, the foundation was able to realise a flowering meadow of 25,000 sqm.

For every hejhej-eyepillow sold, we donate 1.92 euros to the social organisation Nyuzi Blackwhite. Our social product the eye pillow is described in detail in this article. There you will also find all the information about the wonderful project in Kenia.

Closed-loop products – recycling potential
But through recycling and our take-back system, all the resources of hejhej products are saved again and again.
Foam offcuts
In 2022, we saved a total of approx. 4,550 kg of foam offcuts through the hejhej-mats yoga mats, approx. 1.5 kg per mat. In addition, there are 327 kg of foam offcuts from the hejhej yoga blocks, approx. 0.7 kg per block.
Husks
The filling of the hejhej-bolster is made of husk leftovers from agriculture. In this way, we give crop residues a high-quality life in new products. In 2022, we were able to process about 2,080 kg of husk, about 4 kg per bolster. Since the end of 2022, the filling of the hejhej-pillow meditation pillows has been added to this, approx. 1 kg per pillow. With this, we have given a new life to an additional approx. 49 kg of biological husks.
Grape seeds
Similarly, the filling of the hejhej-eyepillows consists of grape seeds, which also harvest residues that are not normally processed. In 2022, we gave about 48.64 kg of grape seeds a new life. This is approx. 0.19 kg per eye pillow.
For the fillings of bolster, pillow and eye pillow we use resources that are already available. In addition, no food (e.g. linseed), as we find these are important basics for the nutrition of our world population. We have chosen regional partners here so that the material has as short a transport route as possible. These products are filled in our partner workshop in Nuremberg, which employs people with disabilities. Since all hejhej products are also shipped there directly afterwards.
Textile
In addition to the savings mentioned above, we save valuable resources by using recycled cotton in the hejhej-bolsters and hejhej-pillows. In addition, cotton cuttings for the production of eye cushions are included. The leftover cuttings end up in a sewing factory in Kenya. Unfortunately, these quantities of substances are very difficult to measure, which is why we do not have exact figures for you here.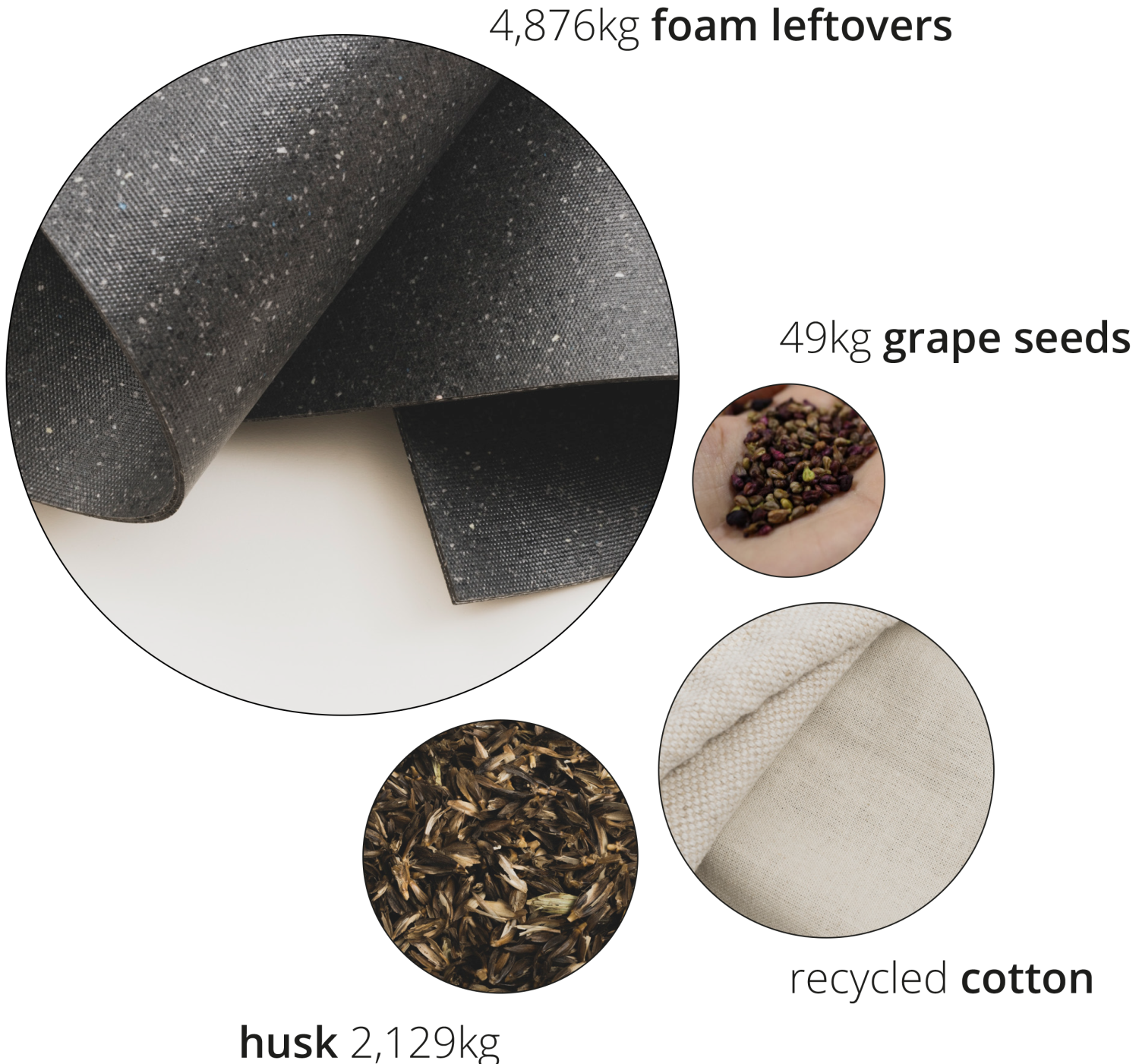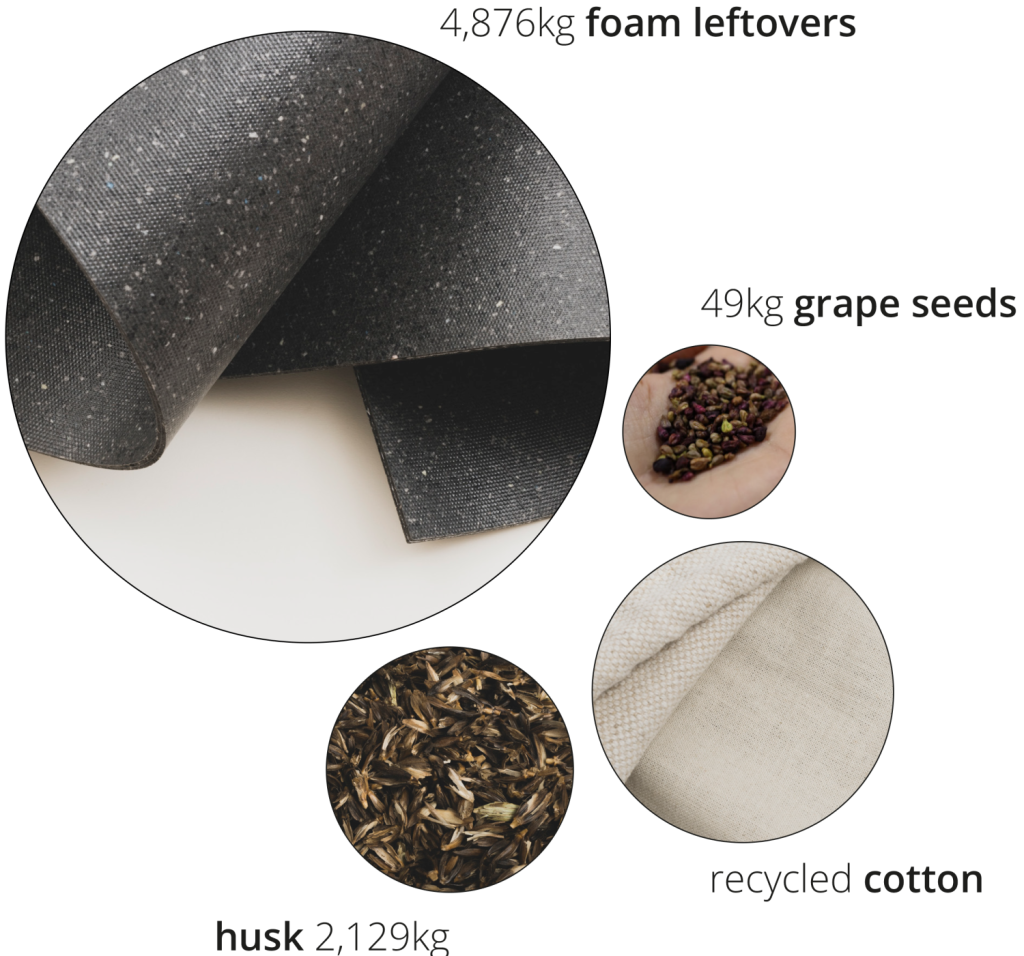 The hejhej Journal
This year we also put a lot of energy into our journal again. We have adapted the name and the concept. In the hejhej Journal you will now find subcategories and all articles are now even more clearly arranged for you:
Enjoy browsing and let yourself be inspired.
Sustainable and selected hejhej partner:inside
In 2022, many wonderful hejhej partners have joined us again. We are really happy every time and still very excited to see the hejhej products in such different great locations. We would love to take a trip through Europe to visit all the wonderful studios, hotels and stores. We are happy about every personal contact we get to know.
All our partners are listed on our website.
hejhej Impact total
We have been producing and selling yoga equipment for five years now. We would like to show you the whole impact transparently. With our start-up, we are making our world a little fairer and more sustainable. Our vision is that all raw materials can flow in endless cycles and natural resources are protected. The impact of our regular product donations we would like to write down transparently for you here:
In total, we saved 18,606 kg of waste with hejhej, donated 158 yoga mats, planted 5,134 trees (for €5,134), donated €17,893 to the ECP in Cape Town, €589.49 to the Kenyan project Nyuzi Blackwhite and €2,641 to the Franconian foundation of Dr Günther Pfann. Thus, we were able to donate a total of about 26,760.49 euros.
Thank you
Our whole team is very proud of hejhej. We don't say this often, but we think a year in review is a good opportunity to say it out loud. We are confident that we offer the most sustainable yoga products. That's why it's sometimes hard to understand why more people don't opt for our circuit yoga products and choose cheaper, unsustainable alternatives instead.
The current times are very hard for us, but we will continue. For this we need you and we need all the support we can get!
Thank you for every single purchase of a hejhej product, thank you for reading our newsletters, for liking, sharing and reacting to our posts on Instagram, Facebook and LinkedIn. Every time you tell your friends and colleagues about hejhej or leave a review in the hejhej-shop, you help strengthen our closed-loop strategy. We firmly believe – The future is circular!
Tell your favourite yoga studio about us, ask for closed-loop yoga mats on your next hotel holiday. We are happy about every company that provides their employees with hejhej-mats for company sports or even orders co-branded mats for their team.
We look forward to hejhej's 2023 – together and closed-loop with you!
---