We have developed the whole production procedure of our hejhej-mats. It took us quite a while and for us, it was so important that even the tiniest aspect of it is as sustainable as possible. When we told some friends about one of our last production days, they were really curious to get all the details and suggested we should document the whole journey of a hejhej-mat. We took their advice and asked all of you on Instagram whether you want to know more details about the ethical production of our yoga mats. We were really happy that 99% voted for yes.
The last production was just a few days ago. The production day for us is always a quite long and exhausting day. We tried this time to really document everything, however, it's not too easy since both of us are working on the machine the whole day. Still, we managed to take some behind the scenes pictures which we want to share with all of you.
The story of a hejhej-mat – an ethical production of yoga mats
It all starts with off-cuts from the foaming production. We are cooperating here with a company that produces different foaming products. All the off-cuts that are naturally occurring in the production get collected, recycled and processed into a new foam, which is the main material of our yoga mats.
Both of us are part of every single ethical production of our yoga mats
These recycled foam cuttings are the heart of our hejhej-mats, however, they are not a yoga mat yet and some further processes need to be done. The main ethical production of our yoga mats takes place in a machinery factory about 1,5 hours away from Nürnberg. We have been there for several days of testing and are now part of every single production. Both of us are there to work on the machines for the whole day. In this way, we can check the quality of our hejhej-mats all the time. About 5 people are working on the machine and the foam cuttings need to be inserted in the machine manually. The medical confirm surface as well as a thin textile get added in the machinery and make the mat durable and long-lasting, which is so important when developing a new and sustainable product. Every mat needs to get out of the machinery manually again. A yoga mat needs to be slip resistant and since both of us are practicing yoga ourselves and due to several testing with yoga teachers, we knew that slip resistance makes a high-quality yoga mat. That is why we are also refining the surface with a gentle structure.
The next steps of the ethical production of our yoga mats take place at a workplace for people with a handicap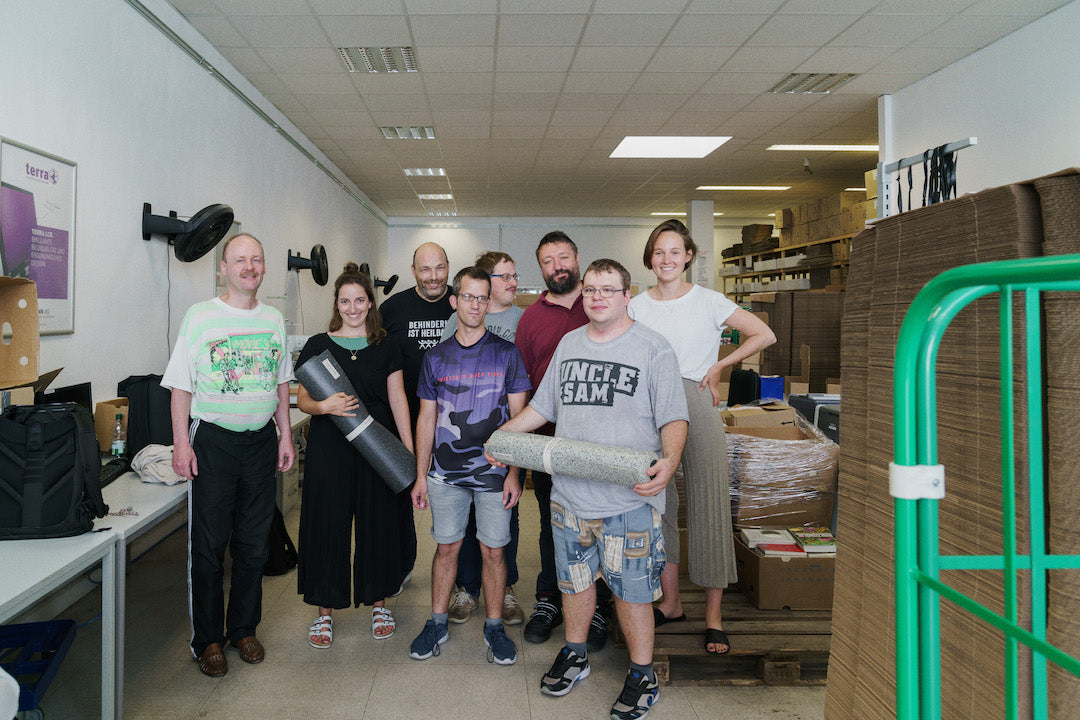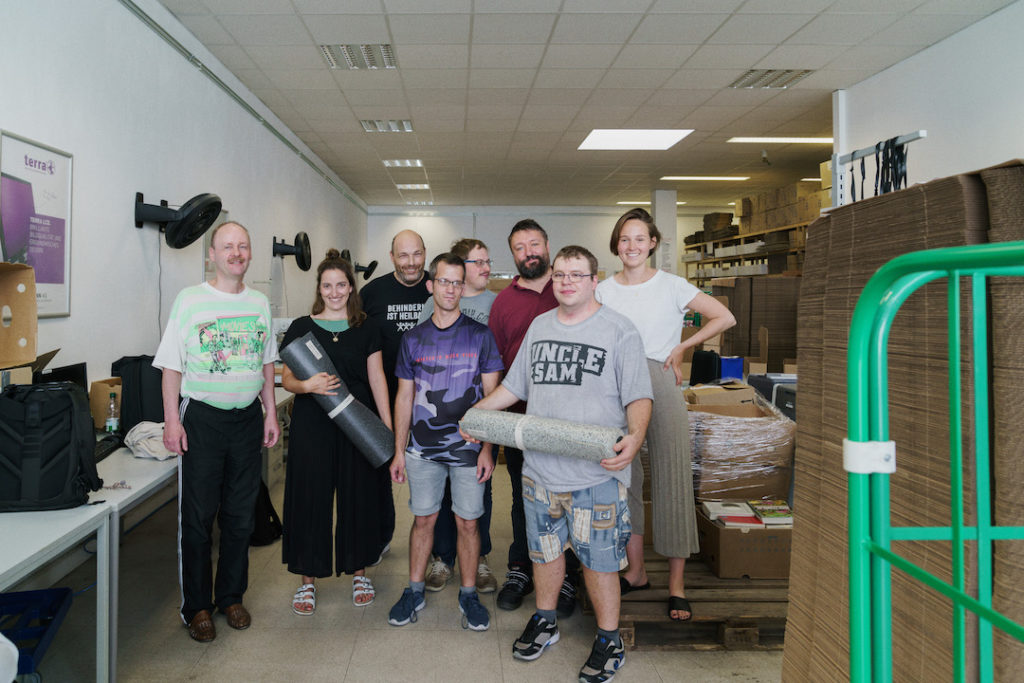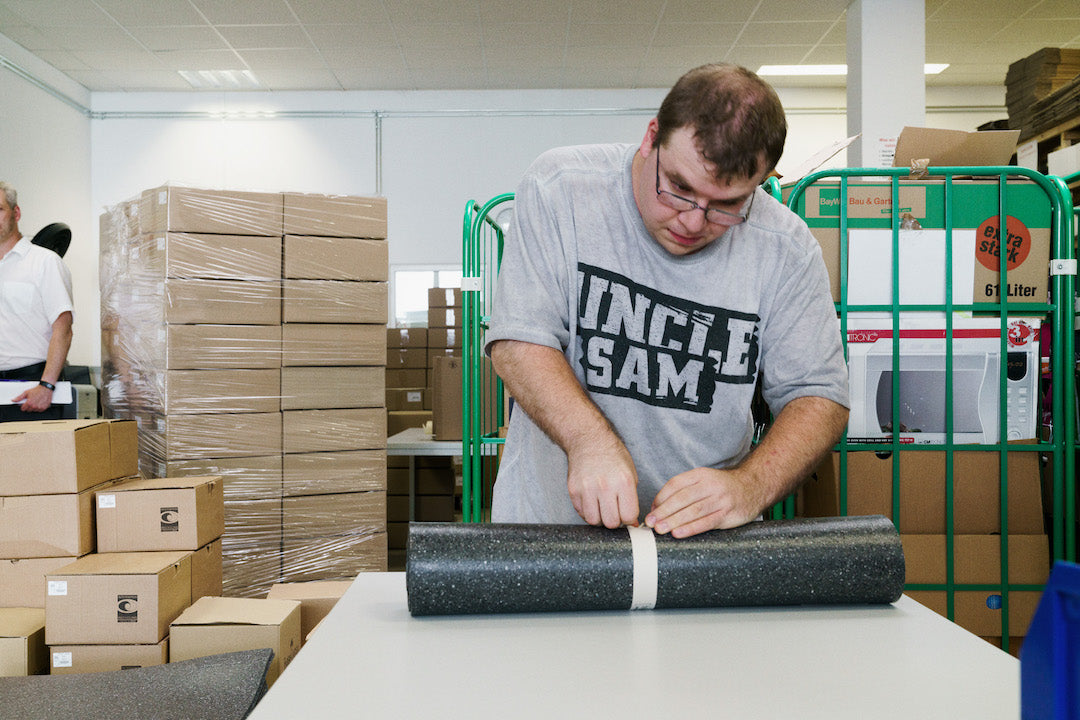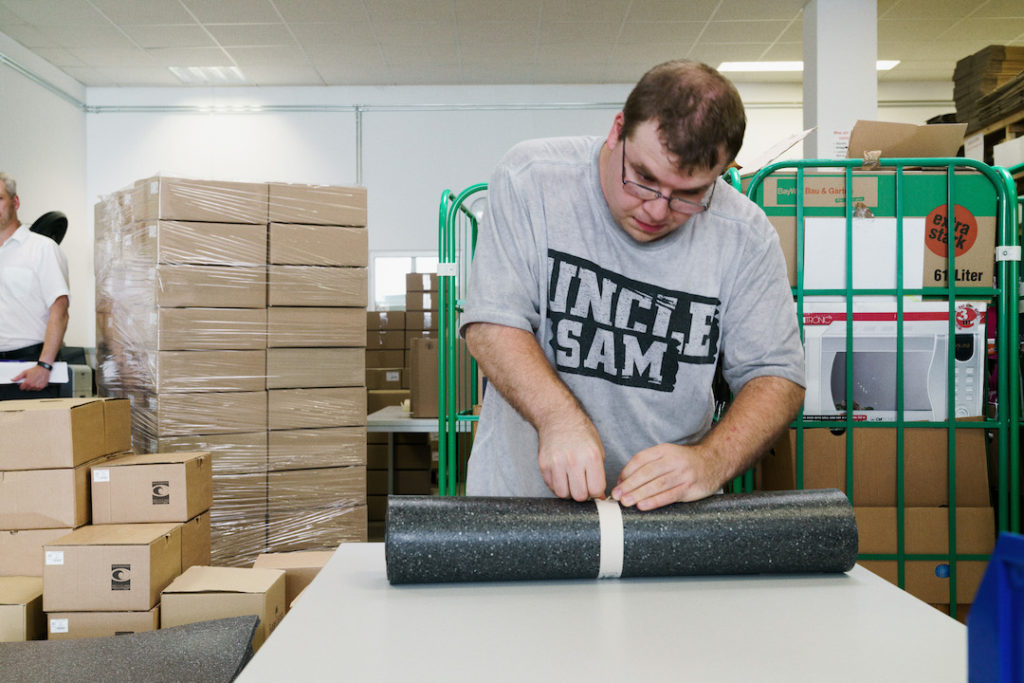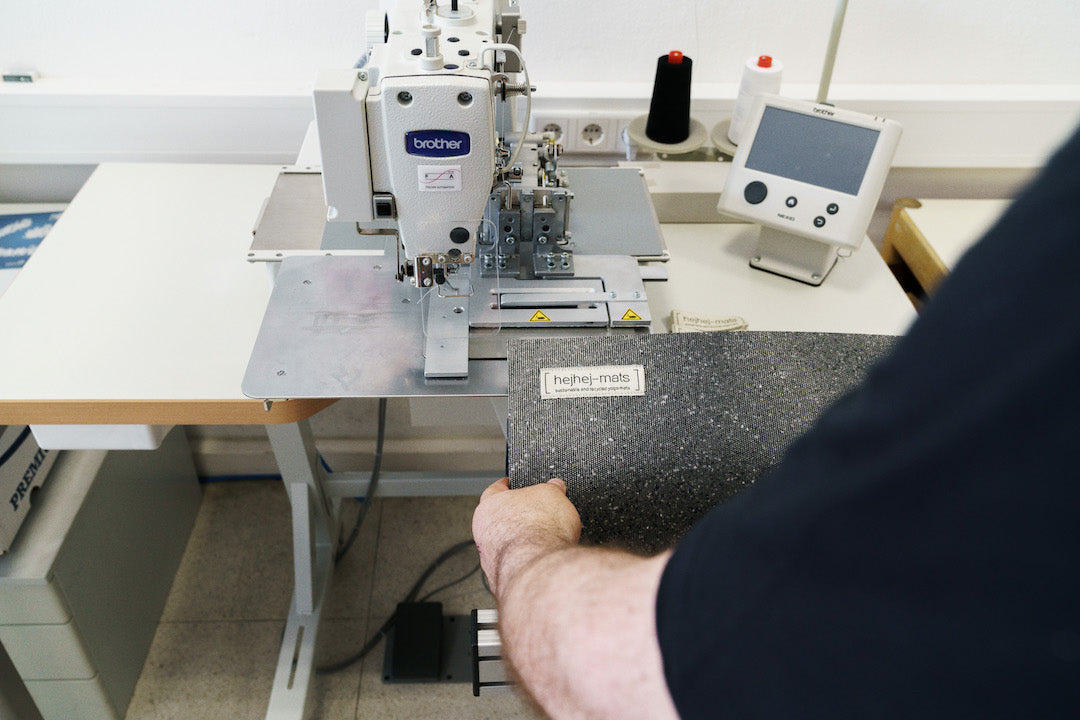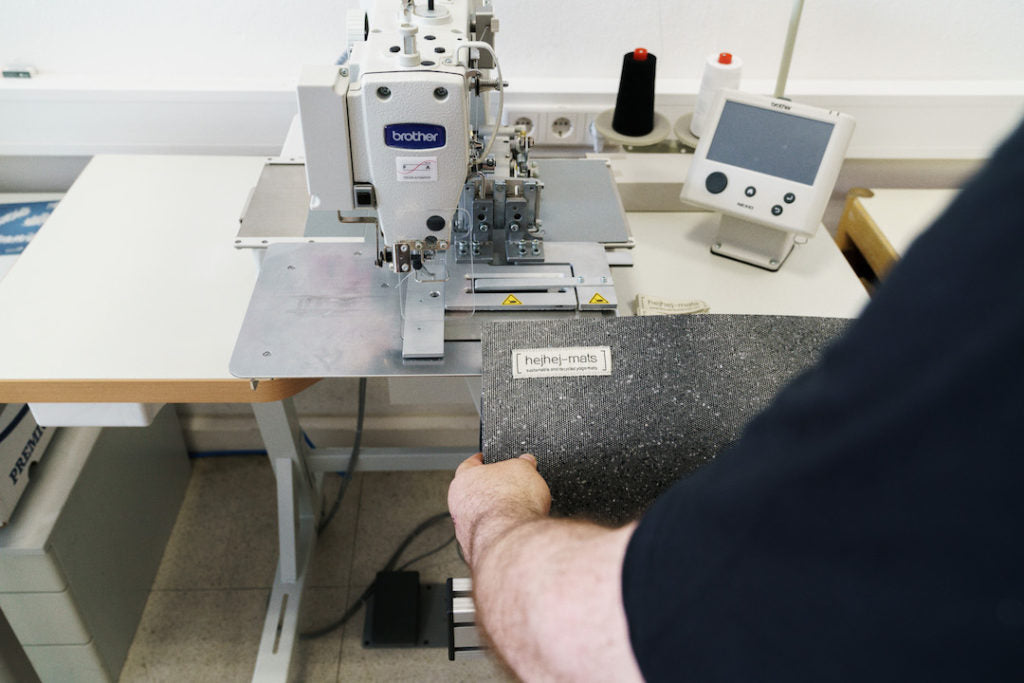 Sobald unsere Matten in der Werkstatt angekommen sind, führen wir dort Qualitätskontrollen durch. Wir untersuchen jede einzelne Matte und überprüfen sie auf unterschiedliche Kriterien, um höchste Qualität zu gewährleisten. Wenn eine Matte nicht alle Anforderungen zu erfüllen scheint, können wir sie beim nächsten Mal bei der Produktion korrigieren. Nach der Überprüfung der hejhejs beginnen die Mitarbeiter/innen in der integrativen Werkstätte die Logos auf die Matte zu nähen. Jede Matte wird einzeln mit dem Logo veredelt und anschließend aufgerollt. Ein kleines hejhej Bändchen hält die Matten gut zusammen. Das Logo sowie das Band sind biologisch abbaubar und aus Bio-Baumwolle. Der nächste Schritt ist den Karton, der zu 100% aus Recyclingpapier besteht, zu falten und die Matte zusammen mit einer kleinen Produktinformations-Karte (auch aus Recyclingpapier) in den Karton zu legen. Wir verwenden keine zusätzlichen Verpackungen oder Plastik. Im letzten Schritt werden zwei winzige Klebeband Stücke am Karton befestigt. Wir haben wirklich versucht, jeden Aspekt unserer hejhej-mats so nachhaltig wie möglich zu gestalten. Deshalb besteht auch dieser winzige letzte Schritt des Klebebandes aus recyceltem Material. Wenn du dich also für eine hejhej-mat entscheidest, kannst du wirklich sicher sein, dass die Matte aus einer ethischen Herstellung einer Yogamatte stammt und in jeder Hinsicht nachhaltig ist.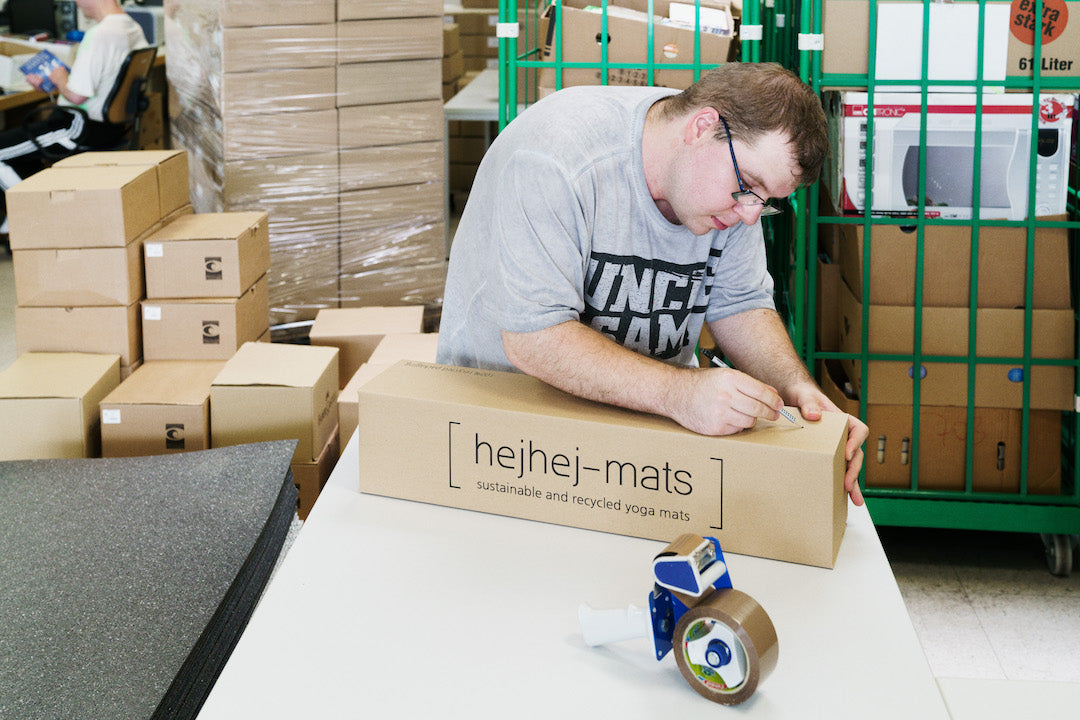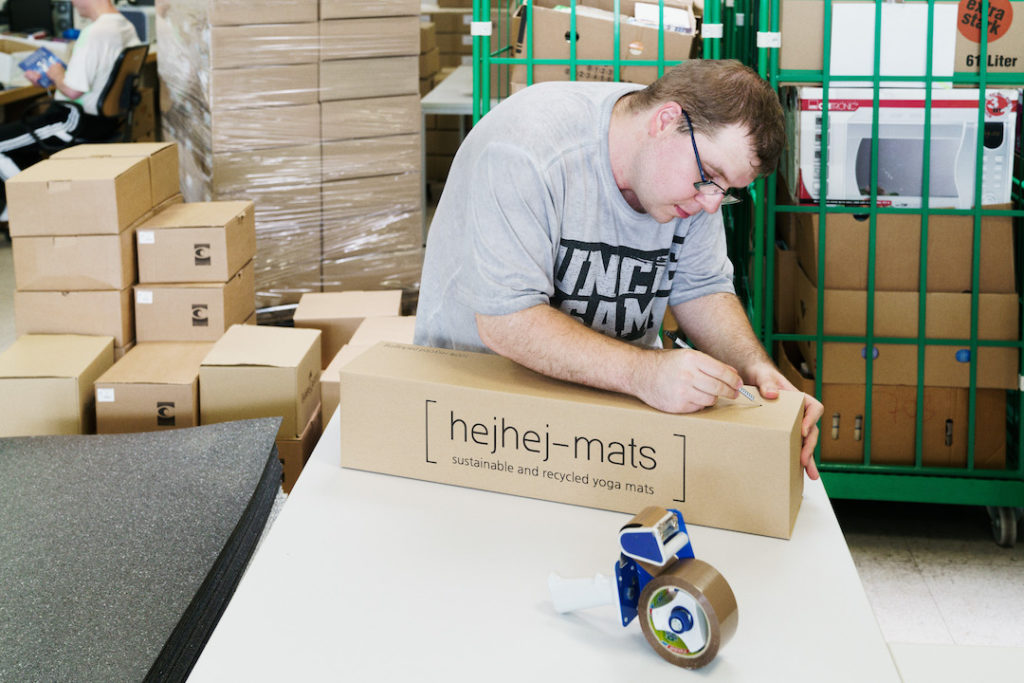 What we want to show you with this article? We want to communicate really transparent about how our hejhej-mats are produced. We consciously decided to produce in Germany in order to act as socially and ethically as possible and in order to keep the transportation ways as short as possible. All the production steps are taking place maximum 1,5 hours away from our base in Nürnberg.
---