Essential oils are wonderfully beneficial during your yoga practice. They can positively influence your well-being. We have deliberately created a 2 in 1 application for our hejhej Yoga Spray – for your yoga mat and your mind. The essential oils we have selected support your yoga practice by giving you peace and focus. The sustainability of the essential oils we use in our hejhej-spray was a top priority during development.
As already mentioned in the detailed article about the hejhej-spray, the following essential oils are components of the sustainable spray:

Lemon


Bergamot


Myrtle


Sage
Sage is present as a pure plant distillate and therefore has very similar properties to an essential oil in yoga.
Essential oils for your yoga mat
The sustainable hejhej-spray is perfect for cleaning your hejhej-mat. Lemon in particular has a disinfecting, antibacterial, antifungal and antiviral effect. You can read more about how to clean the hejhej-mat in the blog article about the hejhej-spray.
Essential oils for your yoga practice
The scent of the hejhej spray lets you calm down – focuses you on the moment. Essential oils are very popular in the yoga world. The fragrances are varied and there is something for everyone.
What exactly are essential oils?
Essential oils are found in plants. They are highly volatile mixtures of substances consisting of various organic substances that are soluble in each other, such as alcohols, esters, ketones or terpenes. Essential oils are very concentrated, plants mostly use them to attract insects or repel pests. They evaporate without leaving any residue, which is why they are particularly suitable as a component of the hejhej spray.
The special thing about the essential oils in hejhej-spray
We spent about a year working on the recipe for the oils. Tried many essential oils to find the right proportions. A mix of fresh, lemony scents and something earthy and herbaceous is a wonderful recipe for a yoga spray for us. We are very happy that we managed to do just that in the end.
But besides the right fragrance, the sustainability of the essential oils is also very important to us. The oils should be grown as regionally and fairly as possible.
The main components of the hejhej spray are lemon and bergamot oil. These are obtained from the peelings left over from the food industry. In this way, valuable existing resources are used and high-quality oil is pressed from leftovers. These by-products thus fit in perfectly with our closed-loop approach. We get our myrtle from an organic farm in Sardinia. Rarely does myrtle come from Europe, but the more delicious its fragrance, as this native variety is much finer!
We use natural essential oils.
The sage distillate has the shortest transport route to us. It comes directly from Franconia. Our sage is a natural plant distillate made from certified organic, hand-collected sage. The special thing about distillates or also hydrotalcite is that the entire precious essential oil is left in the hydrolase during distillation. Thus it contains nothing but the pure distillate of sage without any additives.
Mostly, essential oils from distant countries are used in yoga sprays. For us, it was quickly clear that why should we have to put up with these long transport routes and the associated resources when there are equally wonderful essential oils for yoga practice here in Europe? The European market also has defined cultivation and labour guidelines. It is also important for us to visit our partners and build up a close and long-term relationship.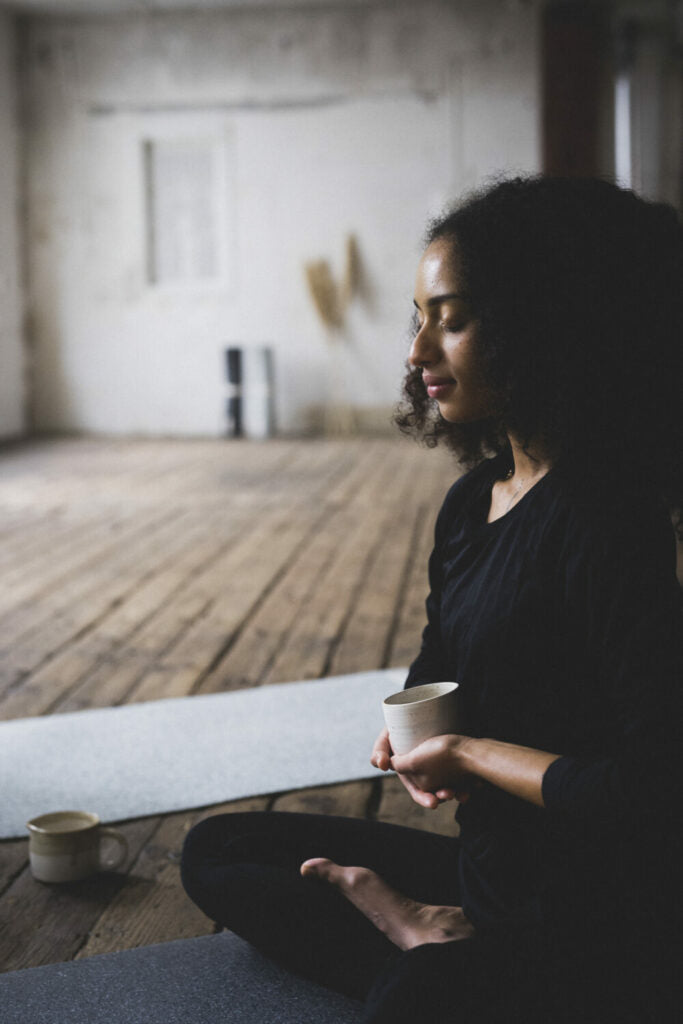 Effects on the body
There are now several studies that scientifically prove the effect on the body of essential oils. Aromatherapy uses precisely these patterns of action.
Essential oils can influence the limbic system. This is a part of the brain that plays a role in emotions, behaviours, sense of smell and long-term memory (source). The limbic system is strongly involved in memories, which can explain why some memories are evoked by certain smells (source, source). Bergamot essential oil is used in aromatherapy to minimise symptoms of stress, anxiety and mood disorders. This is what a study by the University of Calabria in Italy has found (source).
Usages hejhej-spray
Besides cleaning the hejhej-mat, you can also use the scent of the hejhej-spray in different ways for your yoga practice:
spray some spray into the room before your yoga practice,
spray one or two pumps on your hejhej-bolster
or spray some on your hejhej-eyepillow, wait a while and then gently place it on your eyelids (discover the matching hejhej-nowness bundle for this).
The fragrance has a balancing and calming effect.
As we are not trained aromatherapists, we would like to recommend the blog Aromapraxis by Eliana Zimmermann if you would like to read more information and news (scientifically based) about essential oils and aromatherapy in general.
We wish you a wonderful immersion in the world of essential oils – with the hejhej-spray!
You might also be interested in this:
---